The best 2-in-1 laptops will satisfy your inner desire to flip, transform and bend your device into flexible states, including tablet and tent mode. Championed by Microsoft after the debut of Windows 8, these transforming laptops have stood the test of time as primary devices that blend the utility of a laptop and the convenience of a tablet.
If you want to use a stylus or your fingers for hand-written notes or drawings, then your best bet is to buy a 2-in-1 laptop with a touch screen. These convertible laptops give you more control than a touchpad when you're letting your creative juices flow. We've listed the best 2-in-1 laptops below, including bendback laptops with lids that flip 360 degrees and detachables, or tablets that attach to a keyboard. 
For the best balance between portability and usability, consider 2-in-1 laptops featured on our best 13-inch laptops page. Smaller laptops and those on our best laptops under $500 page are great for kids and college students while these best 15-inch laptops provide lots of real estate for drawing or media viewing. Of course, if you just want to pick from the widest range of top devices, see our best laptops page. 
What are the best 2-in-1 laptops?
The best 2-in-1 laptop we've tested is the HP Envy x360 13. We can't get over its stunning chassis and surprisingly low price. Beyond the design, the Envy x360 13 offers a bright and colorful display, fast performance and mind-blowing battery life.
If the Envy x360 13 isn't for you, take a look at the Lenovo Yoga 9i or Dell XPS 13 2-in-1. These competing 2-in-1 laptops are direct rivals to the fantastic Spectre x360 14 (the more premium sibling of the Envy x360) and might be a better option for you depending on your needs and preferences. Business users should consider the Lenovo ThinkPad X1 Yoga, which is essentially a more flexible version of the X1 Carbon. 
But laptops that convert into tablets aren't the only devices that fall under the "2-in-1" umbrella. Tablets with detachable keyboards are another option for those who want something more portable. If you're in that group, Microsoft has you covered with the Surface Go and Surface Pro 7+ (and upcoming Surface Pro 8). The Lenovo Chromebook Duet is an excellent low-cost option while the Galaxy Tab S7 and Tab S7 Plus are pricier tablet-first convertibles running Android 10.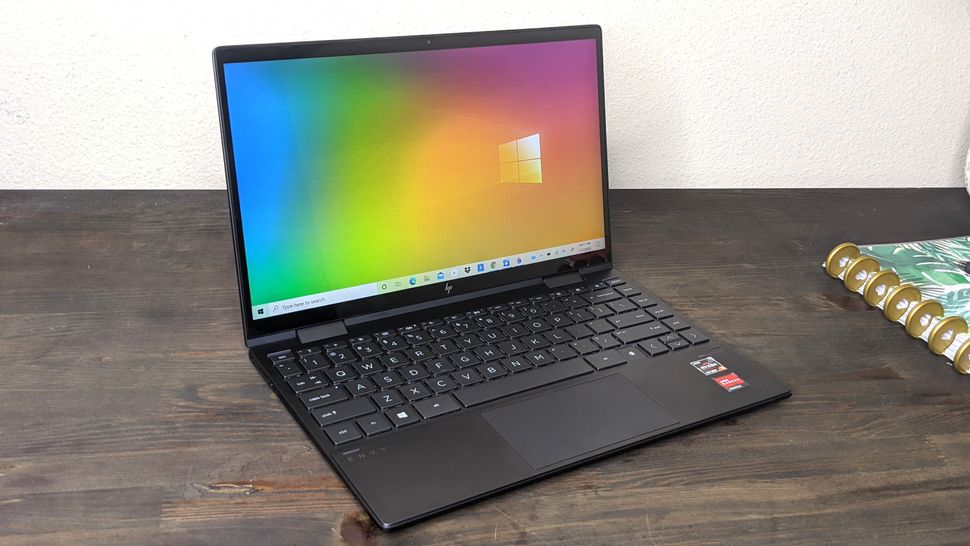 The HP Envy x360 13 is the best laptop for under $1,000 and one of the best 2-in-1 laptops on the market. While it doesn't come with a stylus (neither does the Surface Pro), the Envy is a 2-in-1 so you can flip it into tent or tablet mode. What makes this such a fantastic value is its entirely aluminum design and Herculian AMD Ryzen processors. 
In our testing, we found that an Envy x360 13 with a Ryzen 5 4500U CPU can outperform laptops with 10th Gen Intel chips. This specific Envy costs just $800 and can outmuscle laptops that cost well over $1,000, including the exorbitant MacBook Pro. Moreover, the Envy x360 13 has a bright, vivid 13.3-inch display and a comfortable keyboard. 
There is very little we don't like about the Envy x360. If you can get over the lack of a Thunderbolt 3 port and IR camera, then it is the ultimate money-saving laptop. If you need a larger panel, consider the HP Envy x360 15. 
See our HP Envy x360 13 (2020) review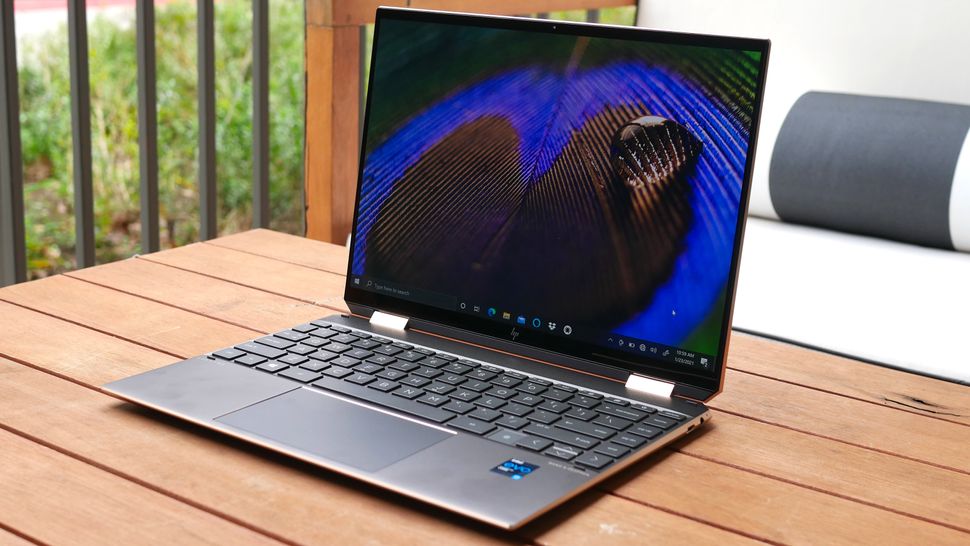 The Spectre x360 14 is the best 2-in-1 laptop ever. Newly released for 2021, the 13.5-inch model builds upon its predecessors but adds useful new features including a 3:2 aspect ratio display and 11th Gen Intel CPUs with Iris Xe graphics. Highlights of this laptop include a stunning design, bright and vivid 1920 x 1280-pixel IPS and 3K2K OLED display options, epic 12+ hour battery life and fast overall performance. 
Add to that a generously sized touchpad that is silky to the touch as well as a comfortable (albeit shallow) keyboard, excellent security options (fingerprint sensor and facial recognition) and a good selection of ports, and well, it's easy to see why we like this laptop so much. 
We recommend buying the Spectre x360 14 over the Envy 13 if you have the money, especially if you need the flexible design. In fact, the Spectre x360 14 is the best laptop if you want a convertible notebook, period. Sure, it has a few faults, but those are easily forgotten once you get this beauty in your hands. 
See our HP Spectre x360 14 review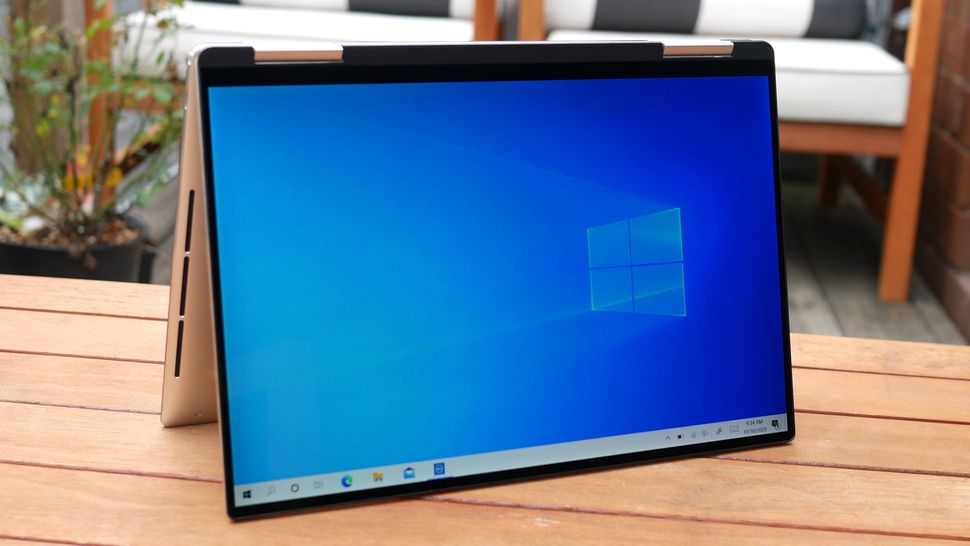 Dell's new XPS 13 2-in-1 takes everything we love about the clamshell XPS 13 — fast performance (thanks to 11th Gen CPUs), a sleek, lightweight design and very long battery life — and put it in a flexible convertible chassis. You also get a unique 13.4-inch, 1920 x 1200-resolution display. 
No, that's no typo; The XPS 13 2-in-1's touch screen has a 16:10 aspect ratio, making it taller than almost every other 13-inch display. Better yet, that panel is both bright and vivid. While the shallow keyboard won't be for everyone, the XPS 13 2-in-1 makes up for it with long battery life and excellent build quality. 
See our full Dell XPS 13 2-in-1 review.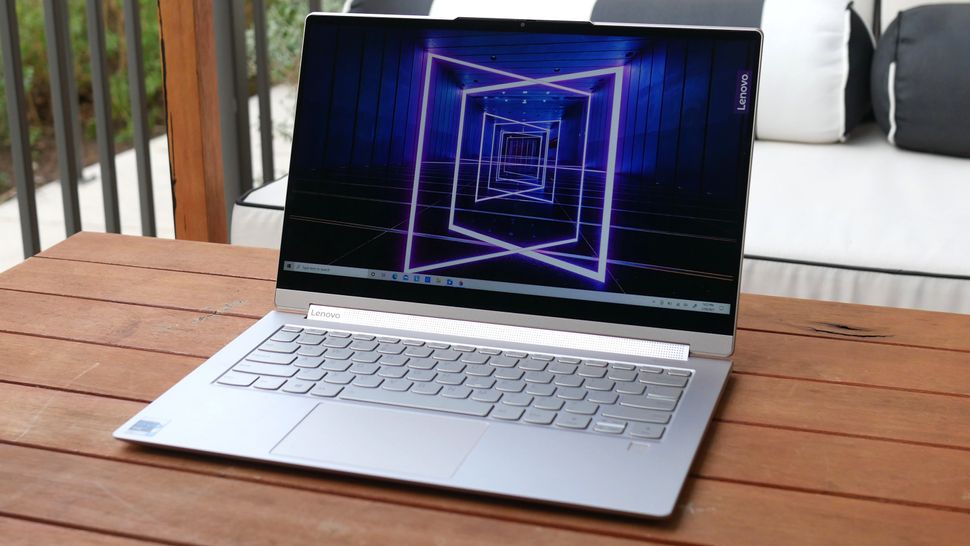 The successor to the excellent Yoga C940, the Lenovo Yoga 9i takes a proven formula and refines it. Subtle design improvements, long battery life (11:15) and refreshed 11th Gen Intel processors make the Yoga 9i a worthy successor to one of last year's top 2-in-1 laptops. 
As you'd expect from a Yoga-series laptop, the Yoga 9i has a premium, ultra-portable chassis and a unique hinge that doubles as a rotating soundbar speaker. As a 2-in-1, that hinge can rotate 360-degrees to convert the Yoga 9i into a tablet or be placed in tent mode so you can watch movies without a keyboard in the way. When it comes to viewing content, the Yoga 9i's 1080p (4K is available) display is crisp, vibrant and bright.
For all the basics it gets right, my favorite things about the Yoga 9i are its extra features, which include a webcam cover (no more need to buy tape), a slot for the improved Active Pen and a fingerprint sensor. Unfortunately, there is no IR camera. 
See our Lenovo Yoga 9i review.
The Microsoft Surface Go 2 has a fantastic 10.5-inch display that punches above its $400 price. It's not only the pixel count that impressed is, but the Surface Go 2's display also has outstanding qualities: it's bright, vivid and crisp. On top of that, you get faster performance than the previous model thanks to the Core m3-8100Y CPU and 8GB of RAM.
The display is our favorite part of the Surface Go 2, but it's not the only thing this detachable 2-in-1 has going for it. At a lightweight 1.1 pounds, the Surface Go is easy to carry around your house or take on a trip. It also has a comfortable optional keyboard with a touchpad, and its Windows Hello support makes logging in a breeze. Best of all, the Surface Go 2 improves upon its predecessor by delivering more than 11 hours of battery life. 
See our full Microsoft Surface Go 2 review.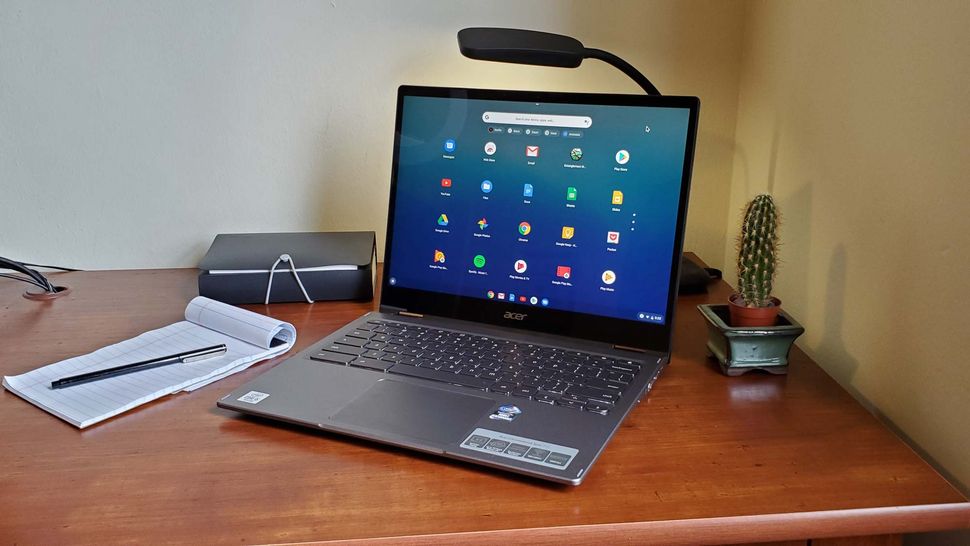 If you don't have the best impression of Acer, let the Chromebook Spin 713 change that for you. This Chromebook has almost everything you could ask for in a laptop and it costs only $629. You get a bright and colorful 13.5-inch touchscreen display, exceptional battery life of nearly 12 hours, and quick performance thanks to its Core i5 processor. 
On top of that, the design is made out of aluminum and it's a 2-in-1 so you can flip the screen back and turn it into a tablet. At 0.7 inches thick and 3 pounds, the Spin 713 can be easily slipped into a backpack on your way to class or work. Yes, the keyboard is a bit shallow and the speaker could be better, but if you want a convertible Chromebook at a reasonable price you won't do better than the Chromebook Spin 713.
See our full Acer Chromebook Spin 713 review. 
The Surface Pro 7+ takes the Surface Pro 7 and makes it for business users by adding 11th Gen Intel CPUs, 4G LTE connectivity and an easily swappable SSD. The battery life gets a small upgrade and the new processor provides outstanding performance in our synthetic and real-world testing. 
The design hasn't changed at all, but the Surface Pro 7+ has a USB-C port for charging and connecting peripherals. Microsoft still sells the comfortable Alcantara-clad Type Cover and the super-responsive Surface Pen, which makes it easy to draw or take notes on this tablet's vivid and bright 12.3-inch display.
There is still room for improvement. For example, the Surface Pro 7+'s display bezels are chunky, storage/RAM upgrades are inexplicably expensive, and there is no Thunderbolt 3 port. Still, this is one of the best 2-in-1 devices around, and an excellent choice if you're traveling. Not sold on the Surface Pro 7+? See our review of the ThinkPad X12 Detachable. 
See our full Surface Pro 7+ review.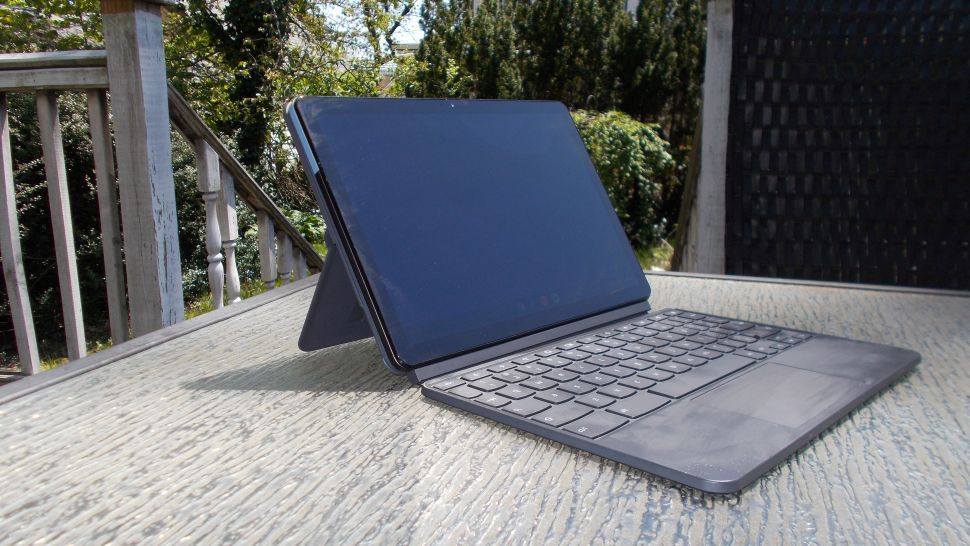 It's by far the cheapest 2-in-1 device on this list, and easily the best value you can find. The Chromebook Duet has a 10.1-inch display and comes with a detachable keyboard. Yep, that's right, the Duet, unlike the Surface or iPad, comes with a keyboard. Why is that so incredible? Because it costs just $299 and we've seen it for as low as $249. 
The appeal of this slate isn't only its price. The Duet has epic battery life of 12 hours and 46 minutes and its sleek design feels more premium than you'd expect from such an inexpensive gadget. You're probably worried about the Duet's performance. Well, it won't break any speed records, but we didn't have too much trouble using it for everyday tasks, like browsing the web or watching videos. The latter was especially great on the Duet because its 10-inch panel is surprisingly colorful.
See our full Lenovo Chromebook Duet.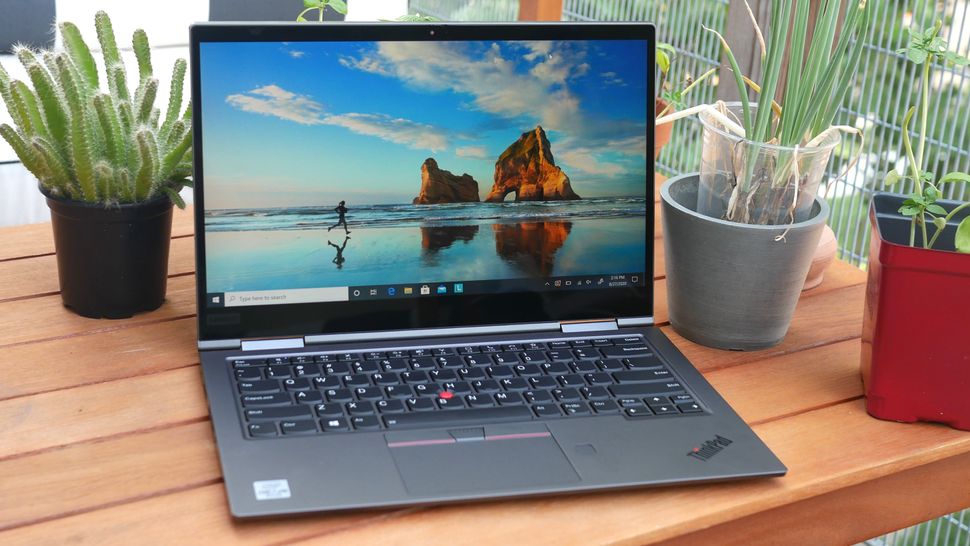 Lenovo took a chance with the ThinkPad X1 Yoga, the first metal ThinkPad, and it paid off. With this 5th Gen model, featuring 10th Gen Intel CPUs, the metal returns. While we still love the signature matte-black carbon-fiber found on most ThinkPads, the aluminum and magnesium ThinkPad X1 Yoga is a gorgeous change of pace. 
Not only does it have a slim design, but this convertible 2-in-1 flaunts a bright display and offers a best-in-class keyboard and long battery life. You also get loads of extra goodies, like a built-in stylus slot and webcam cover. There is simply no better business convertible than the ThinkPad X1 Yoga apart from HP's gorgeous new Elite Dragonfly. 
If you are looking for something a bit more unique, or with a sturdier chassis, consider the ultra-lightweight ThinkPad X1 Titanium. 
See our full Lenovo ThinkPad X1 Yoga (5th Gen) review.
The 15-inch version of Microsoft's Surface Book 3 is a stunning technical achievement that packs a powerful Nvidia GeForce GTX 1660 Ti GPU into the base of a detachable 2-in-1. 
With that kind of graphics muscle, you can edit 4K videos or create professional 3D animations while you are connected to the keyboard and then pop the screen off for some drawing or note-taking. The Surface Book 2 also features a brilliant PixelSense display, a powerful Intel 10th Gen Core i7 CPU and more than 11 hours of battery life in laptop mode.
See our full Microsoft Surface Book 3 review.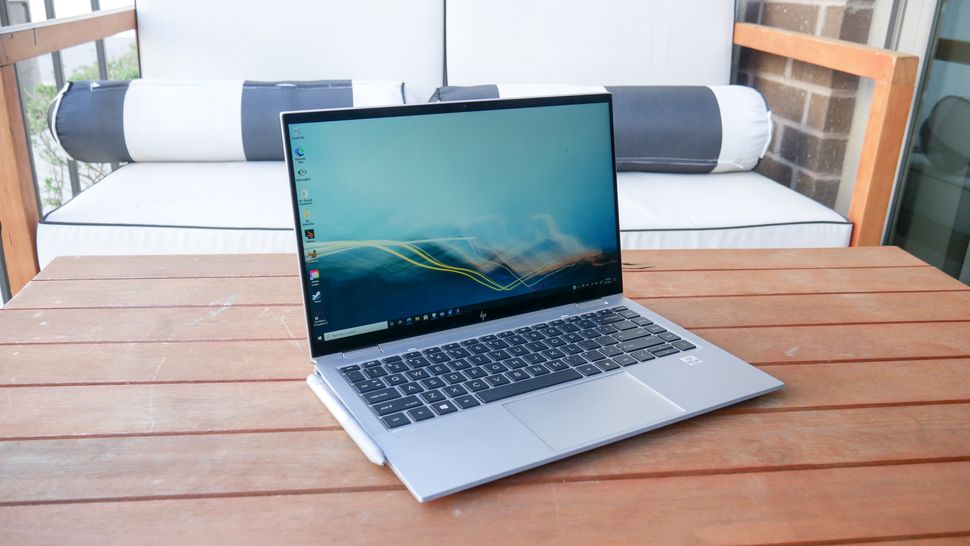 HP's EliteBook x360 1040 G7 is among the best business laptops money can buy. This stunning laptop has a gorgeous chassis that flaunts a flexible hinge, allowing the x360 1040 G7 to convert from a laptop into a tablet.
It's one of a few rare notebooks that seemingly has no downsides. Along with that stylus chassis, you get a bright and vivid 14-inch display. But the EliteBook x360 1040 G7's greatness doesn't stop there. The laptop also has a surprisingly comfortable keyboard, fast performance and a host of security features, including an IR camera, a fingerprint sensor and MIL-SPEC-810 rated durability. The 10th Gen Intel CPUs, while lacking graphical oomph, are powerful, and the battery lasts for longer than 11 hours on a charge. 
For these reasons, the EliteBook x360 1040 is the best HP laptop for business users. 
See our full HP EliteBook x360 1040 G7 review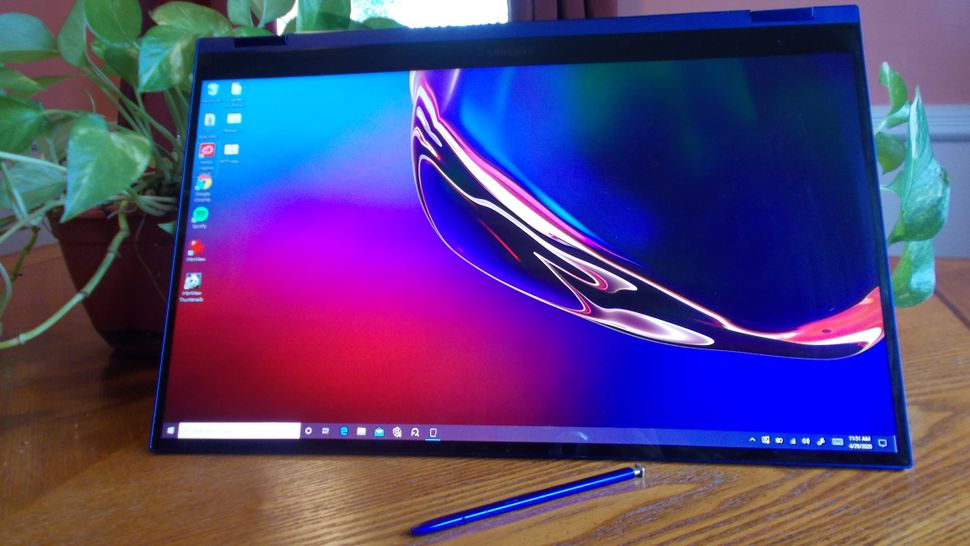 The Samsung Galaxy Book Flex 15 sports the world's first QLED display, which means you'll get to feast your eyes on a color-rich, super-bright screen — and you won't have to sacrifice too much battery power to get it. In fact, when we tested the gorgeous royal-blue Flex 15 in our lab, the laptop gave us a whopping 15 hours of battery life. Ah, we no longer have to imagine a world where we can spend all day on our 2-in-1 without having to worry about battery life; Samsung's made it possible.
Another draw of this amazing Samsung 2-in-1 is its built-in S pen as well as its touchpad, which has the ability to charge Qi-compatible devices. One downside of the laptop, though, is its shortened Shift key, which will take some time to get used to.
See our full Samsung Galaxy Book Flex 15 review.
How to choose the best 2-in-1 laptop for you
You first need to decide what type of 2-in-1 laptop is right for you. If you want a primary computing device for home and work, you should probably go with a laptop that can convert into a tablet, or what we call a bendback 2-in-1. These include the HP Spectre x360 13, Dell XPS 13 and Lenovo Yoga C940. 
If you want something more portable or just need a nice display for content viewing, consider buying a tablet that converts into a tablet via a detachable keyboard. In this category are the Microsoft Surface devices and Apple's iPad Pro. Tablets are also great for artists or designers because they typically support a stylus input and aren't as unwieldy as convertible laptops. 
Once you've made a choice between tablet or laptop, decide how much power you need. When it comes to specs, we recommend buying a laptop with an Intel U-series or H-series Core i5 CPU, at least 8GB of RAM (16GB is great) and a minimum of 256GB of storage. AMD is coming in hot with its 4000-series chips, so keep an eye out for those. 
Battery life is another key component of any good 2-in-1 laptop. If you plan to take the notebook to class or the library, don't count on there being an outlet! Consider a laptop that gets at least 9 hours of battery life, which should be enough to get you through a couple of classes with enough juice for studies.
How we test laptops
We put 2-in-1 laptops through extensive benchmark testing — both synthetic and real-world — before they end up in the hands of our reviewers. We evaluate each aspect of the laptop, including its performance, battery life, display, speakers and heat management.
In our benchmark testing, we use a Klein K10 colorimeter to detect the brightness and sRGB color gamut of the laptop's display. For performance testing, we run the laptop through a gauntlet of benchmarks, including Geekbench 4.3 and 5.0 and 3DMark professional graphics tests. 
To determine real-world performance, we task the laptop to convert a 4K video to 1080p resolution and to duplicate a 4.97GB multimedia file. Our real-world graphics test is the Dirt 3 benchmark with medium settings at 1080p resolution. Gaming laptops go through an entire library of games at high settings to see how their discrete GPUs keep up. 
We also run heat tests by playing a 15-minute full-screen video and measuring temperatures in different areas of the laptop. Last but not least, our battery test consists of continuous web surfing over Wi-Fi at 150 nits of brightness. For MacBooks and premium Windows 10 laptops, a runtime of over 9 hours is considered a good result whereas gaming laptops and workstations that can stay powered for longer than 5 hours deserve praise. 
These tests are complemented with extensive hands-on testing from our reviewers who critique everything from the laptop's materials to the feel of its touchpad.