Even at the close of over 98 absorbing minutes, there was enough energy in their (unfamiliarly) green-clad legs to make a beeline in the same direction. Thomas Tuchel and a few of his players, led by Thomas Müller and Sven Ulreich, made plain their unhappiness to referee Daniel Schlager and his team – mainly at the penalty given to Leverkusen for Alphonso Davies' challenge on Jonas Hofmann late on and, perhaps, the even later ruling out of a potential Dayot Upamecano winner, with the clear offside not stopping some of those on the Bayern Munich bench pointing towards the VAR screen.
Whether you thought they had a point or not they, and most of the fans inside the Allianz Arena, with boos ringing out at the whistle, were in the minority. This laying down of an early-season gauntlet, not just in terms of result but in its manner, was a timely shot in the arm for the Bundesliga. There were moments when Bayern looked like Bayern, moved like Bayern. Yet what we ended up with was far less clear-cut, replete with possibility.
The most Bayern-esque statement of the evening was not a complaint from Tuchel or any one of his players. It was from the coach's opposite number Xabi Alonso, as wired as Tuchel in his own way as he constantly strayed from his technical area, almost unable to contain the sense of opportunity before him. "We were still in the hotel for the first 15 minutes," he lamented of his side's passive start in which they quickly conceded an opener to Harry Kane, underlining his own standards and how in less than a year he has dragged Leverkusen's through the roof with him. When Karl-Heinz Rummenigge identified Alonso as a potential future Bayern coach as the latter took the job at BayArena last October, it looked like futureproofing combined with professional courtesy, something to remember if this notable caterpillar went full butterfly. He could not have known how quickly Alonso would make the leap towards full maturity.
Even those who have seen most things are impressed. "If we continue like this with our football," said Granit Xhaka, "which not only looks beautiful but is also dangerous, we can achieve something really big." It was one of those Friday nights on which anything felt possible. After Kane's expertly taken back-post header the reaction was something rarely seen in this arena. Leverkusen responded with belief, with Álex Grimaldo dipping a sensational free-kick over the wall, really going toe-to-toe with their hosts. As the second half opened up, the brilliant Florian Wirtz slalomed through and pinged a shot off Ulreich's far post. There were still plenty of moments when Leverkusen could have taken their unlucky losers medal and folded, not least when Leon Goretzka swept in substitute Mathys Tel's excellent cutback with four minutes of normal time to go. They replied in expectation rather than hope, and Exequiel Palacios' spot-kick gave them a merited point.
In times gone by Bayern have responded to challenges decisively. The invitation to excel brings the bestfrom them. It remains to be seen if Tuchel's vintage can do the same, even though this was far from a poor performance. They have already worked out how to use Kane to optimum potential, both as that longer-for number nine presence and as a playmaker dropping off. In Tel they have the perfect Kane understudy, a different option who must be learning so much from the England captain and could even play beside him in a wide role.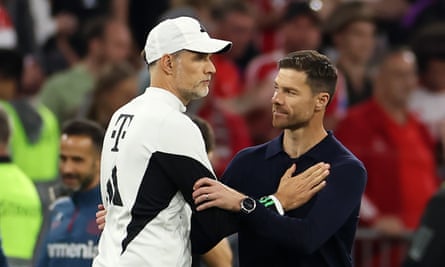 Defensively, theare are issues, with Tuchel again doing his now-familiar (and very un-Bayern-like) thing of admitting vulnerability, fretting how his team "found it difficult to stay totally compact" after Goretzka's might-have-been winner. It will not be the former Chelsea boss leading Bayern on the touchline for Wednesday's visit of Manchester United as he serves a suspension incurred in last season's quarter-final loss to Manchester City – but his assistant Zsolt Löw, ironically red-carded for his protests to Schlager on Friday, will fill in. It is a challenge Bayern will relish, though United have to improve exponentially to provide a similar obstacle to the one Leverkusen and Alonso placed in their path.
Talking points
Borussia Dortmund, meanwhile, maintained an unbeaten start. In reality their win at Freiburg, authored by two late goals from two of their old reliables, Mats Hummels and Marco Reus, after the hosts went down to ten men, merely kept the wolf from the door after an interminable international break laden with handwringing over whether Edin Terzić can make them genuine competitors in the long-term and how much the club's clumsy recruitment is holding the team back. There were still plenty of old-school Dortmundisms to have the BVB faithful shaking their heads – Hummels had given the team an early lead only for that to evaporate as they conceded two avoidable goals in first-half stoppage time – and those who know, know. "If we want to take a step forward," said Hummels. "We have be able to dominate in midfield against opponents that press." They are neither Klopp's BVB nor Leipzig. Dothey really know what they are?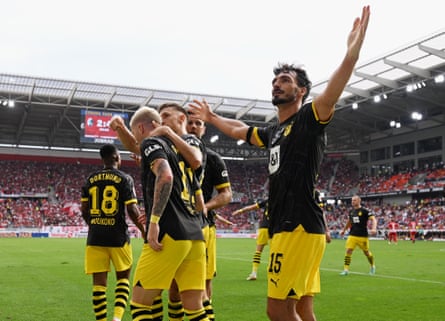 Actual RB Leipzig certainly do but they didn't really need to be their boldest selves to sweep aside Augsburg, a game in which they were 3-0 up in under half-an-hour, mainly due to the continued brilliance of Xavi (he has dropped the Simons) again. There will be other afternoons in which Marco Rose's ability to replace Will Orban in defence – who will be missing for at least ten weeks – will be more rigorously examined but such is his team's bold personality already that an end-of-month match-up with Bayern can't come soon enough.
If Kane has settled well then two other strikers are dominating the Bundesliga in its early weeks. Jonas Wind got Wolfsburg's show on the road against Union, who suffered a second straight defeat ahead of their Champions League bow at the Bernabéu. It was the Dane's fifth of the season already. Small change next to Serhou Guirassy, whose expertly crafted hat-trick won Stuttgart the game at Mainz and took Sebastian Hoeness's team into the top four, remarkably. Towards the end of last season, Lothar Matthäus suggested on Sky that the Guinean would be a great centre-forward option for his old club Bayern, to widespread ridicule. Guirassy has eight Bundesliga goals already this season, exactly twice the amount of Kane. It should be noted that every single shot he has had on target so far this season has gone in, which doesn't feel especially sustainable.
Werder Bremen won't be dishing out any recruitment advice after their loss at Heidenheim, the home side's first-ever top-flight win on the 16th anniversary of legendary coach Frank Schmidt's appointment. Werder fought back from going two down but eventually lost 4-2 with 21-year-old Eren Dinkçi, on loan to the Bundesliga newcomers from Werder, scoring a delightful brace against his parent club and Jan-Niklas Beste, who didn't make a senior Bundesliga appearance in four years at the Weser, setting the seal on the win. "It doesn't make any difference who scored," insisted Werder coach Ole Werner, not especially convincingly.