You can use your iPad as a laptop, they say. Just connect your Magic Keyboard for the authentic laptop experience, they claim. No, say I — tippy tapping my fingertips across its thin polyurethane frame. It just doesn't feel right. Though it could, and it may.
According to Bloomberg's Apple auteur, Mark Gurman, there's a Magic Keyboard revamp on the horizon, and it'll bring the iPad-as-a-laptop experience one step closer to reality. 
That's more like it
The revamped Magic Keyboard seeks to better simulate the MacBook's iconic deck with a larger trackpad, and even an aluminum façade. The leap to an aluminum body makes for a sturdier frame, avoiding many of the issues of wear and tear that the softer polymer that adorns the current model.
Fans of the folio look that the Magic Keyboard offers won't be disappointed, as sources have revealed to Gurman that the external shell of Apple's accessory won't be switching to Space Grey aluminum any time soon — otherwise retaining the same chic look and style of the current model, potentially the same cantilever support, and including the Magic Keyboard's familiar hinge-based USB-C port. 
Why it's exciting
Apple revamping the Magic Keyboard isn't exactly stealing fire from the gods. But it could be a further indication of Apple's plan to one day modularize the MacBook experience. We've previously covered news about patents relating to modular MacBook components, and this new iPad deck could be the Cupertino brand's first step in that direction.
The patent in question gave us a glimpse at a MacBook composed of hot-swappable pieces to configure your laptop as you please. Including touchscreen displays, touchscreen input panels, and keyboard.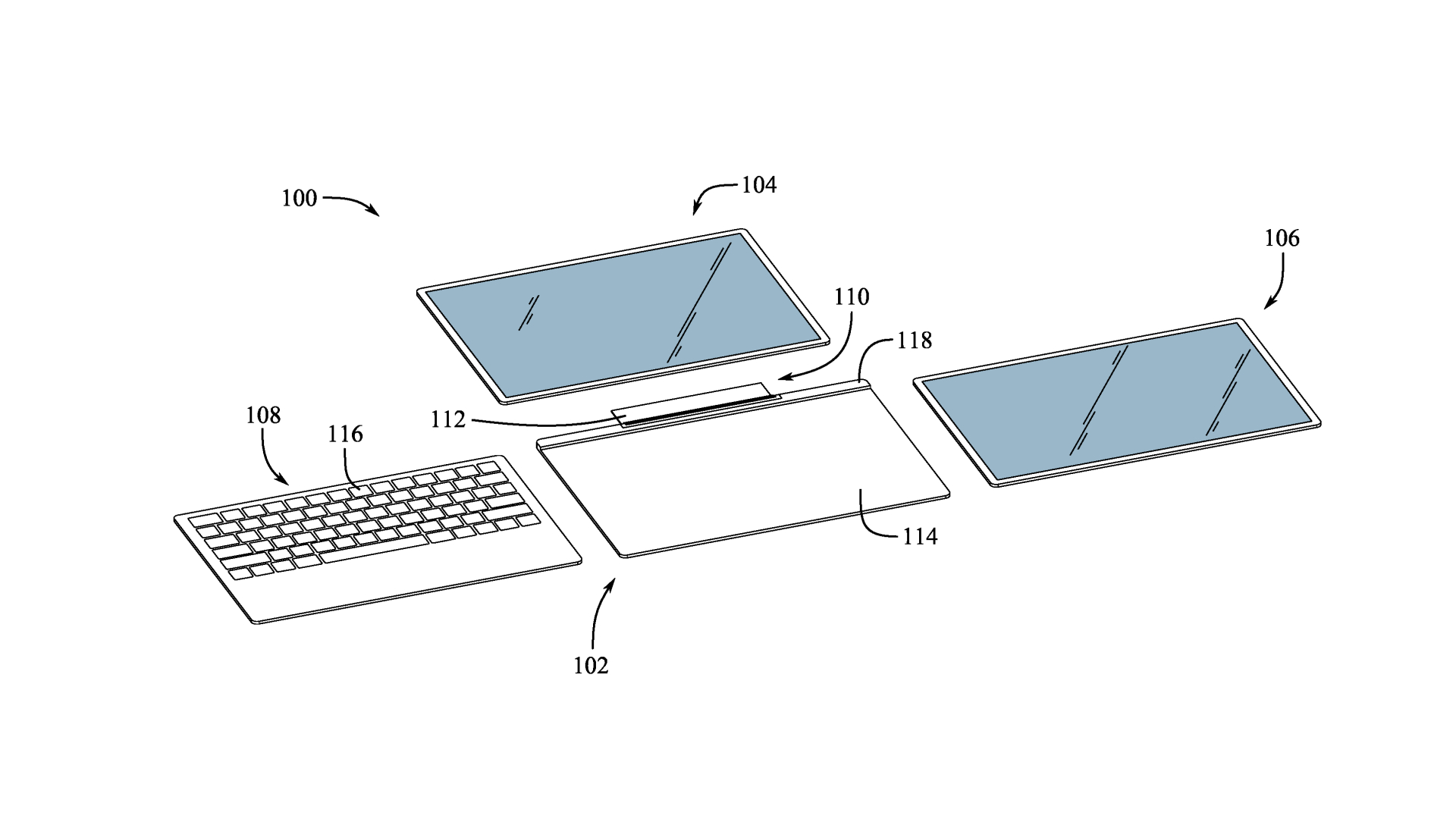 The switch to an aluminum frame for the Magic Keyboard's deck might seem small, but it does play into the desire shown by Apple to give its powerful slate a more MacBook-like feel. Is the new Magic Keyboard going to be a part of this future modular MacBook experience? That's unlikely.
The patent in question showcases a "base" component to which everything else connects. But this shift to a more accurate laptop feel could be paving the way for a more natural introduction of this modular design further down the line.
Outlook
The revamped Magic Keyboard is expected to release alongside new M3-powered iPad Pros, though there's no word on when to expect the announcement of these super-charged slates.
However, we don't expect them to be making an appearance during Apple's September event later this month. Nor would we expect them to make an appearance before Apple have announced its new line-up of M3 MacBook Pro models expected to launch at some point in October.
For news, rumors, and updates on all things iPad and Apple related, follow Laptop Mag on Twitter, Facebook, and Flipboard for the latest word as it arrives.