Now that the summer holidays have drawn to a close, I'm well aware that many of our Love My Dress readers are shifting their focus towards wedding planning, perhaps even contemplating the idea of booking a wedding dress appointment.
Throughout this article, I hope to dispel some of the myths and unfounded concerns that often swirl around the topic of wedding dress appointments. You know the ones I mean; pushy sales assistants who make you stand on pedestals and try on dresses you really don't like, that are far too small! Let me reassure you that you will never experience anything like this at a reputable bridal boutique. And in order to provide you with the most insightful information, I'm delighted to introduce you to designer Andrea Hawkes and her two stylists Maryann and Siobhan.
Andrea Hawkes, an established bridal fashion designer based in London, has earned a high end reputation for her beautiful, minimalist and sustainable bridal gowns. These gowns are crafted with meticulous care at their own ethically-conscious studio in London. Together with Andrea and her dedicated team, we'll cover everything you need to know before attending a wedding dress appointment. Our goal is to ensure that this article equips you with a clear understanding of what to anticipate and alleviate any anxiety you might be feeling. If you have any additional questions or concerns, please don't hesitate to reach out – Andrea and her team would love to hear from you.
Words that follow are by Andrea Hawkes Bridal Stylist, Siobhan.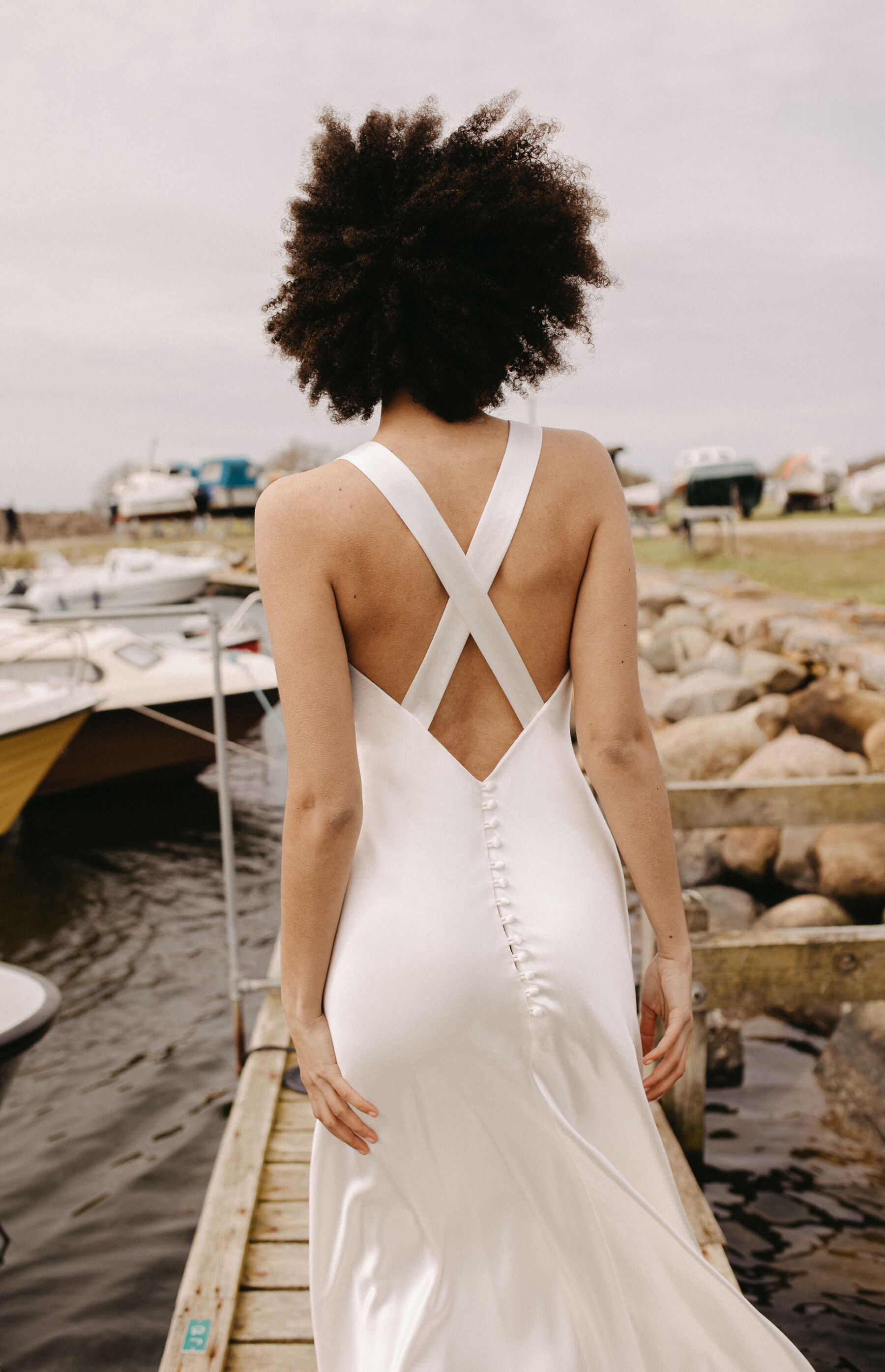 Describe the ambiance and overall atmosphere of the boutique and tell us, what makes Andrea Hawkes Bridal unique compared to other boutiques?
Our showroom is a home away from home, we want all of our brides to instantly feel at ease and relaxed. Set back from the hustle and bustle of Angel, Danbury Street is a calm, quiet road with plenty of privacy for our brides. Our showroom is a warm, welcoming space with lots of beautiful natural light, parquet flooring, cosy interiors and scented with our favourite Neom products.
Our showroom is also home to our studio where all of our designs are made by our wonderful team of in house pattern cutters and seamstresses. It's so special for our brides to be able to see part of our workspace and how their dress will come to life.
We only ever see one bride at a time, meaning our showroom is entirely their own for the duration of the appointment. This allows for a really personal, calm and enjoyable experience with our stylists.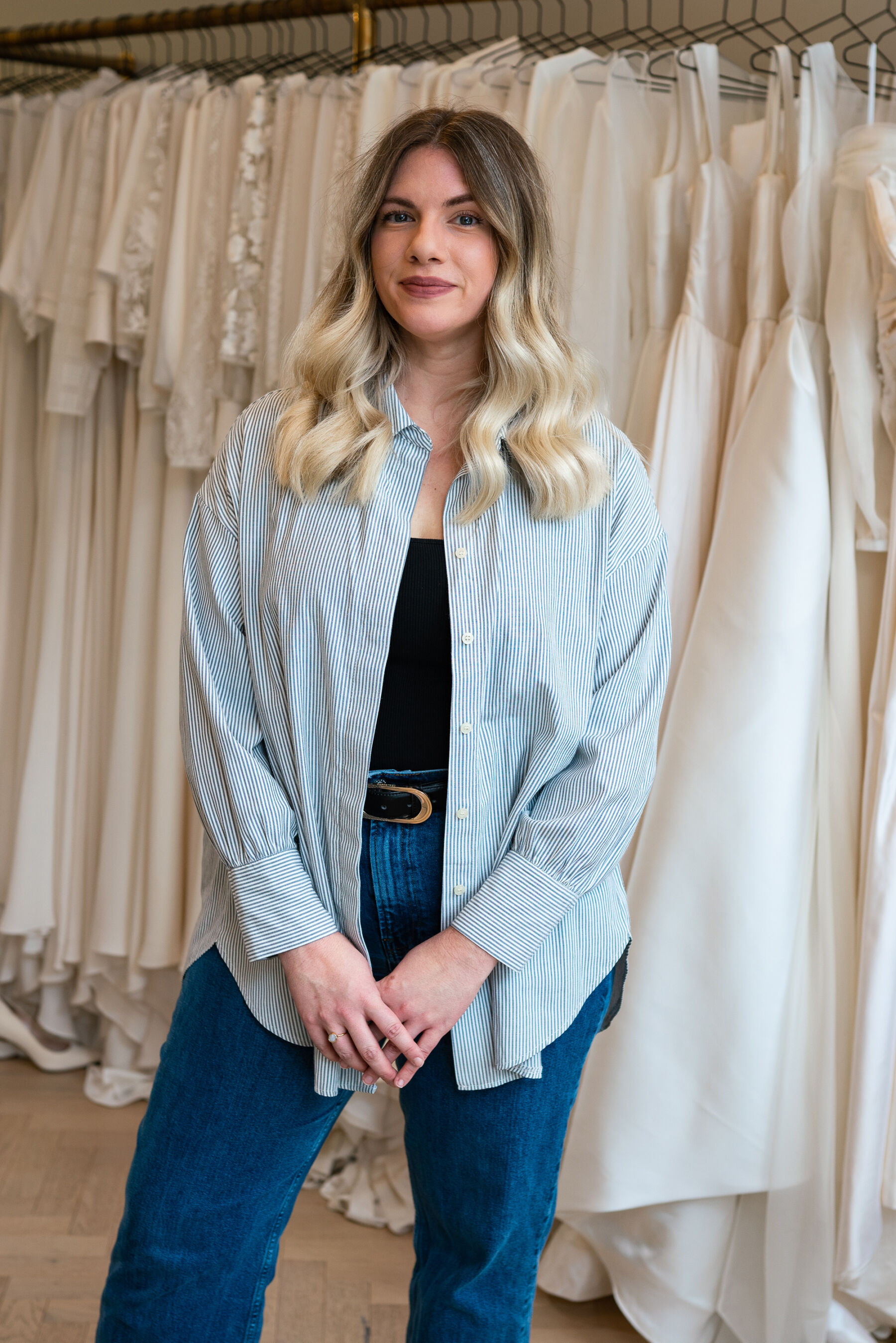 How would you describe the typical appointment process at Andrea Hawkes Bridal? What can a bride expect from the moment she arrives
Prior to an appointment at our studio you will be contacted by one of our stylists to discuss any ideas you may have for your dress so we can be best prepared for your appointment, this conversation will continue when you visit us in store.
We always start our appointments with refreshments and a lovely, relaxed conversation about the wedding day and dress ideas, this really helps our stylists understand and learn more about your personality, likes and dislikes!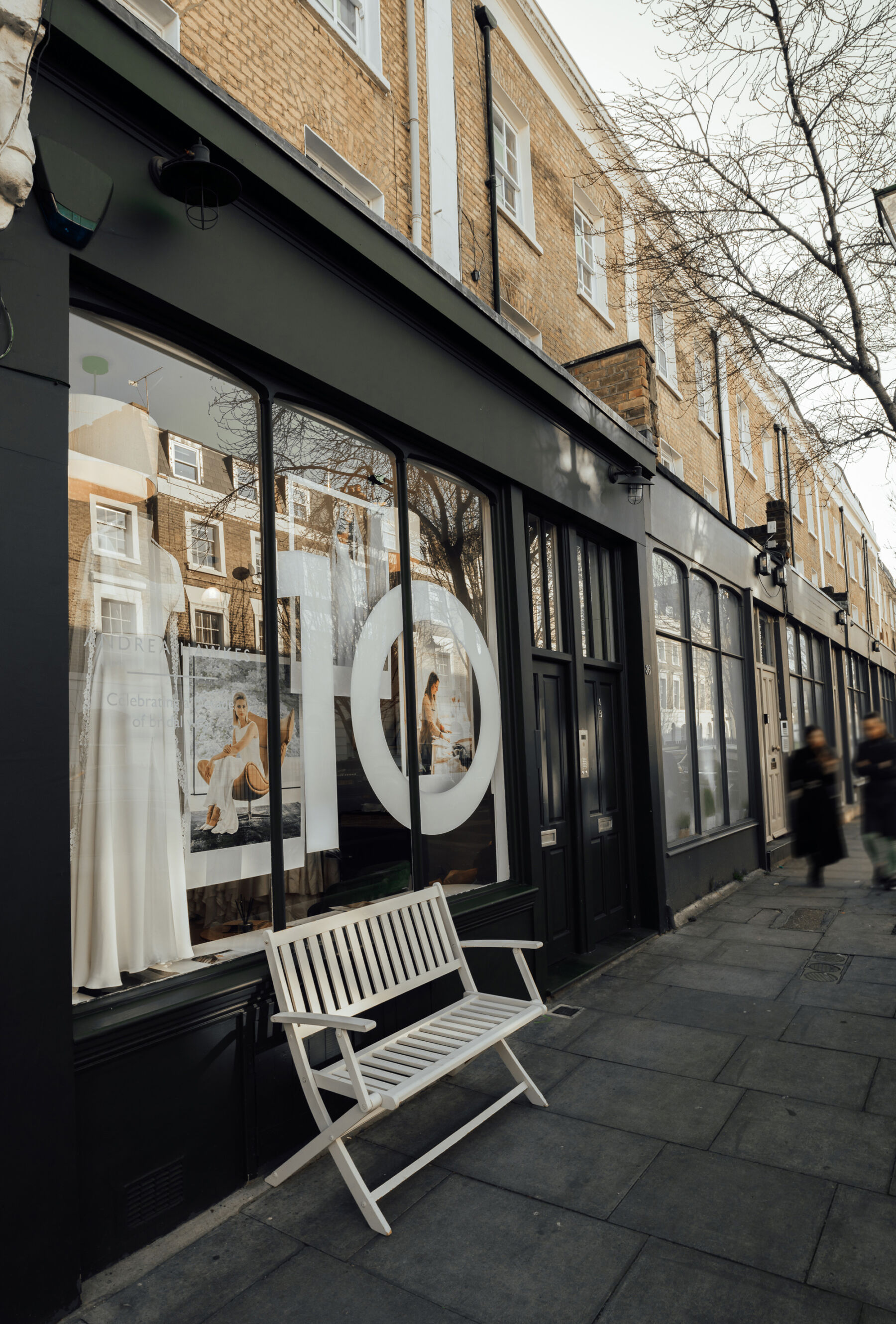 Do brides often feel nervous or unsure about the appointment? And how does Andrea Hawkes Bridal make them feel comfortable and at ease during the process?
Shopping for a wedding dress can be quite overwhelming and a lot of our brides do feel nervous beforehand, which is totally normal. We always reach out to our brides as soon as they book an appointment to introduce ourselves and start the personal journey we will continue in store.
It's so important that we build a genuine and honest relationship with our brides and the key to that is listening to what each individual bride needs, we are all different and each experience will be personal to that person. For any brides who are a little nervous, we will take the appointment slow and explore different ideas, shapes and materials. There is absolutely no pressure and often the first appointment is a fun way to build up ideas and start to figure things out together!
Q. What is the role of the bridal consultant during the appointment? How do they assist brides in finding their dream dress?
Our stylists are here to guide our brides in their dress search, you will meet with your personal stylist as soon as you enter our showroom for a lovely, calm chat over some tea or coffee. This is a great chance for our stylists to understand more about our brides personal style and how they want to feel on their wedding day.
Our stylists will help to find styles that work with your ideas but they are also there to make sure you have fun and try some wild cards or alternative styles to make sure you explore all options. At Andrea Hawkes, we make all of our designs in house which means there is lots of flexibility with design, our stylists are amazing at showing our brides how a certain shape could be adapted, such as adding sleeves or mixing a bodice and skirt from two different styles.
They have lots of knowledge about the fitting process and technical side to making your perfect dress. No question is too small or too big, we always encourage our brides to be open and honest throughout their appointment so we can adapt and be creative, helping our brides to find the perfect design!
Andrea Hawkes Bridal is known for its beautiful collection of sustainable bridal fashion. How is the selection curated, and what types of styles can brides expect to find?
All of our designs are made from beautiful natural materials, from soft matte silks through to structural duchess satin. Each material offers something very different for our brides and we often find our brides gravitate towards a certain material quite quickly.
Our dress rail offers a wide range of size inclusive samples to try on, from slinky bias cut shapes through to full corseted, structured designs. There is something for every bride and there is no need to compromise as we can customise each piece to our brides needs.
We always love for our brides to browse our rails as themes often emerge, such as sheer sleeves, structural pieces or v-necks. It's a great way to see what our brides are naturally drawn to, we then love to challenge that and ensure our brides explore plenty of ideas.
Are appointments focused solely on trying on dresses, or does the boutique offer additional services or consultations to help brides with the entire bridal look, such as accessories and veils?
On an initial visit to the showroom, we do tend to focus on dresses and bridal accessories such as capes, tops and veils as these all contribute to the final look of the dress! We have so many wonderful bridal additions that completely transform the overall look, it's really fun to try these and explore the idea of a transitional look.
On a brides second appointment this tends to be a little more focussed on the specifics of the dress, fabrics, services and design adaptions.
Something we always discuss with our brides in their appointments is our Post Wedding Alteration Service, this is such a lovely way for our brides to understand how their dress can live on beyond the wedding day and has been such a huge part of our brides dress decisions since we introduced the service a couple of years ago.
How long does the typical appointment last? Is there a recommended time to schedule the appointment for the best experience?
Our appointments are for one hour, which is a lovely amount of time to view our collections, it's helpful to have a chat before our brides visit us to pinpoint some ideas and any specific dresses they may like to try so we can make the most of our time together.
What should brides bring with them to the appointment? Are there any specific recommendations or guidelines for attire or undergarments?
It's helpful for our brides to wear skin coloured, seamless underwear. A T-shirt bra and shorts would be perfect.
We have a lovely selection of shoes from Emmy London and Harriet Wilde in store to try during the appointment but for any brides who would prefer to bring their own shoes they can do.
If you have a specific hairstyle for your wedding day, it can be helpful to come with a similar idea so you can see how you feel in different necklines.
Are guests allowed to accompany brides to their appointments? What is the boutique's policy regarding the number of guests and their role during the appointment?
Absolutely! Our brides may bring up to three guests to their bridal appointment. It's helpful to bring supportive guests who understand your personal style and ideas.
It can be overwhelming having a lot of opinions and some of our brides do choose to come to their first or second appointment on their own, this can be a really lovely way to focus with the support of our stylists.
How far in advance should brides book their appointments, especially if they have a specific wedding date in mind?
For a relaxed and enjoyable bridal experience, we would advise booking your appointment 10-12 months in advance of your wedding day, this ensures you will have plenty of time. Our appointments do tend to book up 3-4weeks in advance during busy times so it's great to book as soon as you can.
During the appointment, how does the boutique work with brides to understand their preferences and help them explore different dress options?
Conversation is key, our stylists will guide our brides asking questions along the way about how they feel in certain shapes, their preferences and thoughts on each dress. This often starts to build a picture and can lead us to the perfect style.
In terms of our fitting options each bride will have a different timeline, different dress favourites and different complexities of style. Our stylists will talk through each fitting option, from standard size to made to measure and of course bespoke. Each appointment will naturally lead to the right option for that bride and we will make sure all of your questions are answered.
What advice would you give to brides before coming in for their appointment to make the most out of the experience?
As a stylist myself, my main piece of advice would be to come with an open mind. It can be hard to know all of the answers before trying a dress on. We don't try wedding dresses every day and they do have a very different feel to our day-to-day clothes. Whilst you may know you love yourself in a V-neck it's always worth trying a square neck or high neck to see how you feel. If you love silk satin, also try a matte silk.
There is no harm in exploring alternatives and you may even be surprised by your final choice!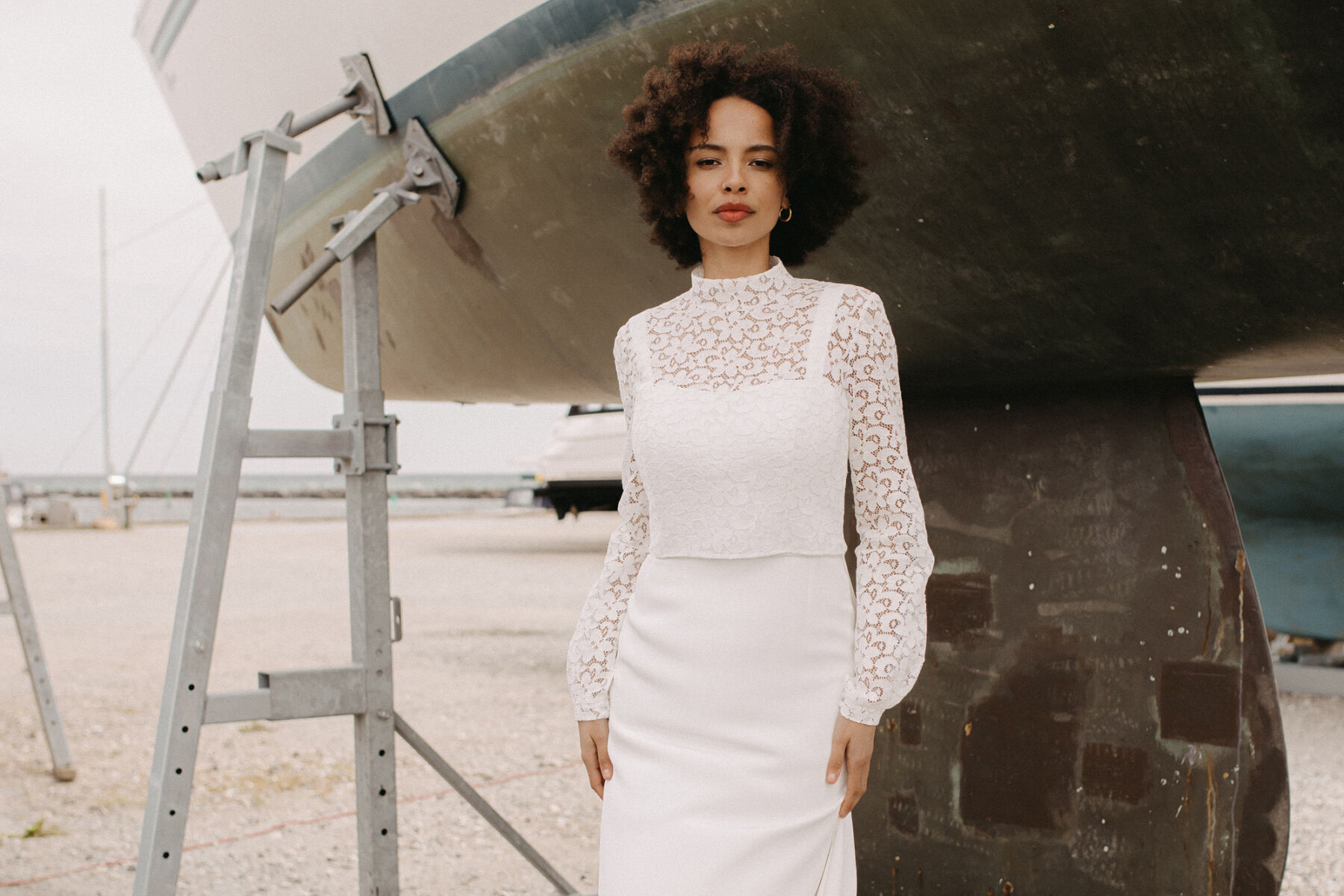 andreahawkes.co.uk