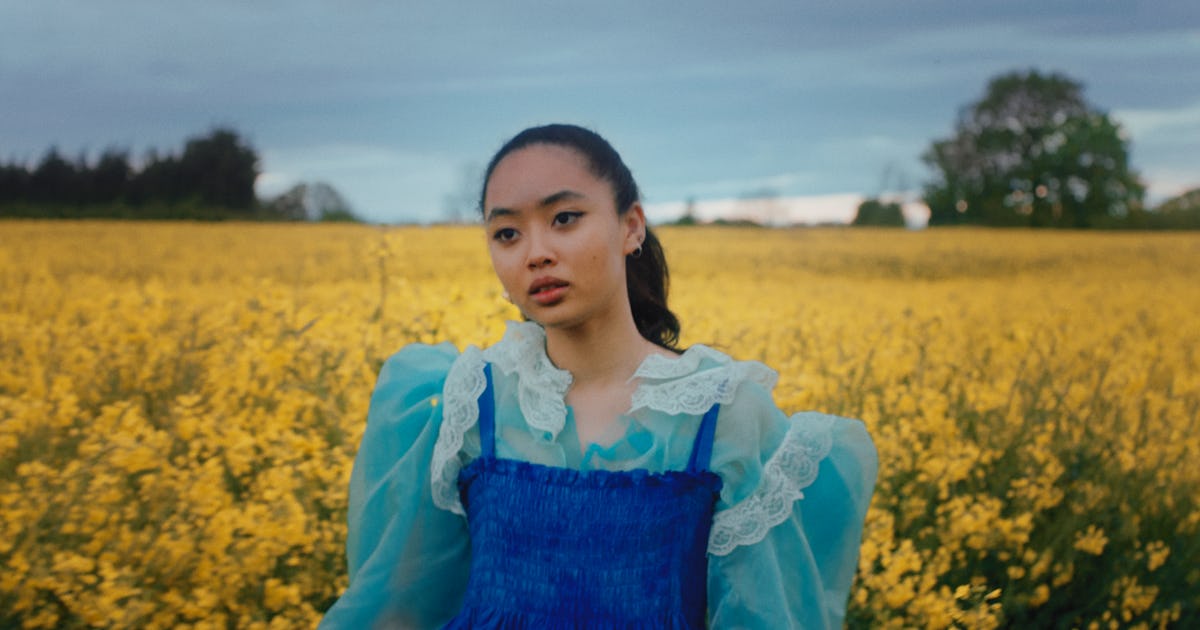 It's been a surreal year for Sarah "Griff" Griffiths. Going from writing songs on her brother's audio production software to having those same tunes streamed over 126 million times, and winning the BRITs 2021 Rising Star Award in the process. Now, the 20-year-old has another first to add to her list of accolades: a brilliant debut mini-doc with Spotify.
Created for Spotify's Radar platform, which spotlights emerging artists from around the world, Griff shares an intimate look into her life. "Lot's of good things have been happening and people keep sending me champagne," she opens, discussing her approach to songwriting, how her upbringing has influenced her sound, and her love of fashion design.
Shot in her hometown of Kings Langley, a small village just outside of London, the 14-minute film sees Griff take viewers on a tour of her home studio, happily bickering in her kitchen with her mum and brothers, and driving around testing out tunes in the car with her "bestie" Rose.
"It felt strange bringing a camera crew into my house," she tells me. "It's never that enjoyable watching yourself back on film. I just hope it comes across okay, and that people watch it and maybe get to know me a little better."
In the mini-doc, she talks through her creative process for hits including "Black Hole", "Shade of Yellow", and "Earl Grey Tea", describing how her environment has helped to shape her identity. "As a young teenage girl, discovering her identity, that's everything," she says. "When you don't see people that look like you, or don't have the same culture as you, it's quite alienating. And for a long time I rejected a lot of my heritage because of it. Because I was like, 'Well, I don't really fit in'."
Musically, her mum Kim jokes that she was the original singer of the family: "Chinese singing, of course. But there's only room for one singer in the house, so… the Black side took over." Griff, explains that her dad, Mark, "really tried to hone in the kind of Black music; you need to have some rhythm, you need to have some soul." Her brother goes on to name check the likes of Mary Mary, Kirk Franklin, Marvin Gaye… before Griff started listening to Taylor Swift.
In fact, her guitar signed by Swift is a favourite for writing songs, she says. And, alongside songwriting, Griff also designs most of her own outfits – including the dress she wore for her BRIT Awards performance, which she cut up and re-pieced together using an eyelet machine she bought "for 20 quid off eBay". Her best moment from this year's BRIT Awards? Eating chips with Taylor Swift, naturally. "My eight-year-old self was dying inside," she smiles.
The mini-doc gives fans and new listeners the chance to get to know Griff on a personal level – just in time for the release of her mixtape on June 18, One Foot in Front of the Other, which she plans to tour the UK with in October. You can place your pre-order now, if you'd like a personalised and signed vinyl, tape, CD, and merch designed by the artist herself. "I mean, I guess it's time to try and write an album," she says, before adding: "well, actually, before that I think I need to focus on making my tour as good as possible."
Watch the 'Spotify Radar Presents: Griff' documentary below.
This article was originally published on