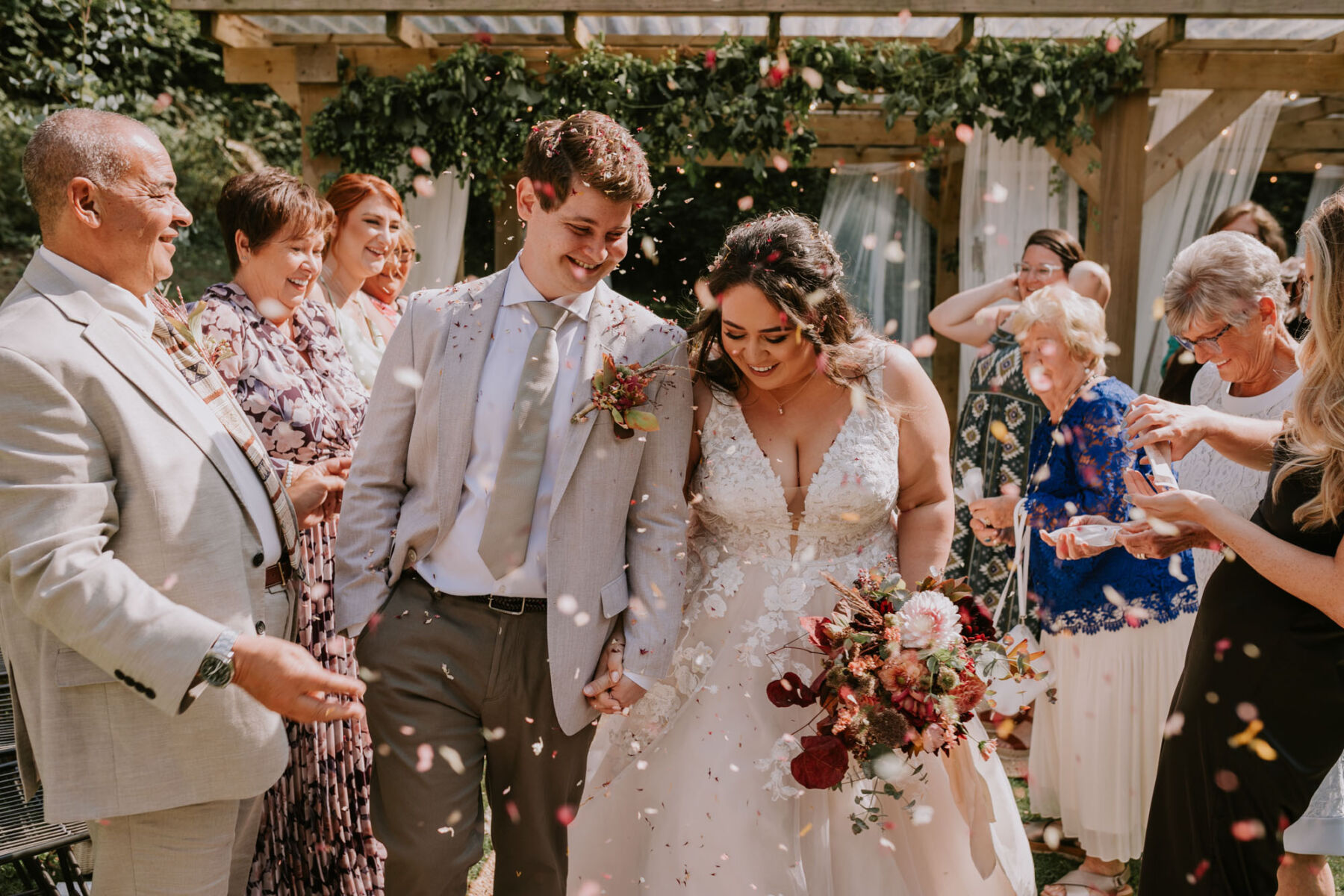 This charming, late summer, early autumn wedding was held at Larpool Mill, which sits on the outskirts of the quaint seaside town of Whitby, in North Yorkshire.
Larpool Mill is a hidden gem of an intimate country wedding venue – a fully restored, former flour mill that dates back to the 1800's and that sits discreetly within almost an acre of private land. It was the perfect, most magical spot for Alex and Callum to exchange vows in front of their closest family and friends, in September 2022.
Alex wore Essense of Australia and worked with local floral artists and sustainable flower farmers, Moonwind Flowers, in styling the beautiful outdoor spaces with seasonal and deliciously scented flowers.
Larpool Mill, An Intimate Whitby Wedding Venue
We got married at Larpool Mill, in Whitby. We initially wanted to get married abroad but Covid travel restrictions put pause on this. We decided to look for venues that would offer similar small weddings outside. This was the first venue we visited and 20 minutes into the car journey home, our decision was made!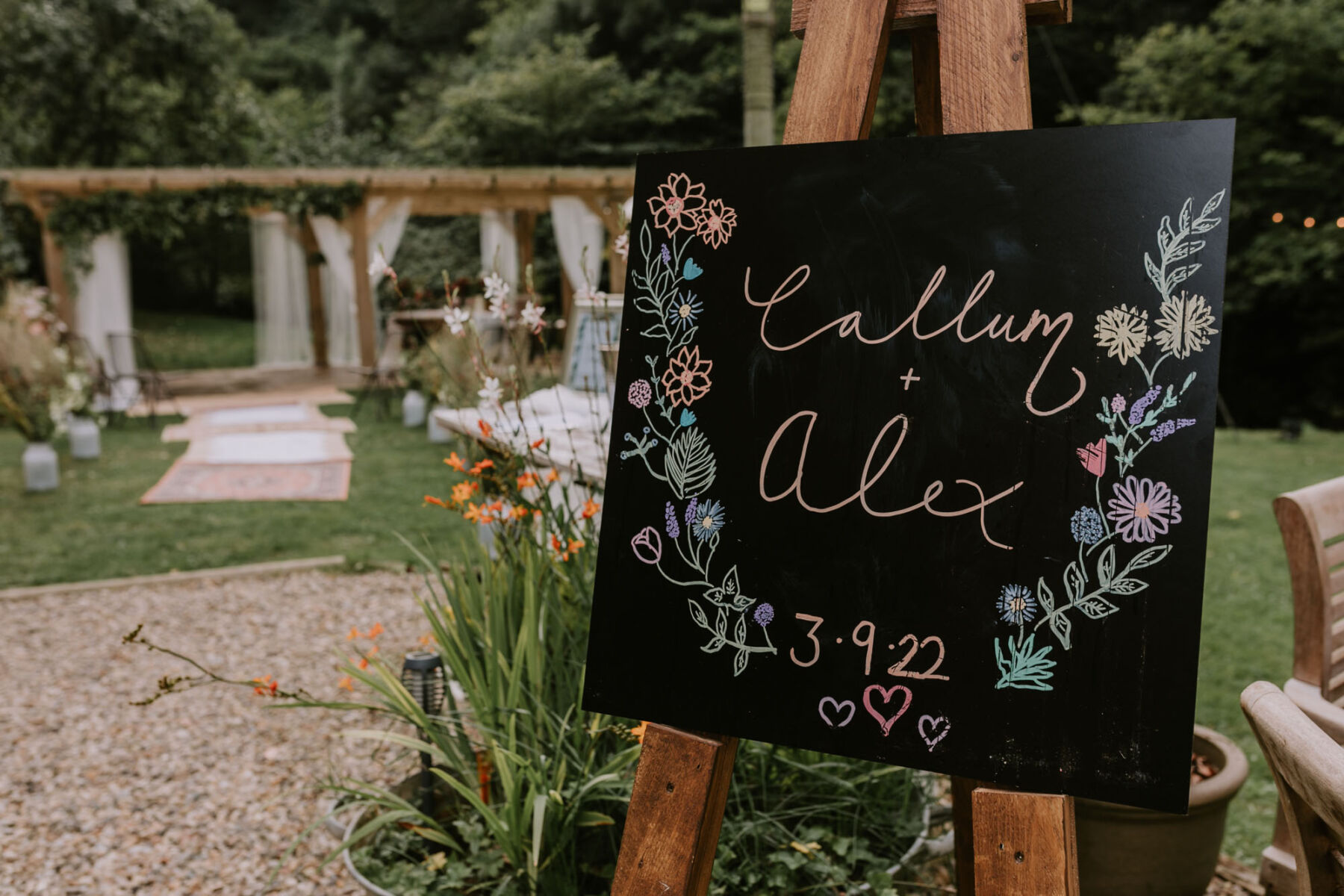 We were struck by how much some of the design choices mirrored choices we had made in our own home and the beauty and peace of the surroundings. Also, the package included exclusive hire for the weekend so we knew we could somewhat offer our guests a small break where they could relax without the some of the stress of logistics.
Bridal Beauty & Accessories
My hair accessory was from Etsy and my shoes were from The Perfect Bridal Company, thought I changed into my trust New Balanced trainers as soon as the ceremony was over!
We both wore Jo Malone scent. It is a tradition that when we travel, I buy a new Jo Malone perfume at the airport that becomes the scent of the holiday so I can use it in future to reminisce.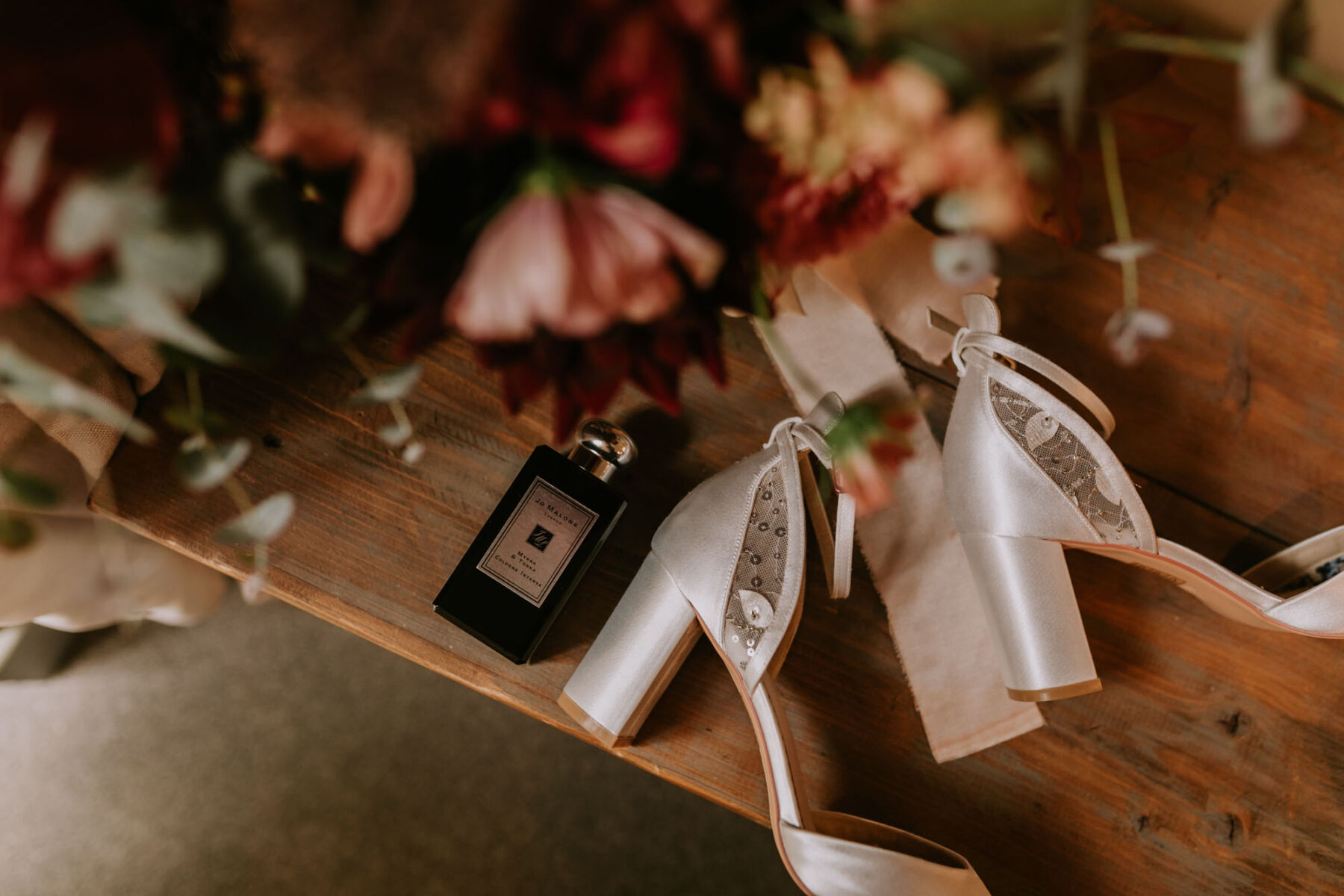 I love scent memory, so this seemed a no brainer for us. I wore their Myrrh and Tonka scent and Callum opted for Oud and Bergamot.
My shoes were from The Perfect Bridal Company, thought I changed into my trust New Balanced trainers as soon as the ceremony was over!
My bridal jewellery was minimal but my Dad chose and purchased me a beautiful natural Mallorcan pearl bracelet as his gift to me for the day.
An Essense of Australia Wedding Dress
I wore an Essense of Australia wedding dress, from Treasured Brides in Angram. I would definitely recommend, Zoe was very helpful and supportive and there was no pressure at all, unlike other bridal stores I had visited. I had originally purchased a bespoke dress from another store and this experience had been very negative, so I went into the process of finding a dress again with hesitation, but I felt very much at ease.
The experience was slightly different to usual as my dress arrived during Covid Lockdown so the collection etc did not take place in the usual manner.
I am a dress girl, always have been! I knew this one needed to be special, and I knew that I wanted something that felt like 'me' I had no real commitment to a pure white/ ivory dress, favouring something with some colour and the beautiful taupe shade of my dress really appealed to me, I also loved that the detail at the top reflected through the skirt and did not come to a harsh end.
Seasonal & Sustainable Wedding Flowers by Moonwind Flowers
Our florist was Moonwind Flowers. Working somewhat within horticulture I wanted to find florists that mirrored my views on sustainability and my taste of more natural organic arrangements.
Scrolling through Instagram one rainy morning I stumbled upon Moonwind and crossed my fingers as the images of the work were stunning and seemed to align with all of our hopes, and they were local to our venue!
The Groom
Callum's outfit was from Hugo Boss. For the ceremony he wore a blazer/ shirt and chinos and changed into a more casual outfit with a polo shirt from Reiss afterwards.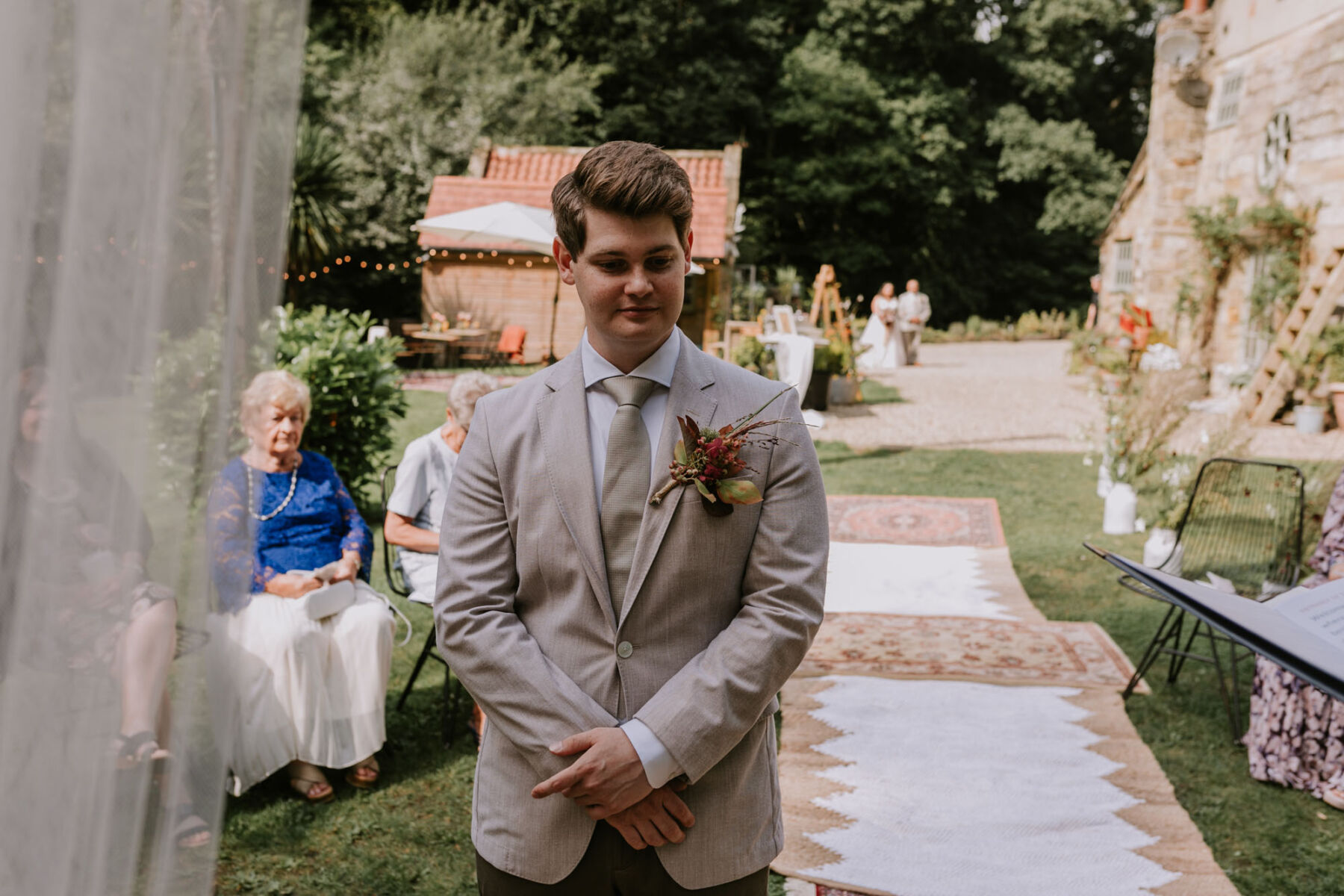 A Beautiful Outdoor Handfasting
We had a wonderful humanist celebrant, Penny. We each wrote our own vows which spoke of our love for each other and of our journey and hopes for the future. This was truly one of the parts of the day I cherished and would recommend where possible to write your own vows.
We discussed and had planned on having a reading, this would have been Love Sonnet 17 by Pablo Neruda as it has always been one of my favourite poems, however we couldn't decide how this would sit in the ceremony and day as it seemed somewhat formal to have a reading and opted not to use it.
We did not plan on having an official first dance so decided to choose the song we walked back down the aisle to with the same kind of reverence, it was an easy choice as 'Sweet Disposition' by the Temper Trap is a joint favourite and the lyrics fit the moment perfectly.
We later had an unofficial first dance to 'How Can You Mend a Broken Heart' by Al Green, a beautiful song that means a lot to us. Music is important to us and for the evening we created a playlist 'on the go' taking everyone's requests and adding them so we now have a playlist of the night and everyone heard something they loved. We had beautiful music provided by Ebor Strings through the day.
We included hand-fasting as part of our ceremony which was meaningful to us as a physical representation of the meaning of marriage, however we did get slightly tangled.
Our rings were from the same Jeweller, Bradley's Jewellers in York, that Callum purchased my engagement ring from. Callum opted for a white gold simple band and I opted for a yellow gold band that has 7 tiny diamonds along the front -one for each year we had been together at the time of getting married!
Bailey & Mitchell Photography
We were recommended Emily and Micah of Bailey Mitchell Photography, by another photographer and honestly, we couldn't have done better.
hey were kind and helpful throughout the lead up and we were really pleased they had packages suitable for smaller and more intimate weddings and how inclusive their imagery on their website/ Instagram was. On the day they arrived exactly when they said they would and integrated seamlessly into the hubbub of the morning and we so warm and kind.
The images are stunning, we couldn't be more pleased with them, and we would highly recommend.
How They Met
We met seven years ago and quickly became a couple. We both knew that something was very right and we got engaged on my 21st birthday. By the time we got married we had been engaged around 4 years.
We wanted a day that championed the things that we love, family, food, and music.
We had support from both our celebrant, Penelope Jayne, and florist, Moonwind Flowers, with planning and styling and we would not have been without this. Alex
Reception, Detail & Decor
My wonderful Dad lovingly prepared the food for our day.
A Single Tier Wedding Cake
Baking has always been my hobby so I made our cake, knowing that it would force me to have a moment of pause and peace in the lead-up to the day! It was chocolate with caramel and sea salt, highly influenced by our favourite bar from the ethical chocolate brand Tony's Chocoloney.
We went for a one tier design with a delicate pink buttercream and gold leaf accents. We did not want the cake to be too 'perfected' and more mirror some of the more rustic elements of our day. The beautiful flowers supplied by Moonwind Flowers were the perfect finishing touch.
Our venue had a treasure trove of beautiful accessories we could use but in addition we spent time sourcing and purchasing vintage rugs that we could use to create our aisle and we also found some beautiful handcrafted recycled glass vases at Home Sense.
We provided all guests with a bouquet, created by Moonwind Flowers, in their room as they stayed onsite at our venue, to take home with them.
We also created 'party bags' which contained a small bottle of Malfy Gin, in homage to one of our favourite travel destinations the Amalfi Coast and a candle from The Yorkshire Candle Company in the scent 'Whitby Harbour' in homage to our venue location and my love for scents. Having recently started embroidery I also embroidered personalised tote bags for each guest, so they had something to take any extra's home in.
We didn't want to spend a lot of money on invitations and purchased these from Paperchase, along with a calligraphy set and after much practice and Googling of Meghan Markle's beautiful penmanship I wrote them out. We created a few signs for the day using the app Canva and the using the app Freeprints to print these which saved a lot of money. We had no set table plan or place cards.
(tap images below to enlarge)
Words of Wedded Wisdom
I wish that I'd have stressed less, but that is easily said with hindsight!
Ensure that you are planning a day you truly want, feel no pressure to do certain things simply because they are 'done', and consider a smaller and more intimate day, we only had people we truly loved and loved us at our wedding and that suited us perfectly.
Our original budget was £10k (not including my dress as I had already purchased this) and it was exceeded, but not by much.
Our favourite moment was all of it! Truly, it was everything we hoped it would be, the love and the energy and the joy were truly palpable.
Explore our Wedding Directory