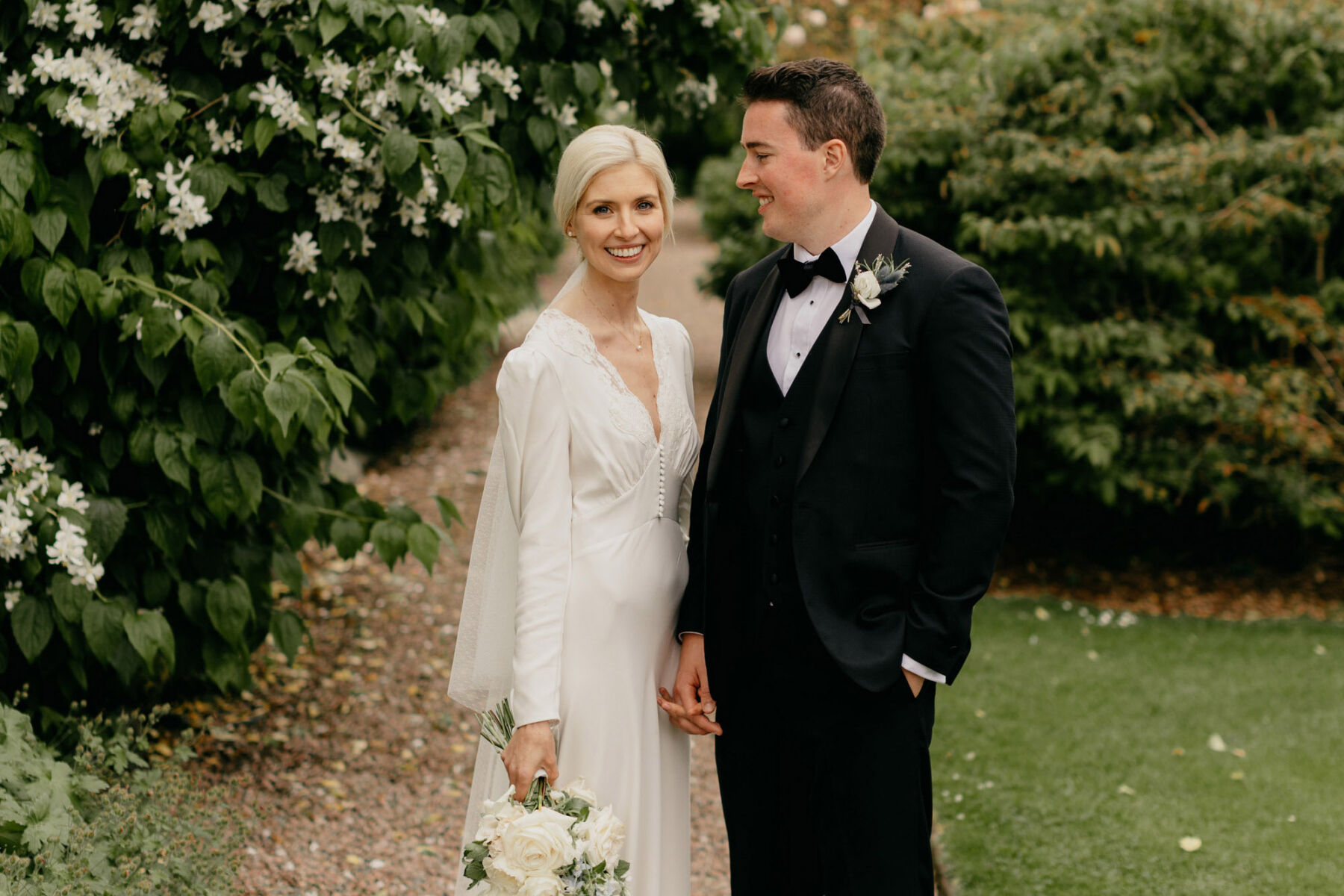 Laura, a Nurse married Stephen, a Doctor, on 11th July this year at the Larchfield Estate in County Down, Northern Ireland. Following a wonderful surprise engagement on Laura's birthday on 30th April this year, the couple decided they didn't want a long engagement, or to be forced to reschedule with erratic covid related restrictions still ongoing in Northern Ireland, and so they resolved to be married 9 weeks later.
And what a beautiful wedding it was! Laura chose a Rixo wedding dress and veil and her bridesmaids also wore Rixo. Family and friends pulled together to help out and the day couldn't have been more perfect!
By the way, you can find other articles featuring Rixo fashion here on Love My Dress, and more Larchfield Estate weddings here.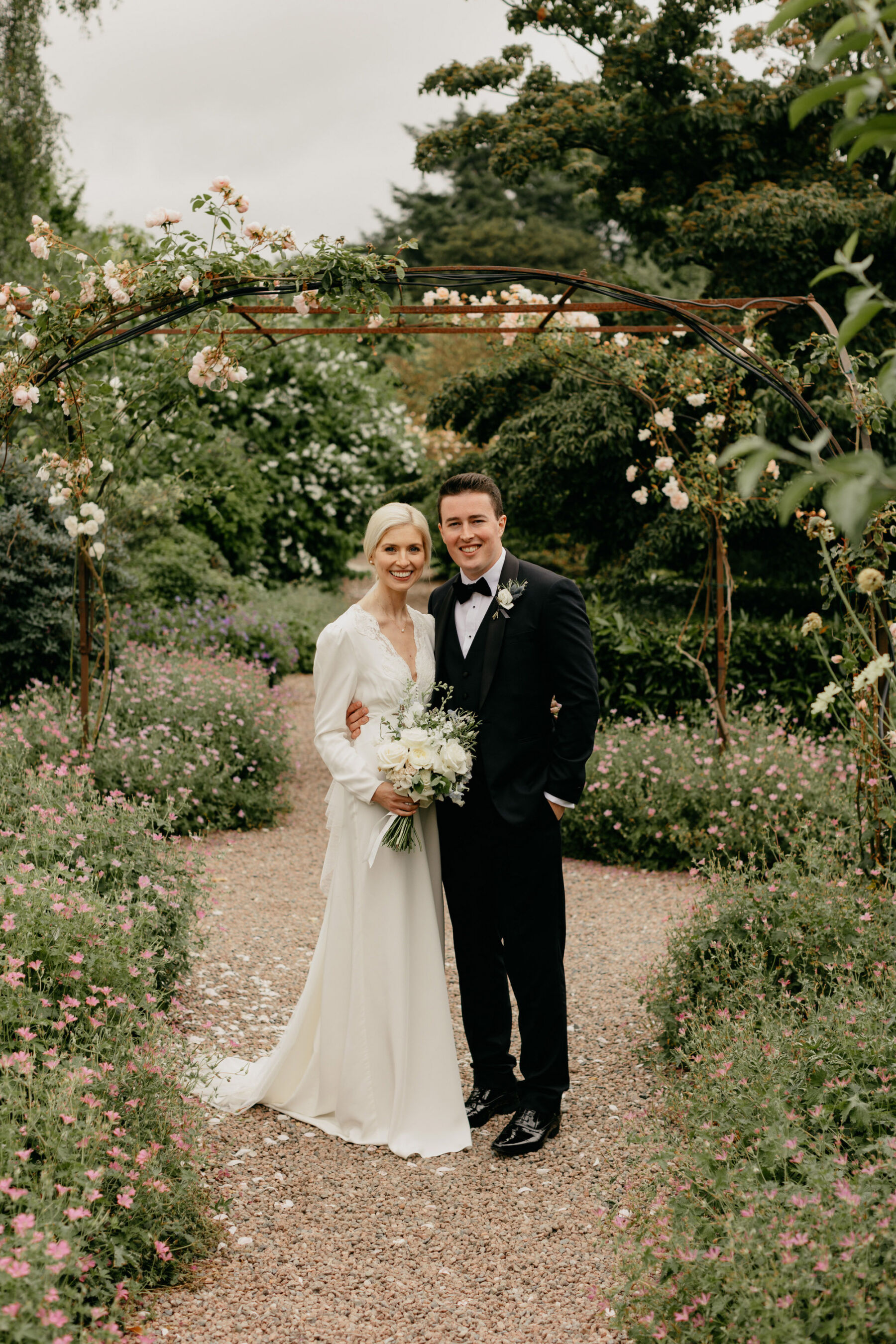 A Rixo Wedding Dress
I wore a Rixo wedding dress – the Celine Satin Back Slip Crepe design. It is an exquisite, off-white silk, 1940's vintage-inspired dress that was much adored – I felt elegantly effortless in it. It arrived packaged in a statement keep box and a handwritten note enclosed.
It was the first and only dress I tried on. I had browsed online including Net-a-Porter, Ghost, Sessun, Whistles and Rixo as I didn't want to undertake a traditional wedding dress hunt – I have always been a solo shopper and am very decisive, hence my choice of ready-to-wear, off the peg dress.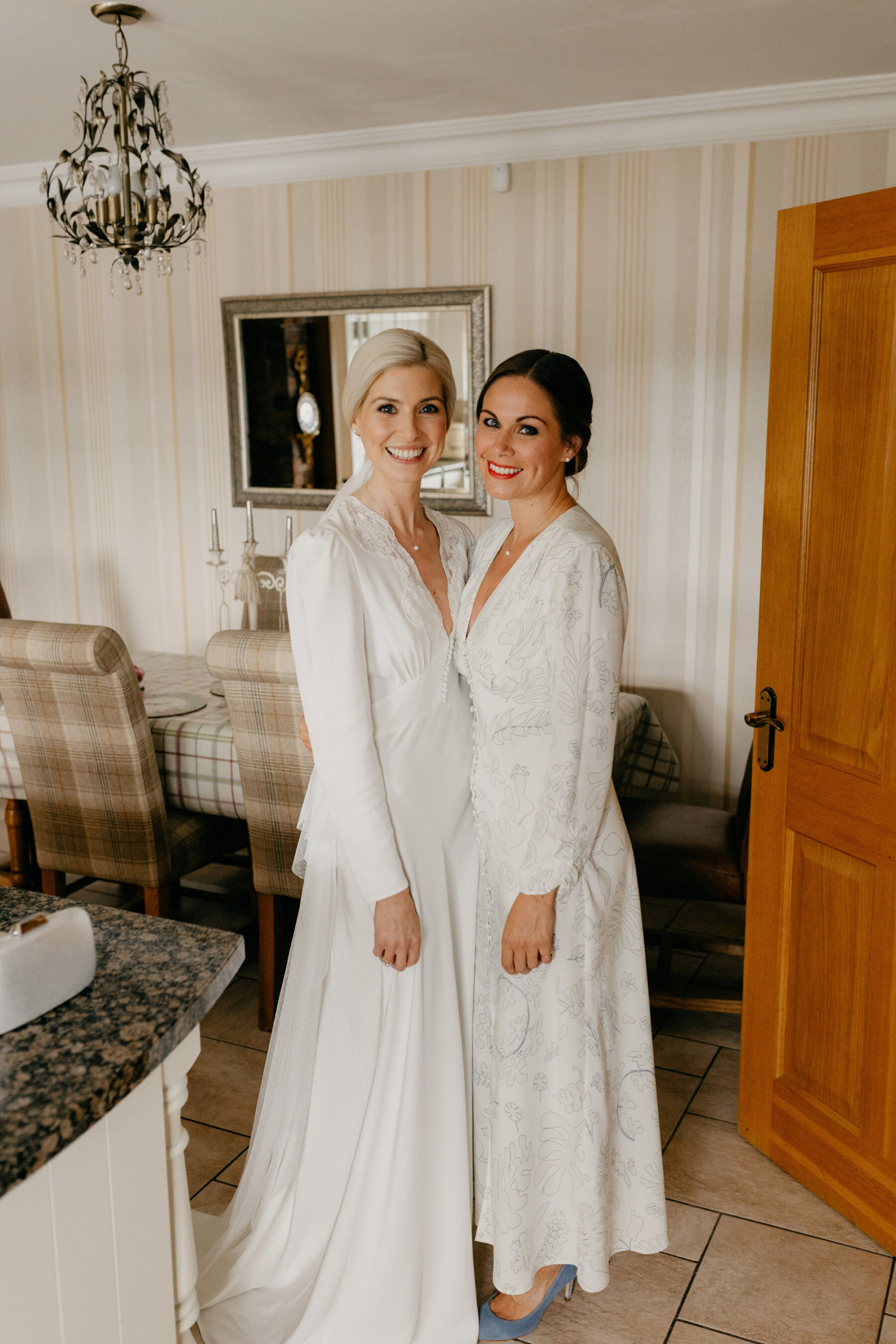 I knew from the moment I stepped into it that is was the perfect blend of romanticism and allure subtly defined by its empire fit waist panel, lace-trimmed v-neck and natural fluidity of the silk that fell into an elegant train.
I have always been about 'forever' staple pieces that have a permanence in your wardrobe. I would chose my dress over and over again as I completely felt myself in it.
Shoes, Veil and Accessories
I paired my gown with the delicate Lavina long mesh veil, also from Rixo, and a delicate single pearl necklace, bracelet and earrings to complete my bridal ensemble.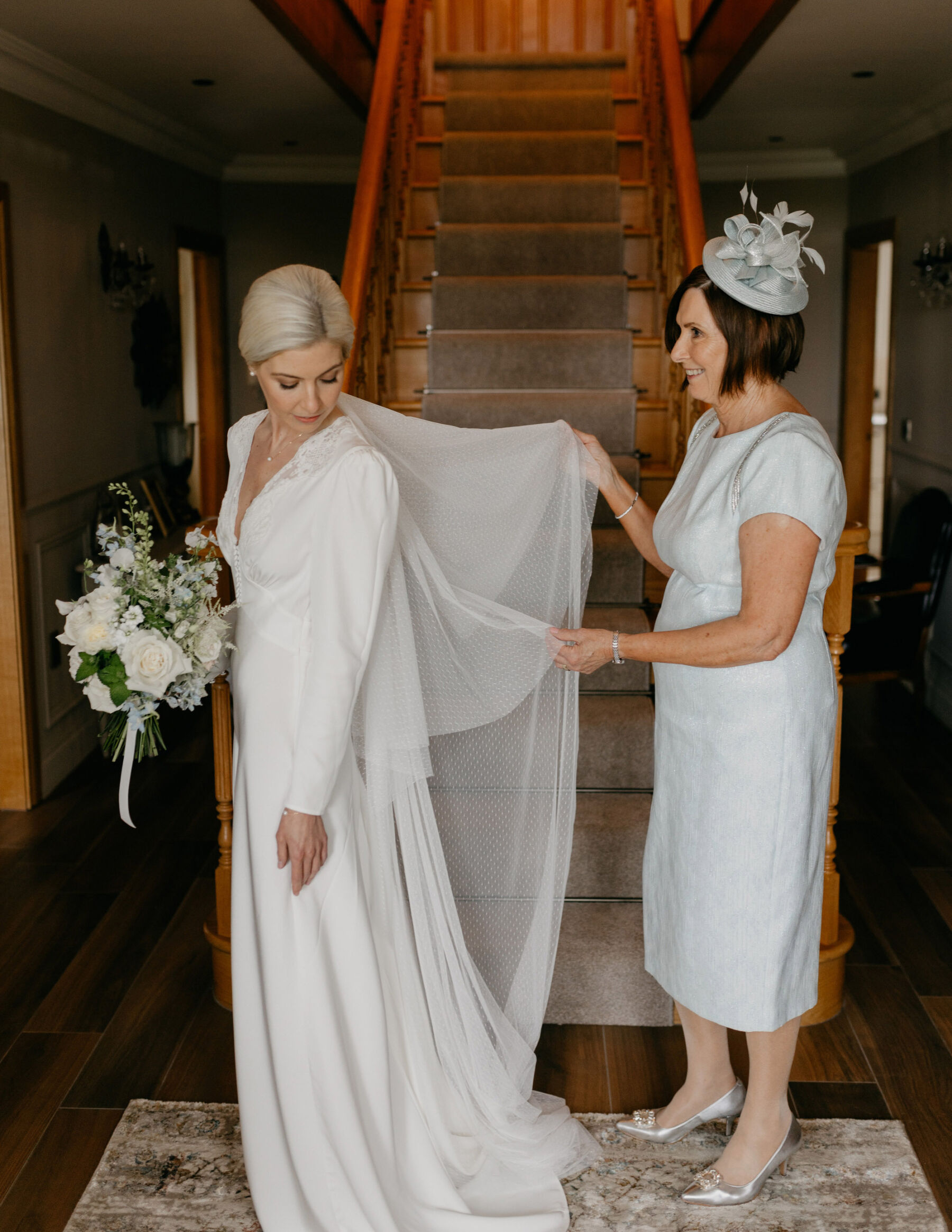 My shoes were by Harriet Wilde – the Sahara Mid Heel Ivory Satin Court Shoe
I wore Jo Malone's 'Silver Birch and Lavender' scent and my accessories included 9ct gold and pearl earrings and a necklace and bracelet set from Campbells Jewellers.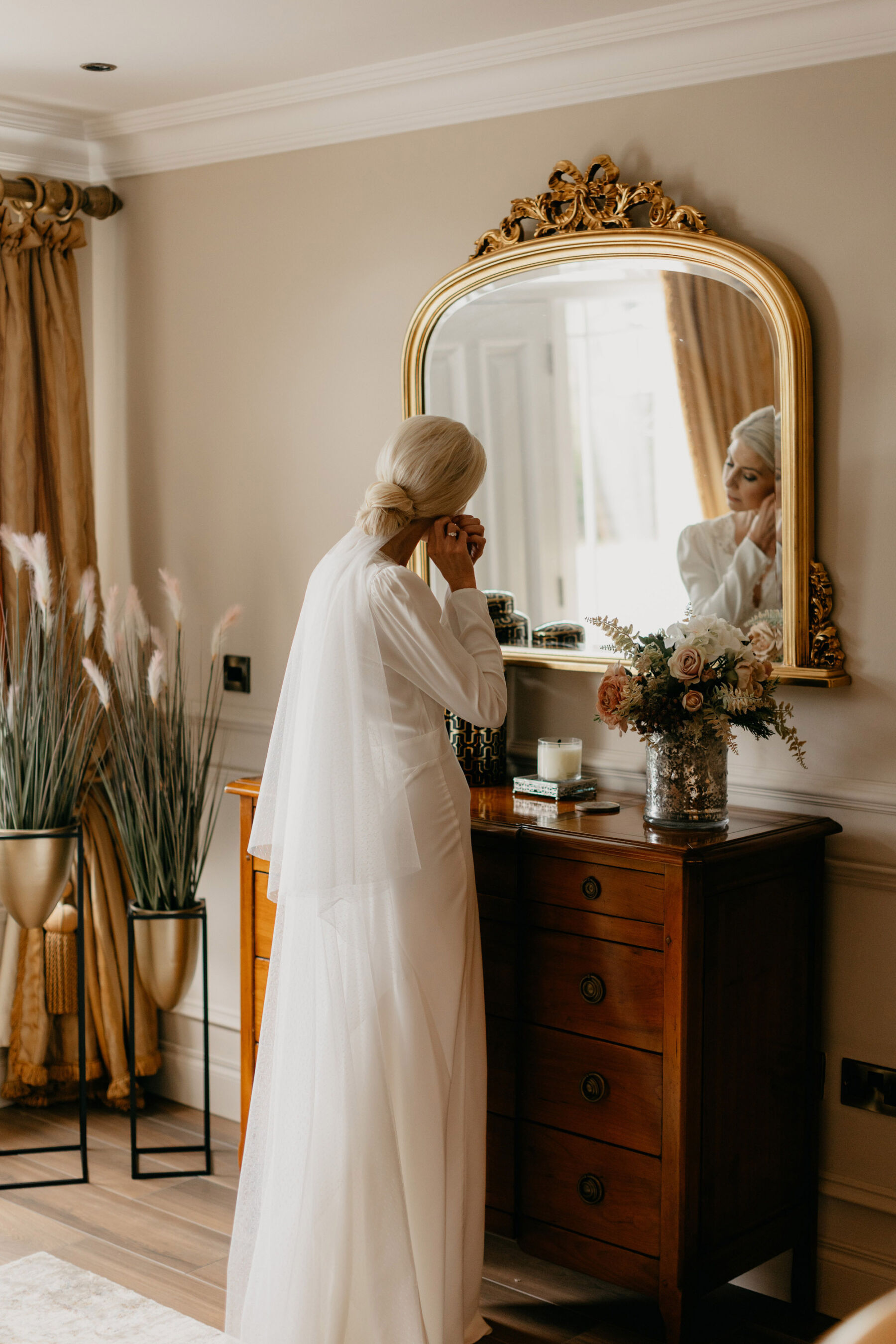 Larchfield Estate Wedding Venue
We got married on a beautiful summers' day, in the enchanting walled gardens of Larchfield Estate, followed by our reception in their recently restored 'Old Piggery', erected in the 1800's. Larchfield is an exquisite, expansive private walled garden estate, situated in the rural Co. Down countryside.
Charming landscaped gardens, adorned with delicate blooms, cobbled courtyards, a tranquil fishpond lake-exclusive bride and groom access only, restored stone cottages and 'Myrtle', the 1950's Swiss Army Truck, with an adjoining private sauna, where we spent our wedding night.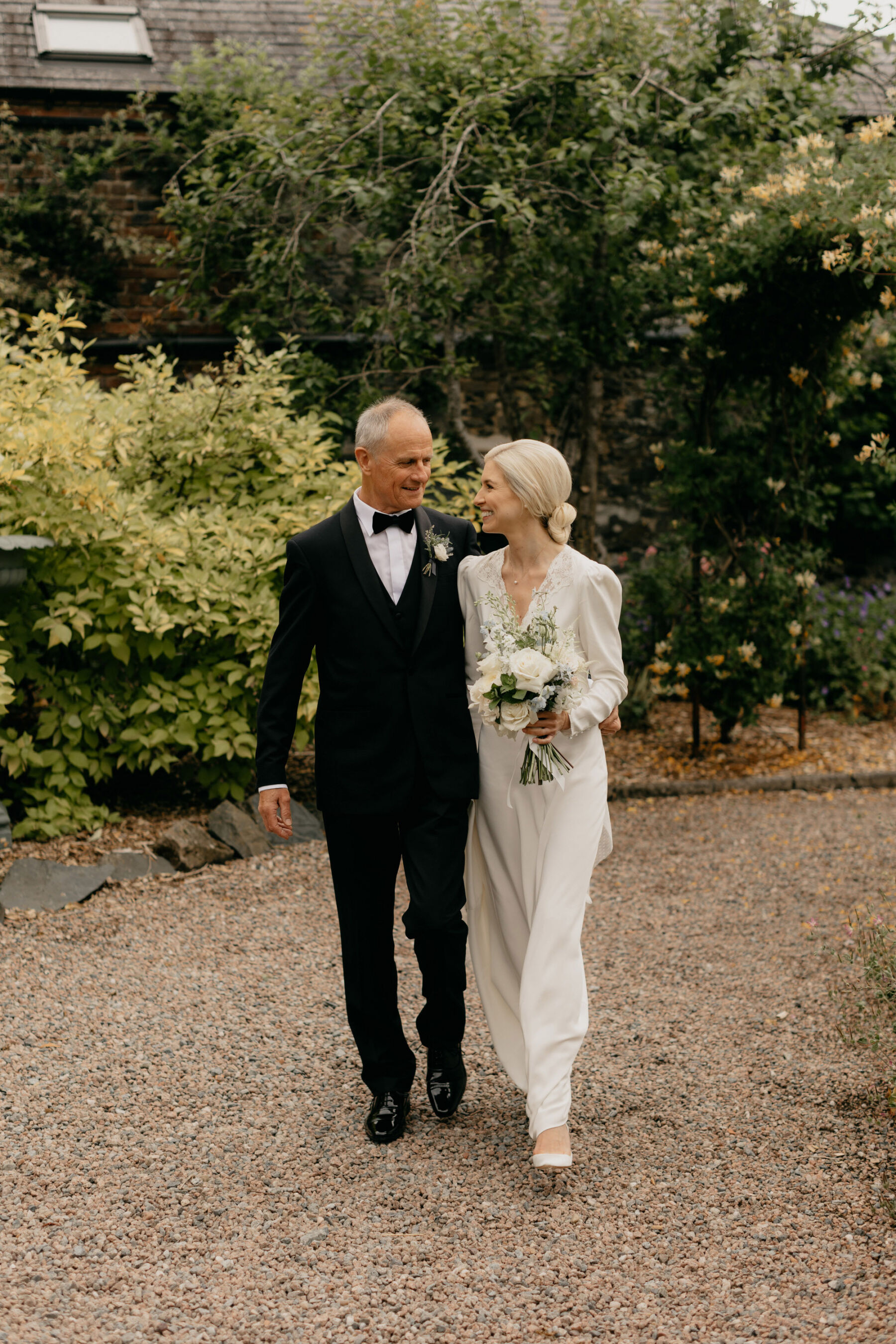 It was the only venue we viewed, as it captured our hearts, had an available date and befitting of our small, intimate wedding of 50 guests and had onsite accommodation to facilitate all of our guests overnight.
Larchfield undoubtedly provided the perfect backdrop for the most romantic of weddings.
The Ceremony
My father walked me down the aisle, which is a treasured moment. I love the candid photographs that Iain caught of us before and during our walk down the aisle.
We both share a strong faith and to declare our love, commitment and promise to one another, shared with our family and friends through a religious ceremony, was incredibly important to both Stephen and I. Reverend David Cooper officiated our wedding and his words were perfect, thoughtful and reflective. He had all of our guests captured, a lovely blend of laughter and emotion in equal measure.
My engagement ring was from Gardiners Brothers Jewellers – it is a stunning 3 stone, brilliant Aurora cut diamonds set in an 18ct yellow gold mount, carefully chosen by my husband with a little inspirational guidance from my sister, as we never ring shopped. Gardiners Brothers Jewellers. Our wedding rings were matching 18ct gold bands from Murray & Co
The traditional written and spoken vows we exchanged were at the very heart of our wedding day. I feel that they are something that cannot be re-written or tweaked in any way, not only for legal reasons but that they are the words of commitment, spoken by millions of couples over the centuries, to a shared life that ultimately define a couple as 'married'
Our readings included '1 Corinthians 13, verses 4-8 & 13', read by our close friend ,Dr Martin King, and '1 John 4:16-19 & John 15:9-12', read by eldest cousin, Ms Jill Neill.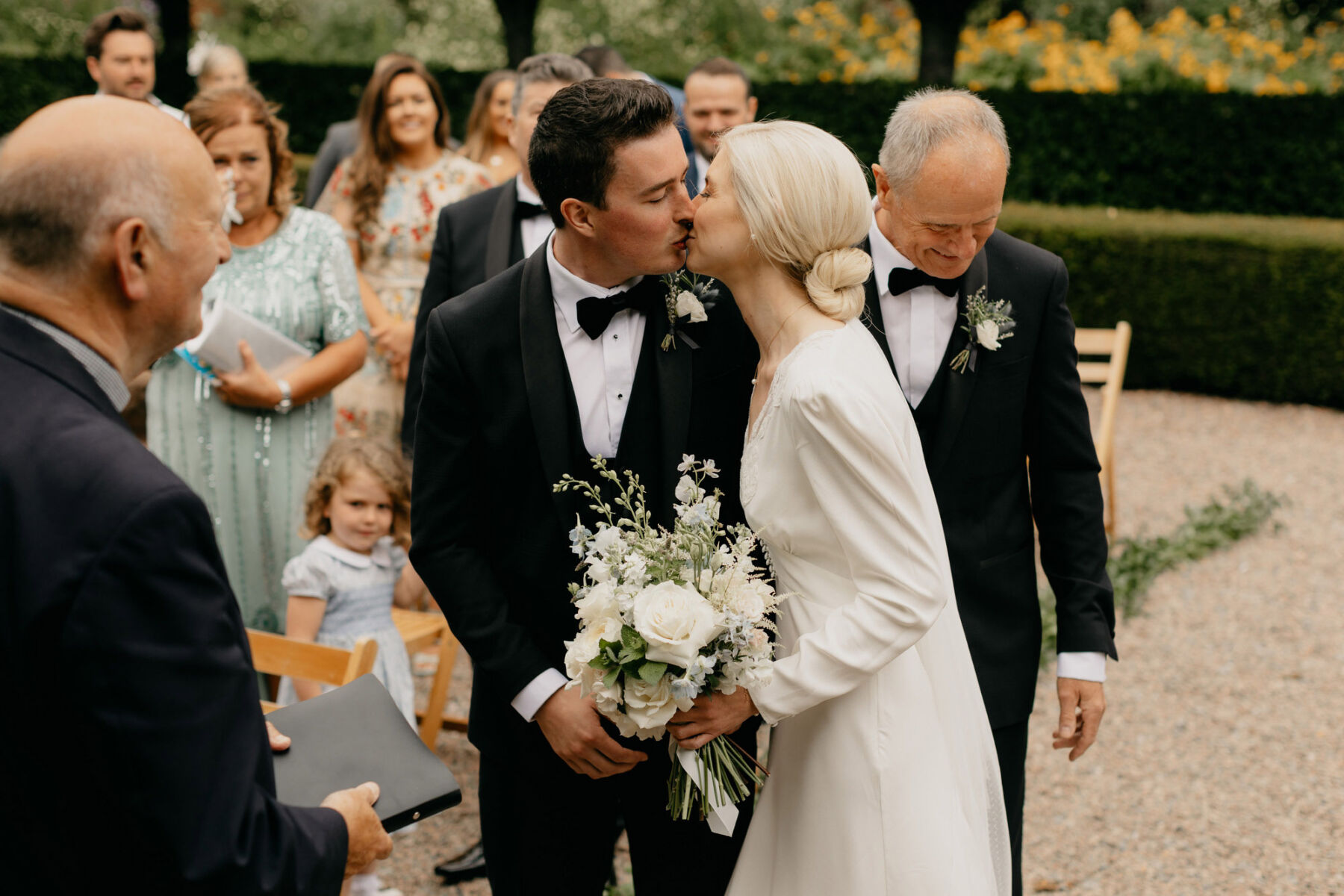 Flowergirls & Page Boy
My flowergirls wore Liberty print, powder blue floral dresses and Hampton Canvas Champ Shoe in off-white – both from Trotters Childrenswear. The girls also carried suitable sizes of beige Jellycat bunnies.
Our nieces and nephews are very much adored and we felt it was important to include them and make them feel part of the day.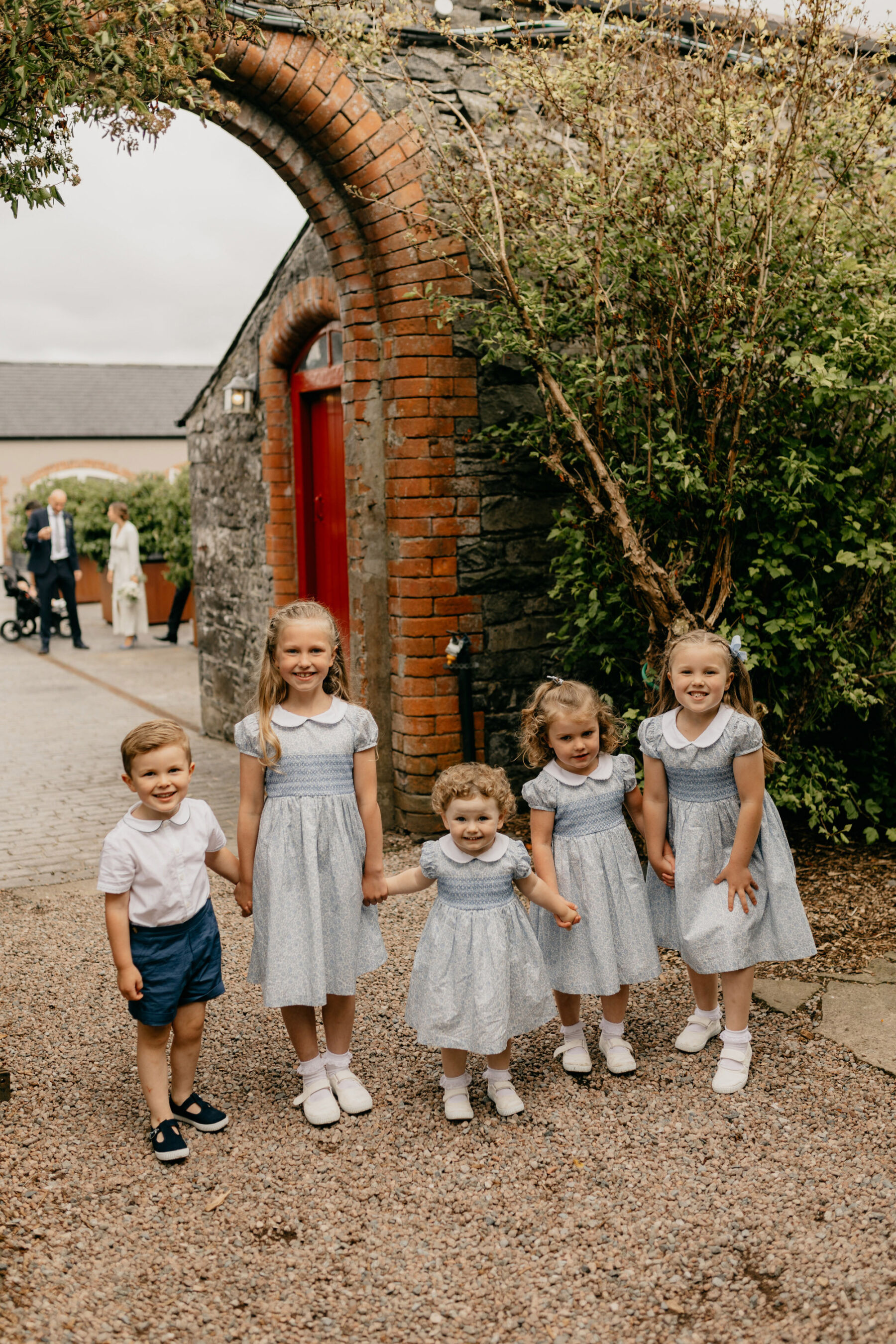 Their outfit choices very much fitted the occasion and the 'feel' of our wedding, as well as suit their little personalities, be comfortable and fun for them to wear. With a 9-week timeline, we had no risk of growth sputs, ensuring their sizes were perfect. Collectively, they were our beautiful something blue and brought a certain magic to our wedding.
The boys wore the Little Rupert Set in French Navy from Trotters Childrenswear and Hampton Nantucket Shoe in Navy.
Photography
The wonderful Iain Irwin and would absolutely recommend him, he captured our day so beautifully and really put us both at ease.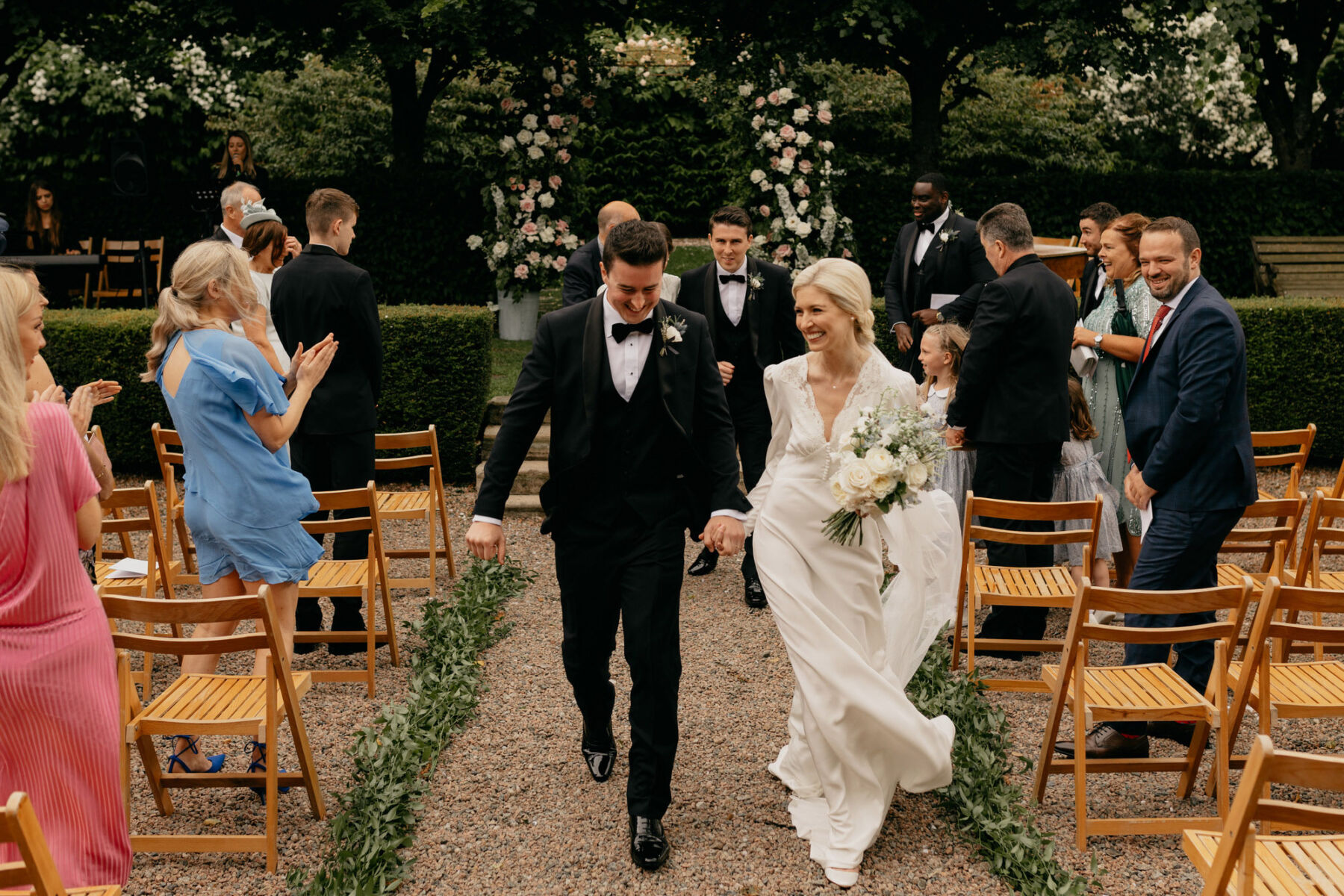 How They Met
Stephen and I originally met in 2010 when he sold me a mobile phone (a blackberry of all things!) when he worked for 02. We met on a night out in Belfast, we caught one another's attention from across a crowded dancefloor, we got chatting and immediately clicked.
We met up the following day for a walk and brunch date and that was the start of our romantic relationship and we have rarely been apart since.
As Covid restrictions limited our numbers, we decided to embrace this as an opportunity to hold an incredibly intimate wedding, surrounded by our immediate families and close friends. We are an extremely close couple, whom are not overly comfortable with being the focus of undue attention. For us, it has always about the end goal – our union.  The Bride
Reception
Our wonderful florist, Kathryn Millar, and her associate, the very talented stylist, Gary Dobbin, kindly led the Larchfield team in dressing our tables in my carefully chosen hand-dyed layered linens, personal Spode dinnerware and antique soup tureens filled with blooms for our centrepieces.
Elegantly tapered Ester & Erik candles displayed in irregular brass candle holders and hand printed embossed place names created a very soft and charming finish. Life's bigger moments often revolve around larger, signature pieces, however I feel that it is always the considered details that can truly create a magical moment and uplift a space and we were delighted with the finishing touches.
I love when you walk into a room and it is so aesthetically pleasing, nothing particularly stands out as it is all equally beautiful and complimentary, which ultimately reflects Stephen and I's relationship…the perfect compliment.
Our catering was provided by The Spitting Pig and we supplied our guests with wedding favours of hand embroidered, personalised and initialed picnic blankets from Zara Home. The blankets were embroidered by our family friend, Sandra.
Evening, Dancing & Favourite Moments
In the evening we hired The Bella Caves and The Joel Harris Band, A very cool rendition of James Bay, 'Need The Sun to Break' by our band, chosen by my Stephen
On reflection, there are so many poignant moments that I could speak of but the moment that touches us most on the day was dad's handover at the top of the aisle.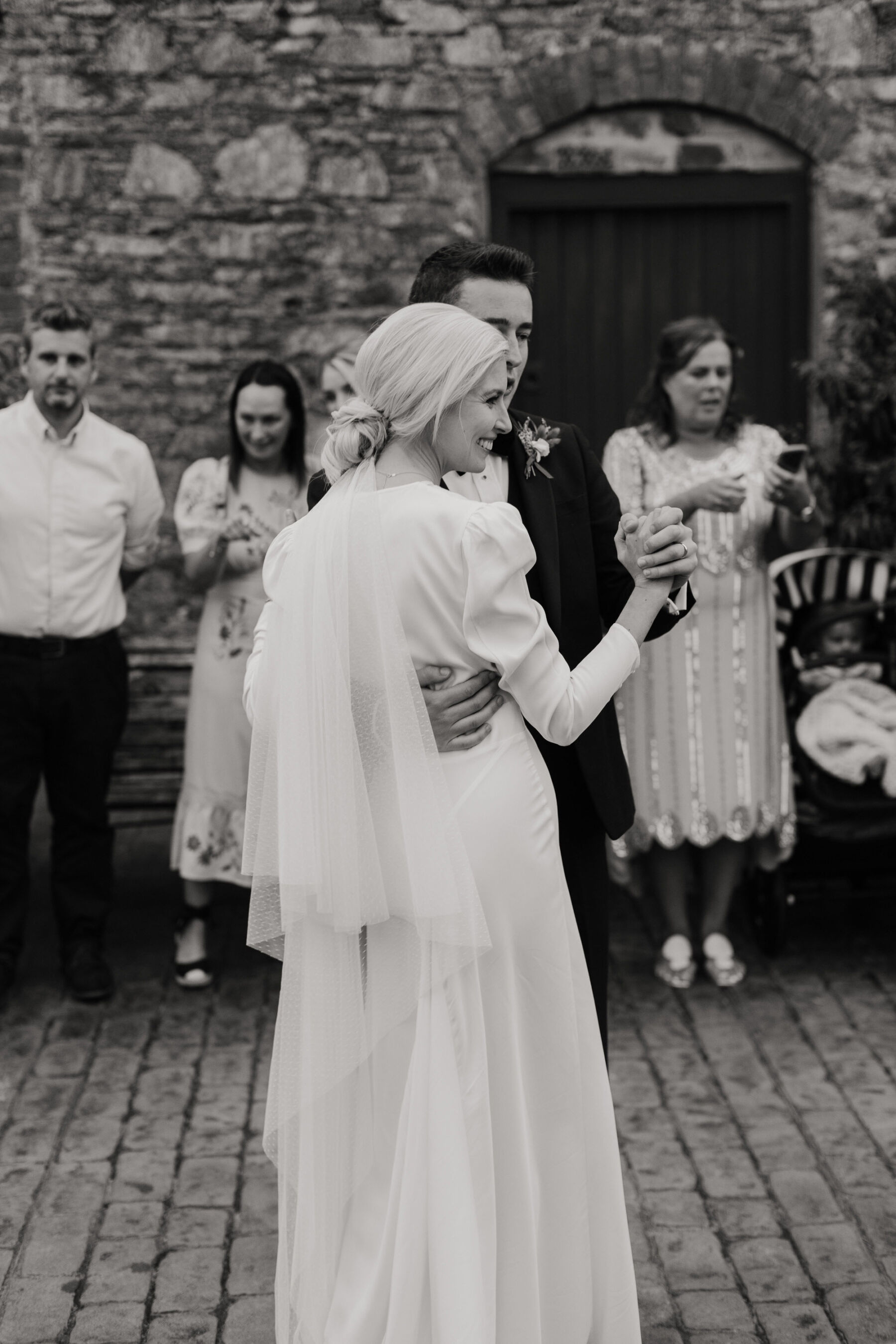 That little pause on the realisation of the moment preceding our exchange of vows and in that moment, it felt as though Stephen and I were the only two there, so overjoyed that the someone special who came into your life that completely stopped you in your tracks and our very natural draw towards each other saw us exchange a kiss, a kiss of which our mother-in-law very lovingly corrected us on our un etiquette display of affection pre vows!
Very us, renowned for doing our own thing at exactly the right time for us.
Words of Wedded Wisdom
Our advice would be that your day is about you both and the love you have for each other, if you are marrying for the right reason, everything will naturally fall into place. For us, everything was perfect.
We will always remember and cherish the moment all of our loved ones together in one place to share and support our love
Overall, I would change very little. However, on a superficial level, I wish I would have felt a little better rested and that my hair a softer shade of blonde as I feel it came up quite light/bright in photographs. We also made sure to capture a few stolen moments together.