Hayley and Aiden, who both work in the RAF, tied the knot on 17th April this year at Aswanley in Aberdeenshire, a beautiful Victorian barn wedding venue nestled within the natural beauty of the Grampian Highlands.
The couple planned the most beautifully considered, sustainable, vegan wedding day, inspired by their love of nature and creativity and with many of design elements carefully sourced from sustainable and vegan suppliers.
You can enjoy more beautiful vegan weddings here and more sustainable and ethical weddings here on Love My Dress.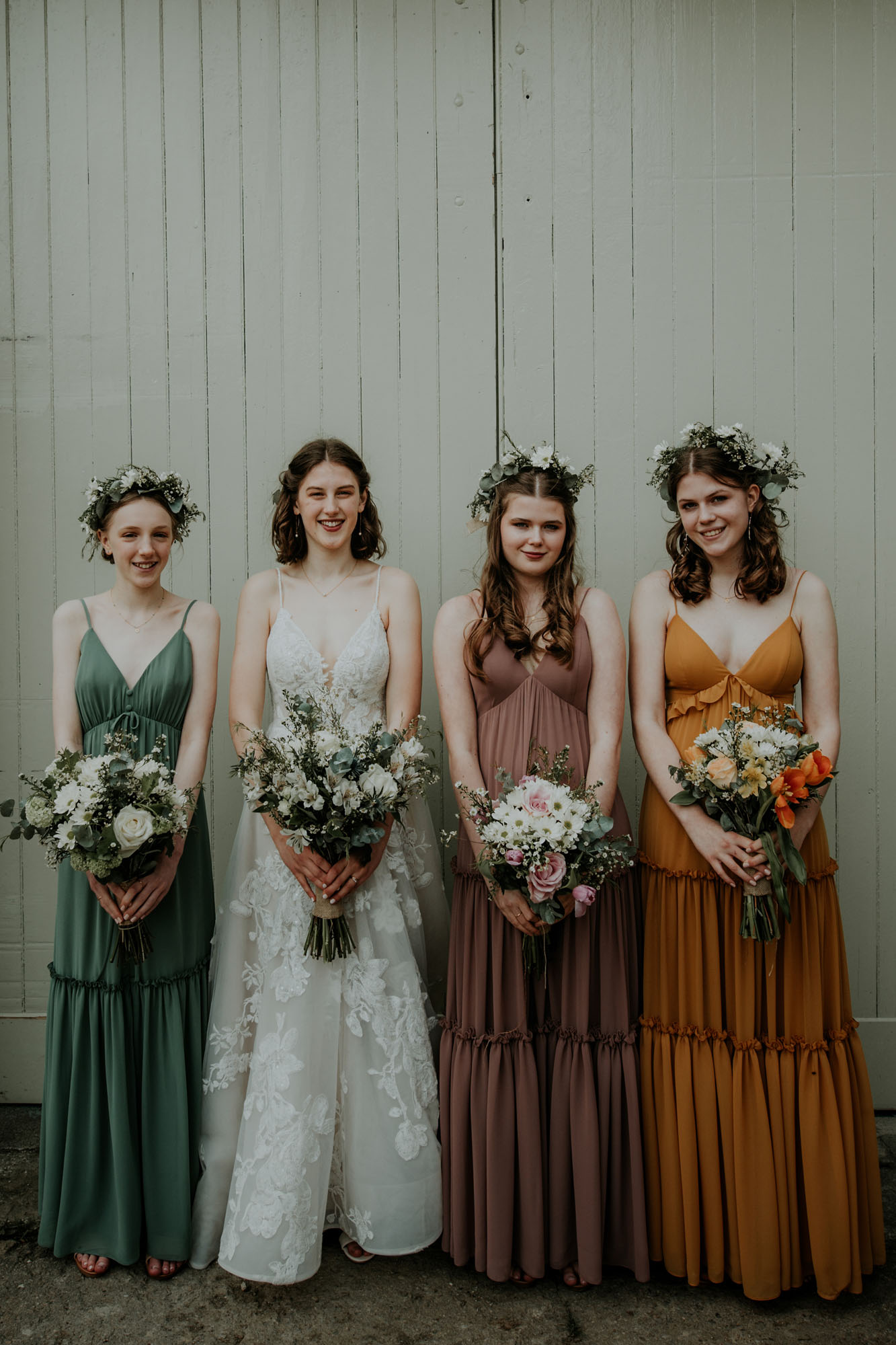 The Dress
I bought my dress on Still White, an online second hand wedding dress market place, because reusing felt the best way to remain sustainable, however I discovered other benefits including being able to have a dress that would be way out of budget if new, while knowing you are benefiting another couple, who now have some extra money to start their lives together.
The thing I loved most about my dress was that it had pockets! (there is a funny picture of me taking my written vows out of my pocket) They were proper deep pockets too.
This meant I could carry my own personal items throughout the day and avoid the whole 'who did I give my lipstick to again?!' They were also the perfect storage place for my something old, new, borrowed, and blue.
I booked in with Bridal Reloved, a chain of boutiques which sells sample and secondhand wedding dresses and accessories. I found a wedding cape (a veil which sits on your shoulders) which I loved as it was something a bit different, complemented my dress wonderfully and meant I didn't have to worry about attaching a veil in my hair.
Bridal Beauty
As a person who rarely wears makeup and whose hair is always twizzled in a bun at the back of my head, it was important to me that I felt like myself on my wedding day. This led me to decide to do my own hair and makeup.
I got my hair cut and styled a few days before the wedding and left with products and advice for how to recreate the look. I enjoyed doing my own make up as it meant I could get together with the bridesmaids and trial as many different looks as we wanted, making sure everyone was happy with their personal look. It also meant that now I have a lovely set of vegan cruelty free makeup to use again and again.
Shoes, Veil & Accessories
We decided to have our ceremony outside, come rain or shine we picked a location and decided we would stick to it (to the dismay of some of our rain fearing family). This meant having shoes that would stand up to the weather, so I used my trusty Lems Boulder Boots (Pinecone Vegan), changing out shoelaces for white lace. I changed these out for heels for the reception, but it was back to boots in the evening for dancing!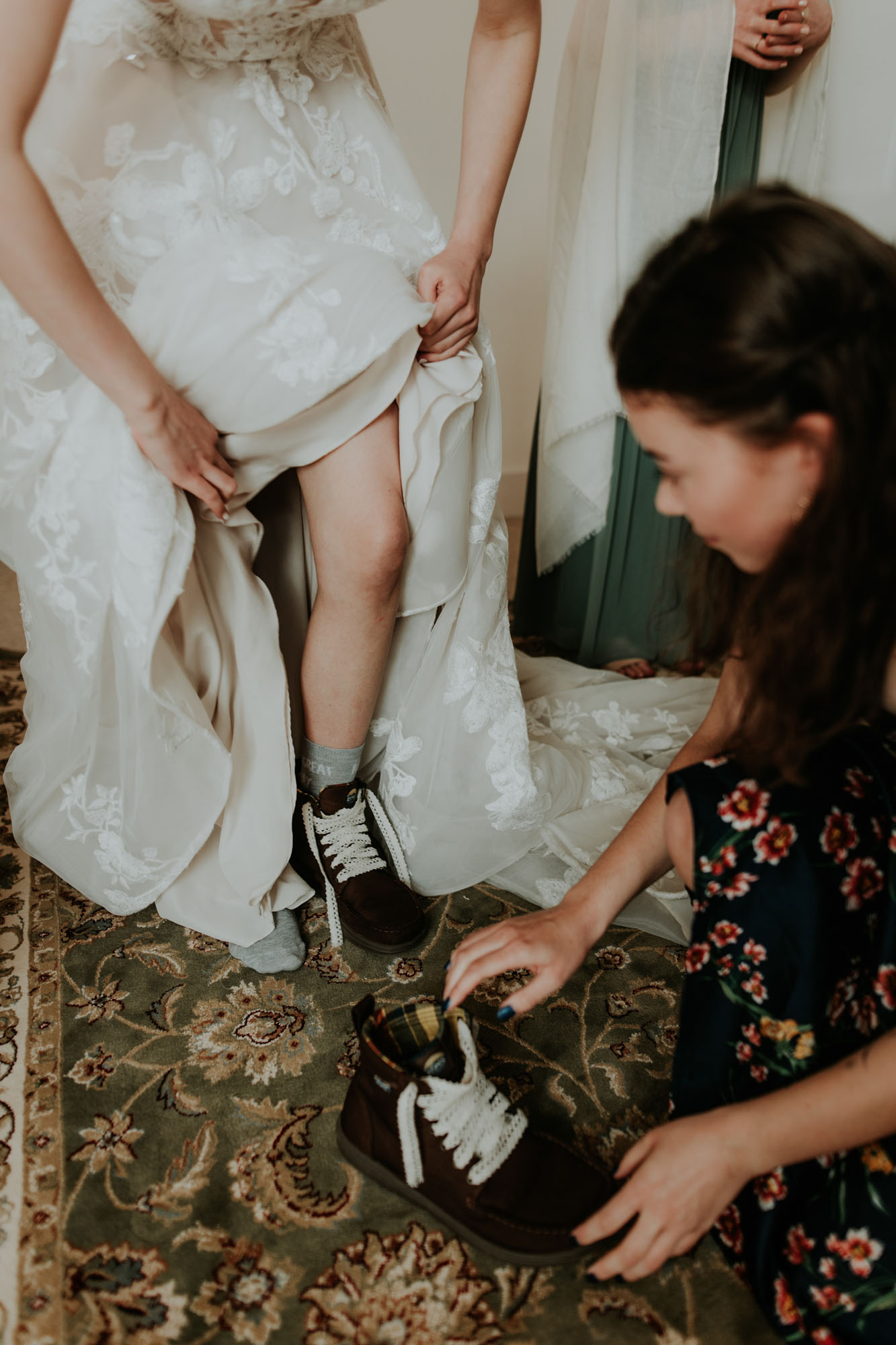 Lush have an amazing range of original perfumes which are vegan and made with ethical sourced essential oils, as a brand they also fight animal testing. I chose "Pansy" scent as I found it to be the perfect balance between fruity and elegant.
Scottish weather is impossible to predict, and as we wanted our wedding outside, I wanted to make sure I had something to keep me warm if needed! I found a beautiful oversized bohemian scarf which added a lovely pop of colour in the evening. I borrowed jewellery from family, and purchased some pieces from independent jewellery makers on Etsy, opting for Swarovski crystal pearls as a cruelty free alternative to oyster pearls.
The Groom
Aiden wore a slim fit, neutral suit from Moss Bros. We found it hard to find an appropriate secondhand suit that would fit properly even after alterations and so decided on a versatile suit which could be worn to many other events and didn't contain wool. If you're looking for a comfy suit that is flexible and easy to move in, I highly recommend this suit.
Aiden's shoes were the Gentleberg Albert Vegan Derby shoes, chosen because he felt they would match his suit well and would be versatile with other outfits in the future, making them a sustainable purchase. The company make good looking and high-quality shoes which are all vegan.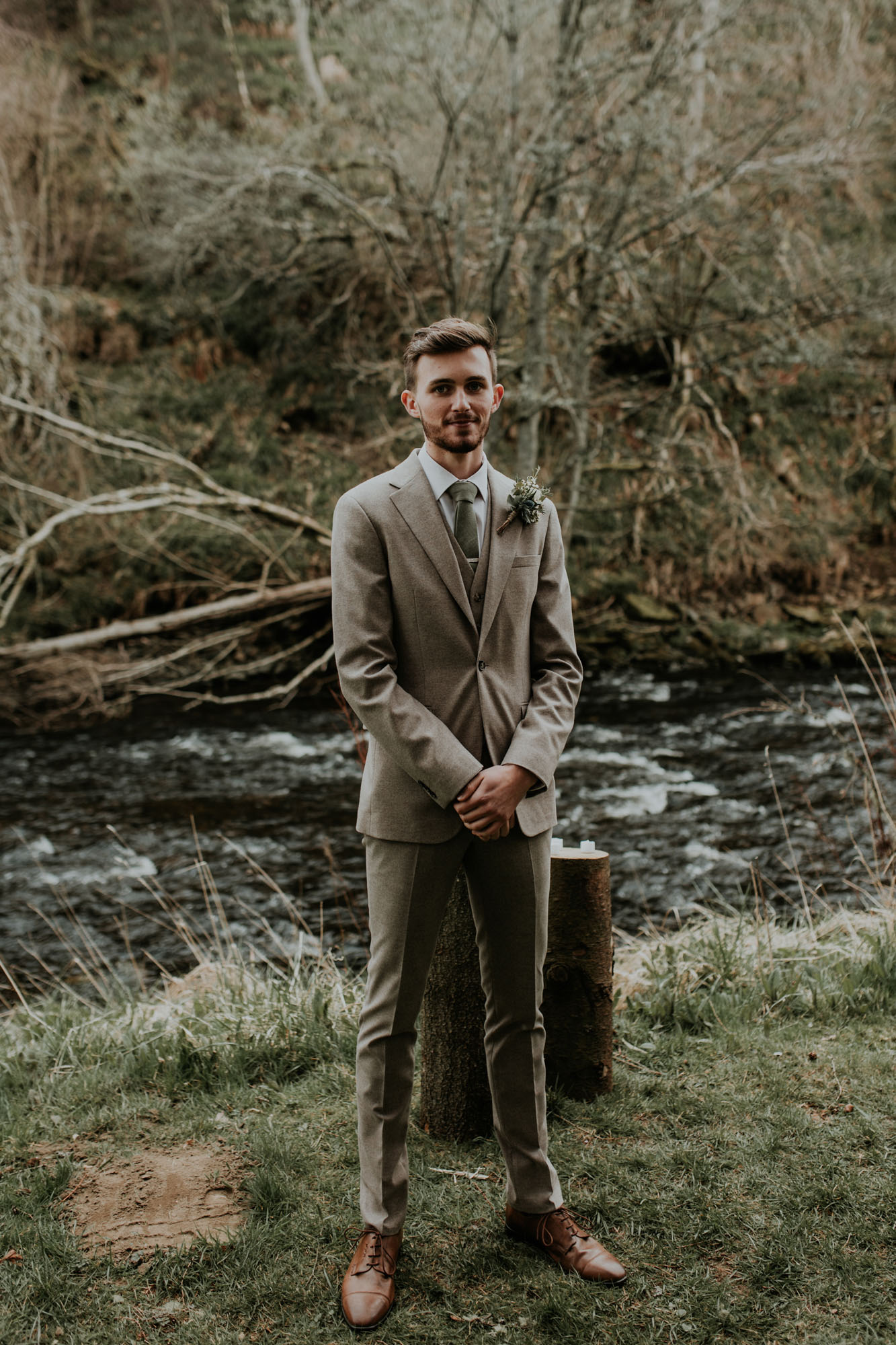 Ceremony
My father accompanied me in the car and down to the ceremony, although definitely not a conventional aisle! We wanted our accompanying song to be personal to us, but still sound 'weddingy' enough. This led Aidan to a cover of a muse song (one of his favourite bands, especially when we met) called Neutron Star Collision by the Vitamin String Quartet.
To someone who doesn't know the song, it just sounds like emotive string music, and that's how he got me! By the time he told me it was a Muse song, I already liked it.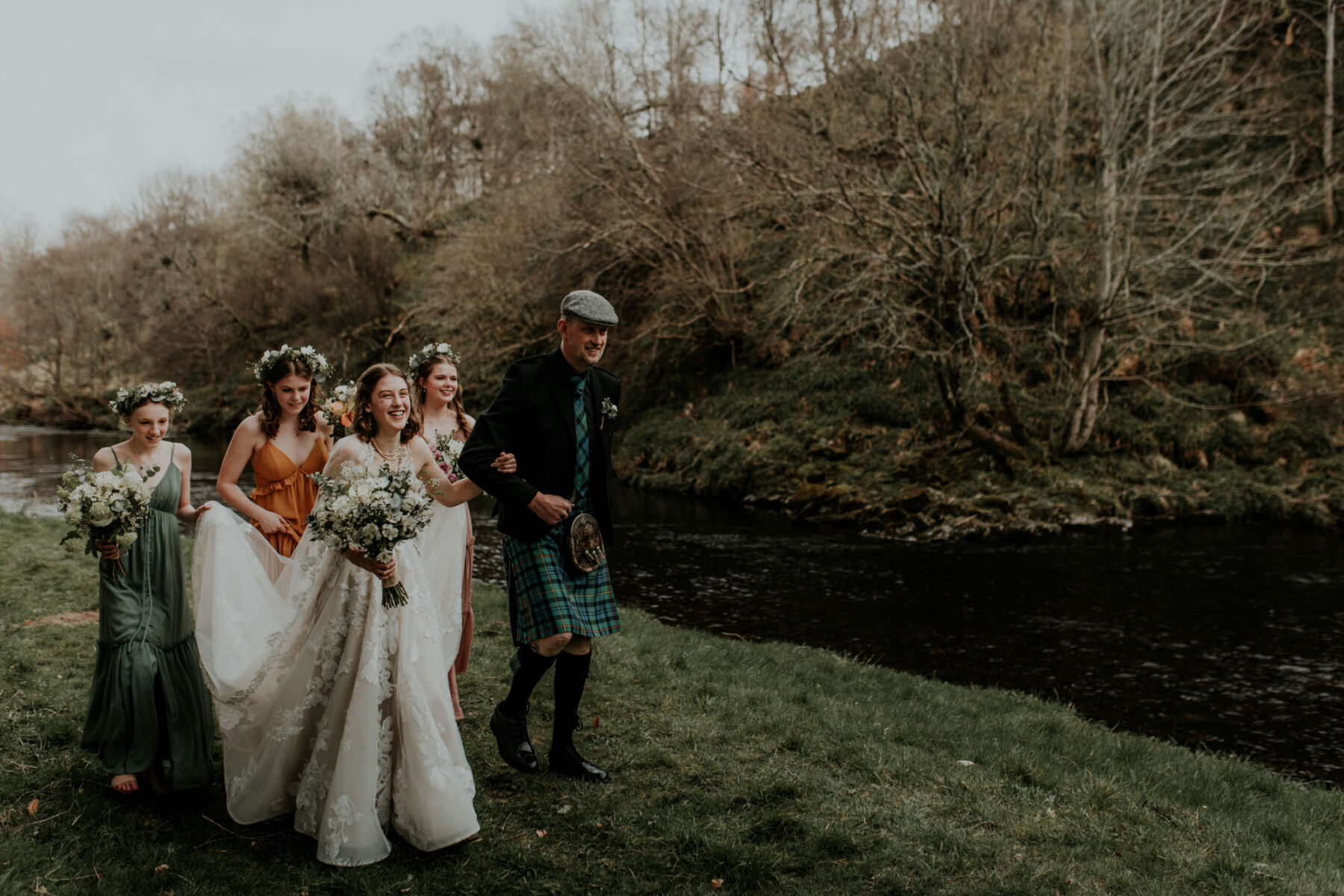 An Outdoor Humanist Wedding Ceremony
We really enjoyed having a humanist ceremony because while humanism isn't something very important to our lives, in Scotland humanist ceremonies are given the same legal standing as religious and registrar ceremonies. The beauty of this is that, given the landowners permission, you can get married anywhere!
We really wanted to get married outside in nature and so this enabled that while also allowing us to personalise our ceremony completely to us.
We performed the traditional Celtic ritual of handfasting at our ceremony. We felt this would be a nice link to having our wedding in Scotland, and we loved the history behind the tradition. We also personalised this by using tartan climbing rope for the handfasting which incorporated our love of climbing and also still had the Scottish link.
At our ceremony we had two readings, the first being 'The Little Yellow Leaf' by Carin Berger and the second, a quote from 'Great Expectations' by Charles Dickens.
We made our rings through Elinor Cambray Jewellery Design. We found Elinor while looking for rings made from recycled metals and were excited to find out that we could made our own rings in her workshop.
We had an amazing day, first creating practice silver rings and then using our new skills on our gold wedding rings. It was such a lovely experience to share together and held great meaning, it was one of the highlights of our wedding preparations.
Photography
We chose Apricot Tree Photography which is run by couple Sean and Casey. We chose them because of the unique style they use in their photography and editing and because they are all about capturing moments rather than staged pictures, which we love!
As part of the package with Apricot Tree, we got a pre wedding/engagement shoot. We had this about two months before the wedding and it was brilliant. We met Sean at the moody Loch Muick, getting to know each other on the walk down before getting a crash course on how to pose for the camera.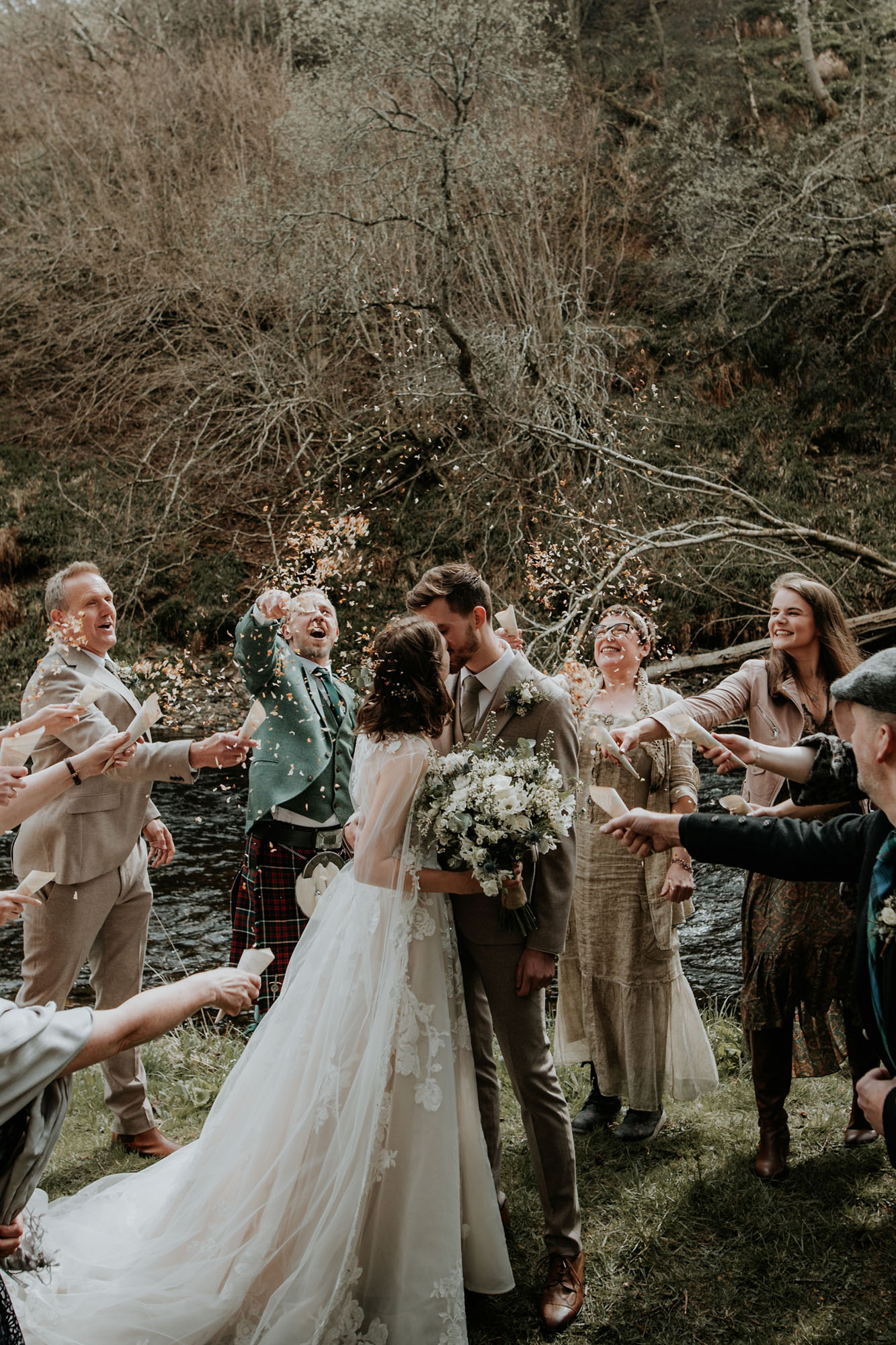 We were then let loose to try different poses and spots, helping us get comfortable before the wedding. The day was great for us to get to know Sean and his style and also got us really excited for our wedding. It was a really great way for us to take a step back and enjoy ourselves while everything was getting busy, and we ended up with some lovely photos too.
We loved that on the day Sean fitted right in and felt like one of our guests which was so nice, he was loved by all the guests and was great at coordinating all the photos we had asked for in advance. Sean really put us at ease and made us embrace being ourselves which has come across beautifully in his photography. Our day was captured perfectly and many lovely memories are held in apricot trees photographs for us to come back to.
How They Met
We met at school in biology class at 13 and have been together for seven years. We got engaged in December 2020, meaning we had just over a year to plan the wedding. We felt this was a really good length of time, as we could get everything done without too much rush, but without having the chance to let our progress halt.
We wanted the style of the day to reflect us! This meant a focus on sustainability, creativity and nature while keeping it fun! We focused on greens, foliage and making as much ourselves as we could.
Detail & Decor for a Barn Wedding Reception
We chose Aswanley for a number of reasons. It features a Victorian barn with a beautiful rustic interior which is simplistically beautiful and so easy to personalise to your vision. There are also wonderful surrounding views and Lauren the wedding planner was both helpful and very up for new ideas which filled us with confidence.
It also helped that Aswanley has an excellent catering kitchen and amazingly thought-out layout which helped everything run smoothly. This was all at a very reasonable price for the size and quality of the venue and how flexible they were about everything we had in mind.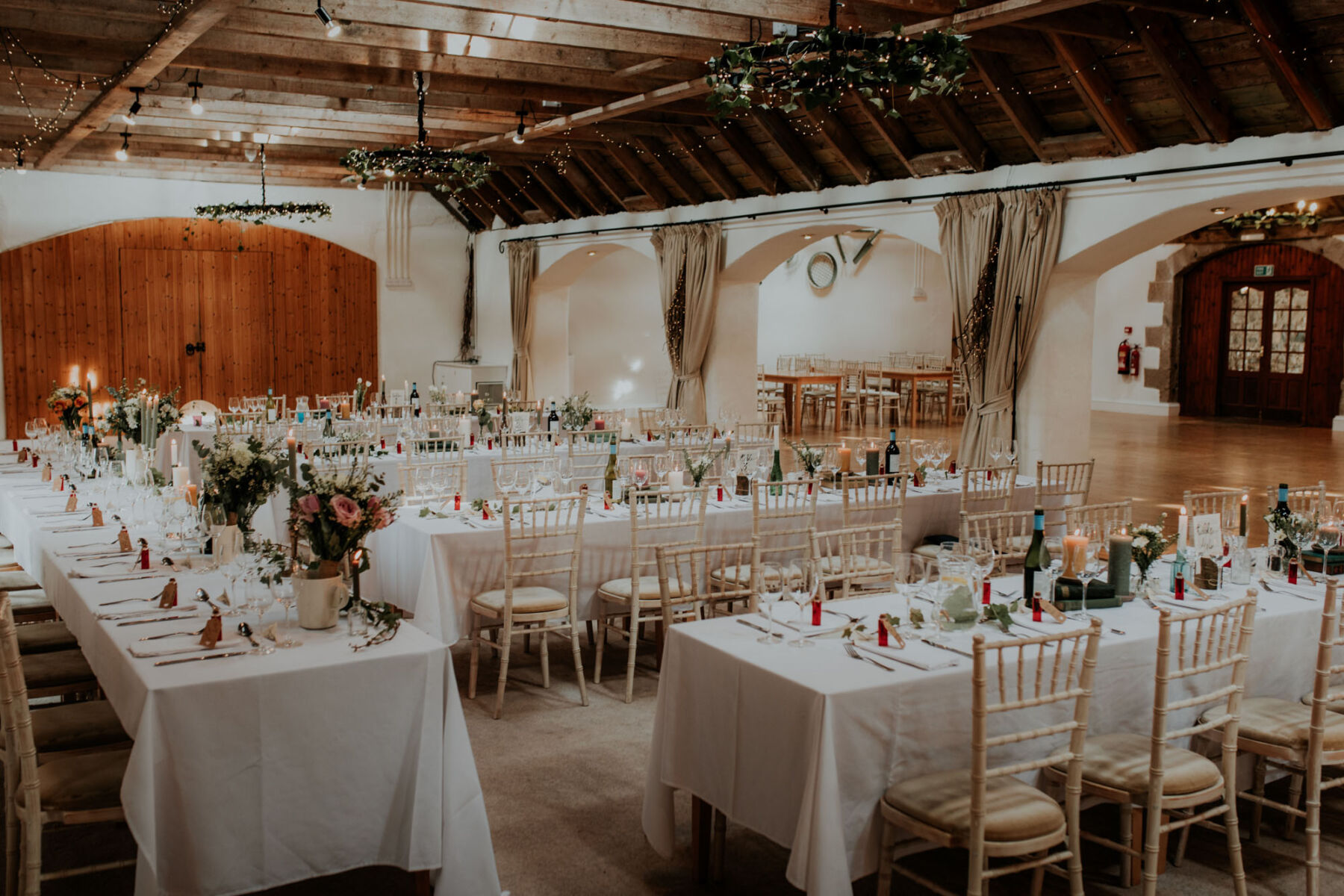 We collected green bound books, searching in charity and antique shops whenever we visited a new town and borrowing from family. We collected old glass bottles the same way and these housed our dinner candles.
These helped create our table centrepieces, which also included small vases with flowers and soy pillar candles of which we chose a variety of colours to complement the bridesmaids dresses. We also used our plant favours to decorate the space, displaying them on wooden step ladders for guests to take.
Huntly Herbs grew a selection of herbs in small terracotta pots for us including mint, lavender and wasabi. We love plants, particularly houseplants and so the thought of providing a little plant for everyone to take home and grow made us happy, although we weren't sure how practical this would be, but all the plants disappeared even with people travelling far deciding to find a way to transport it and we ended up not having any left for us in the end!
We also had homemade sloe gin made by Hayley's step-dad Ronnie on the tables. He foraged the sloes himself and made a big batch of sloe gin which was distributed into small, corked bottles.
We made the welcome sign, place cards, table numbers and table plans. I found a beautiful gold framed mirror in a charity shop which I decorated with white chalk pen for a welcome sign, the table plan featured a display of plants and flowers lovingly prepared by the mother of the groom, I got the chalk pen back out and wrote the table plan directly on the plant pots. Aidan and the father of the bride prepared some wooden log stands which held the table numbers which I wrote up on old book pages.
The place cards complemented this, we needed everyone to get involved as we turned book pages into pager airplanes which I wrote guests names on. These were well worth the work as after the speeches the first brave person sent their airplane soaring across the room and a full paper aeroplane fight commenced between the tables!
Vegan Wedding Catering
Vegan Junkies catered our wedding, a vegan catering company, run by the lovely couple, Sophie and Dave. Food was something we really wanted to get right as we wanted everything to be vegan while trying to ensure the food was simple and tasty, because we wanted all our guests to enjoy it!
Finding a caterer who can provide tasty vegan options proved difficult, however, Sophie and Dave were amazing, suggesting ideas and helping to create a menu which suited us and our guests. We had a tasting session which was just delicious and helped us confirm on some indecisions and get to know Sophie and Dave. It was also a great chance for us to enjoy all the food we had chosen as on the day, it was all so busy it was hard to find time to eat.
For canapes we decided on a mezze sharing platter which they pulled off wonderfully with hummus, baba ganoush, and tomato and garlic dips with breadsticks, flatbreads, olives, sun dried tomatoes and artichokes. We asked for comfort food which would appeal to the masses and settled on a gourmet plant-based burger or posh mac and cheese both served with red slaw and chips with gooey chocolate brownie with a raspberry coulis and vanilla ice cream.
Pure Bakery Highland made our wedding cake. They are local to our home-town, a fully vegan bakery, providing amazing creative sweet and savoury bakes. We wanted a fairly simple design for our cake and so went with simple cream frosting decorated with wildflowers with a hazelnut chocolate fudge cake bottom tier and my sister chose a gluten free Victoria sponge cake top layer as she cant eat gluten. We also decided to add something different and get some cookies too!
We just couldn't resist all the delicious flavours and decided on velvet brownie, 'biscoff' and 'kinder bueno' giant stuffed cookies. We saved one of each aside so we could try everything (definitely recommend asking your caterer to do this!) and we couldn't choose a favourite as everything was so delicious.
Evening & Entertainment
Spindrift Ceilidh Band were great! They had so much energy and knowledge, creating an enjoyable environment for the experienced and new ceilidh goers alike. Standing Ovation provided festoon lighting as well as providing the PA system to allow us to play our own music playlist for after the Ceilidh. The owner Brodie was very friendly and helpful with setting up and helping us use the system.
Our first dance was a Ceilidh dance called 'The Grand March'. Neither of us are very talented dancers and we knew by that point in the day we would have had enough attention on us and just want to blend in for a while.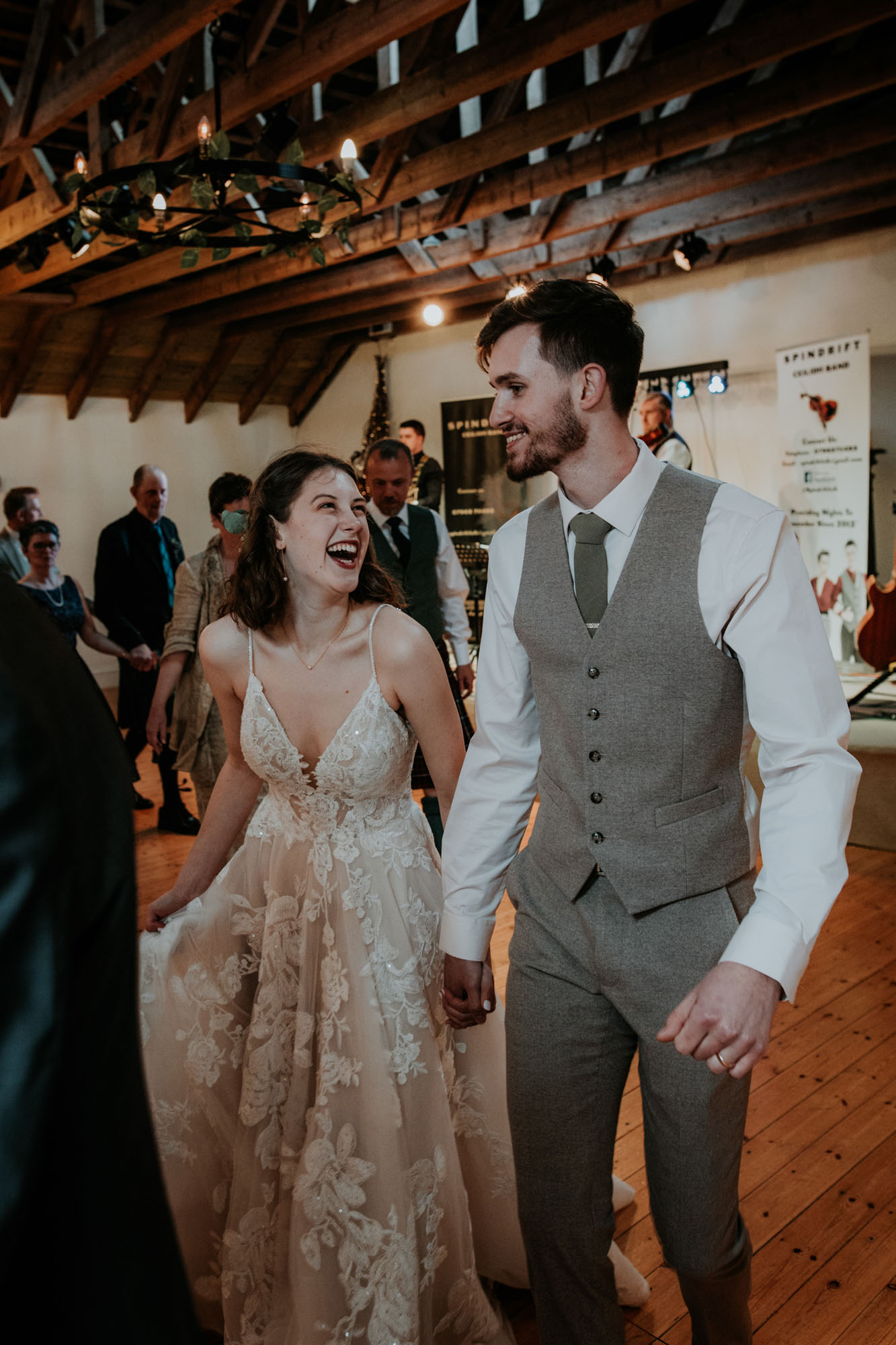 So, we skipped the traditional first dance for a Ceilidh dance called The Grand March, which starts with the bride and groom circling the dance floor and other wedding guests join before being directed left and right to form long rows of guests all holding hands.
It gets a bit squishy but everyone can join in as its slow paced and it sets everyone up for the dancing!
Our favourite element of the day was the Ceilidh. It felt amazing to dance and celebrate around our friends and family, people not knowing the dances just made it even more fun. We have loved Ceilidhs since we were at school but are both quite awkward when it comes to 'freestyle' dancing, so having one at our wedding was perfect for us.
For after our Ceilidh dance, Vegan Junkies prepared their iconic banging bean chilli to serve in burritos and loaded nacho and rice bowls to fuel everyone back up before the cheesy dance moves came out.

Words of Wedded Wisdom
Enjoy the experience! When planning your wedding you will meet a range of lovely people whom you get to know and who get to know you, who all come together to create the day you envisioned. Your wedding is an amazingly special, personal event in which you get to decide everything from venue to napkin colours, use the time to learn about each other and yourselves!
It can feel overwhelming but try not to stress over the small stuff, nothing really matters that much as on the day you're so caught up in the gravity of the day, the things that have been worrying you for weeks just don't matter anymore!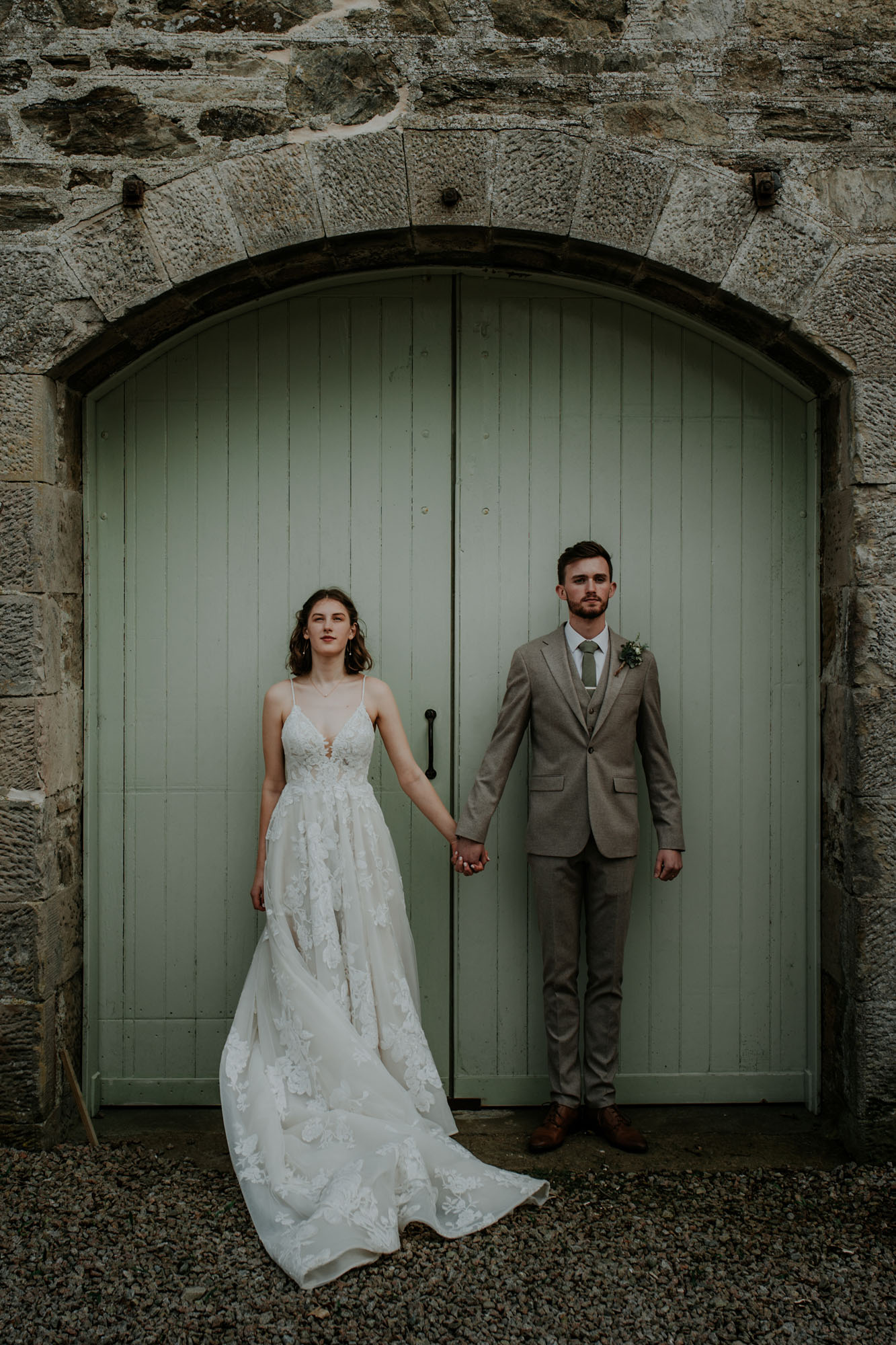 Not everything will go perfectly on the day, and that's okay! You're probably the only person that noticed anyway because the guests aren't coming for a perfect experience, they are coming to celebrate the union of you and your partner and the love you have for each other and that they have for both of you.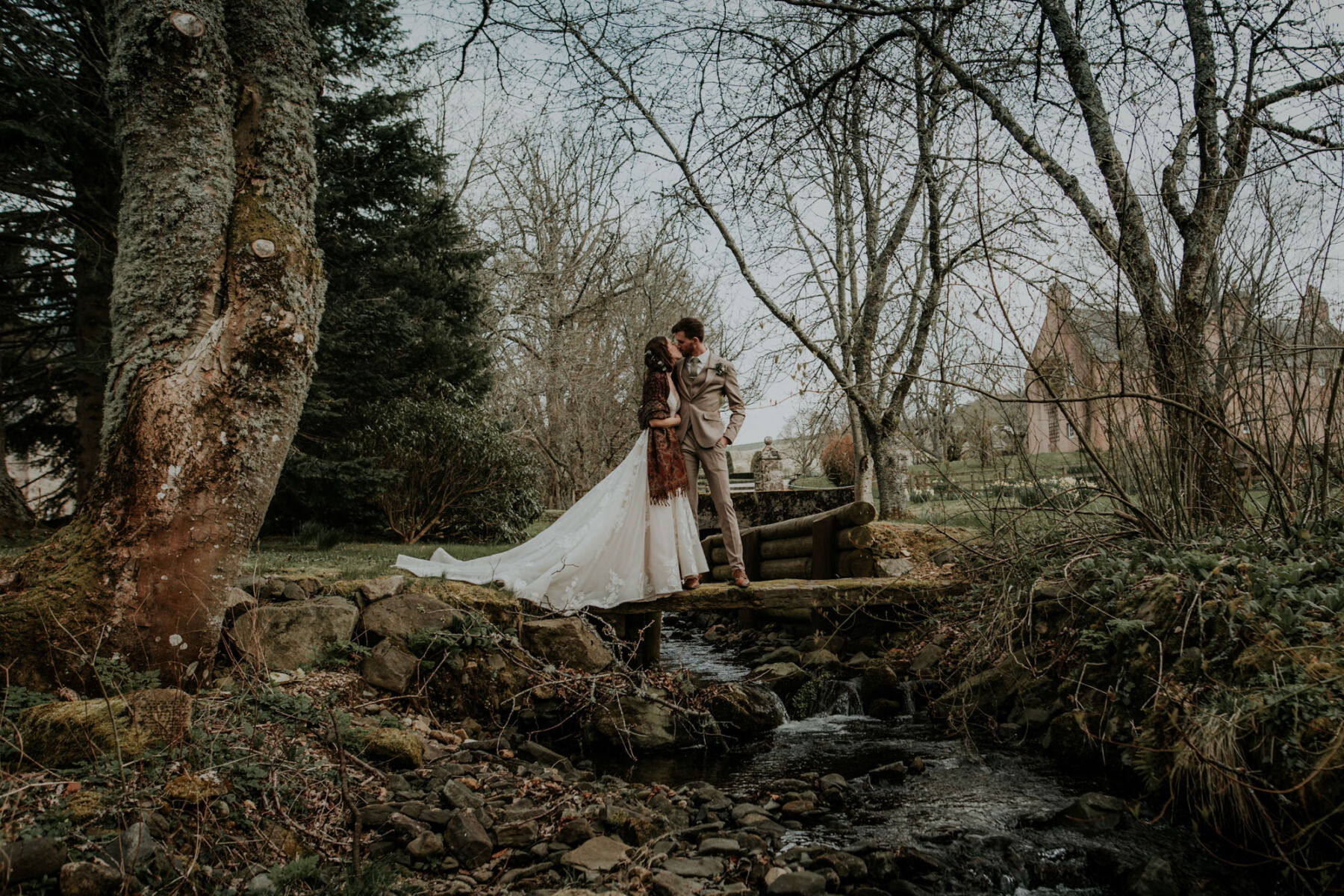 Soon after we begun planning for our wedding, we discovered that we new very little about how much everything was going to cost. So, early on we decided to scrap a formal budget and instead take every major purchase (e.g. catering, venue e.t.c.) on a case-by-case basis and decide if we really waned to spend X amount on that thing. We reduced the overall cost by doing many things ourselves, such as the table décor, for which we made our own table numbers and arrangements.
In hindsight, the only thing we wish we had done differently, is focused more on each other on the day itself. We so got caught up in the excitement of the day and trying to make sure we spent time with all our guests, we forgot to be present and take some time for ourselves to appreciate the gravity of the day.