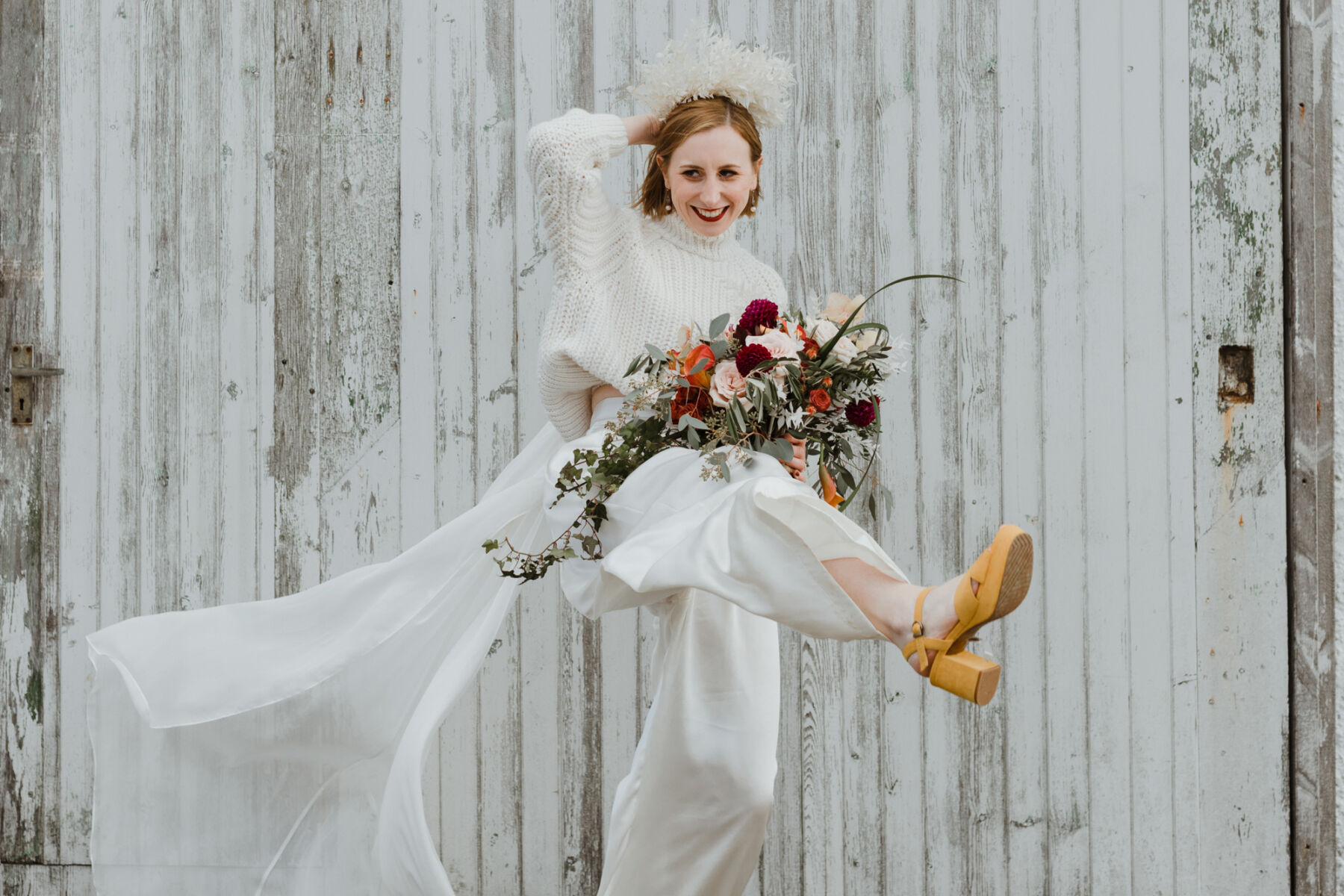 Senior Product Owner Ellie and pilot Michael's October wedding at Crear in Scotland, was captured by the super talented Caro Weiss, who's gorgeous photography we've been sharing since 2009. And frankly, that's because it's bloody brilliant.
The couple wanted to keep things simple in an effort not to distract from the venue's glorious views They were inspired by their favourite things or ideas that cheered them up during 'pandemic-gloom' and in bringing their wedding day vision to life, they used a mix of autumnal colours and lots of botanical elements, inspired by the natural colours around Crear.
Seeking something non traditional, Ellie looked knockout in her house of Ollichon jumpsuit and cape.
Location & Venue
We got married at Crear Weddings, near Tarbert, Scotland. We'd looked at lots of different options but nothing had really felt right – but as soon as we saw Crear, we knew it was perfect!
We both love being by the sea and we were completely blown away by the calming atmosphere, the amazing people, and (of course) the incredible views!
Shoes, Accessories & Bridal Beauty
We did our own hair and make up on the day which was a really nice, relaxed way to get started – I even had time to have a little lie down with a facemask! My scent was Chanel 's Gabrielle.My main shoes were by Esska, I also wore a pair of very old H&M to sacrifice to the puddles on the beach.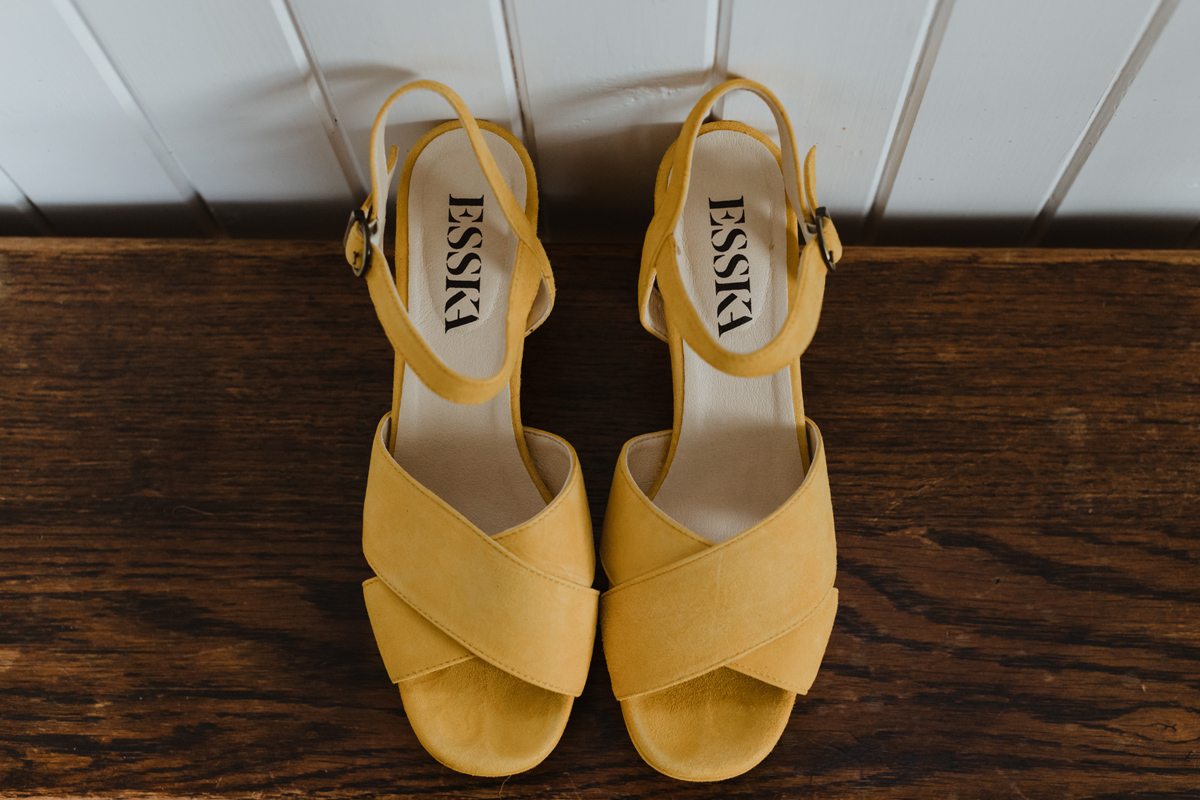 My headpiece from Around The Bee was so beautiful – it was a chance Instagram find by my mum and I absolutely loved it. It was made from dried ruscus and Jenna really kindly made some matching clips for my sisters to wear.
I wore my grandmother's antique pearl earrings – they are really special to our family and my sister also wore them when she got married.
The Bridesdog!
The bridesdog wore a handknitted jumper made by my mum especially for the occasion!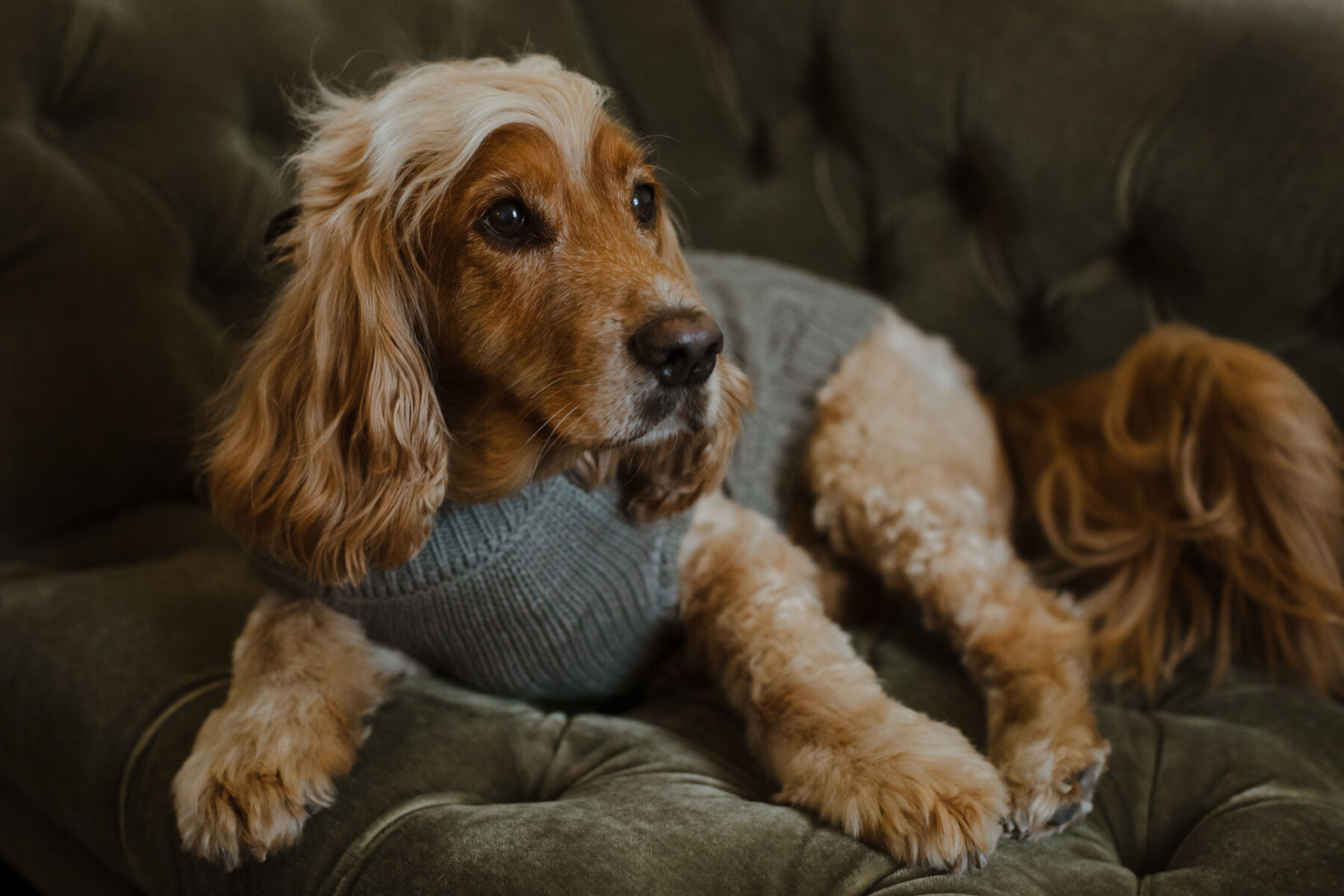 The Groom
Michael wore his own kilt which he has had since he was 18. For the wedding, he had a new jacket and waistcoat made by Gordon Nicolson Kiltmakers in Edinburgh which was a brilliant experience – they even gave us a special Zoom appointment so that he could choose all the different elements when we weren't able to travel!
It is beautifully made and will be a lovely reminder of the wedding every time he wears it. He also wore a beautiful pressed heather Sgian-Dubh that he was gifted by his parents.
We met at university in St Andrews when we lived on the same floor in Halls. After 11 years together, we got engaged in Ardnamurchan while camper-vanning around the West Coast of Scotland – one of our favourite places. We were meant to have been engaged for about 18 months before we got married, although in the end it was closer to 2½ years thanks to the pandemic!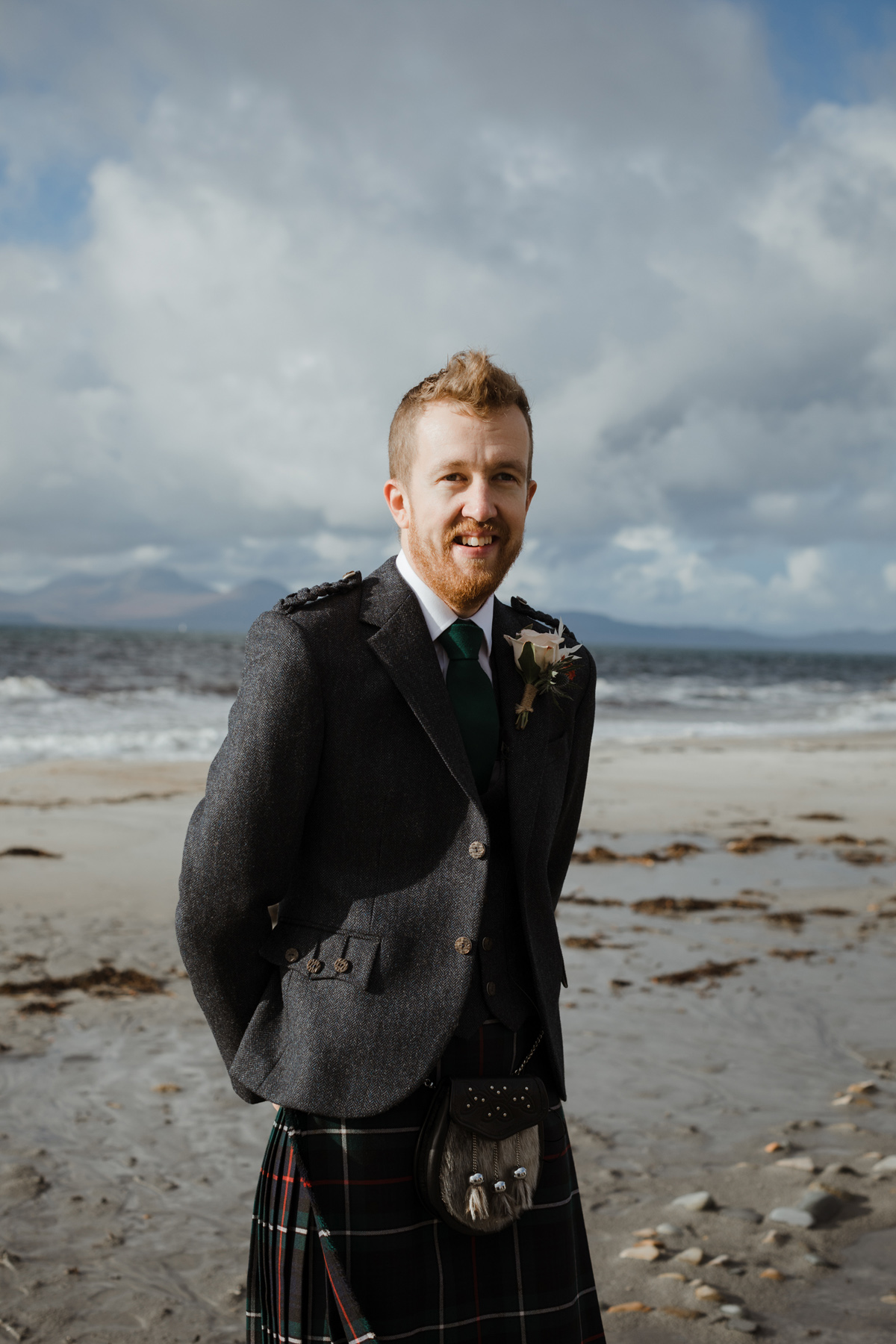 Bridesmaids
The Yellow/Gold outfit started life as some trousers from Gap and a dress from Boden, which my clever sister turned into this amazing matching set. My other sister was meant to wear the same outfit, but last minute we changed plans and found the burgundy dress which worked really well with the other tonal colours in the wedding.
We all wore jumpers from H&M to keep warm for the beach ceremony. Me and my two sisters (who were my bridesmaids) also all wore pieces of my grandmother's jewellery for the day which was really special.
Our most favourite part of the day was the ceremony – we just couldn't believe that we'd made it, with so many of our best people, and that the sun was shining! In that moment, we felt so happy and loved, and we couldn't stop smiling – it was the best moment and absolutely worth the wait.
Flowers
Our florist was Agnes from Blooming Wild, Crear's in-house florist, and I am still obsessed with the bouquet that she made me – it was so gorgeous! We wanted something wild and unstructured, with lots of autumnal colours and interesting elements, and it was perfect!
She also made buttonholes and bouquets for the bridesmaids following the same theme, with added thistles for Michael.
Agnes also added some beautiful structural branches and foliage to the ceiling beams in the main space, which brought some really wonderful sculpture and eye-catching details to the room.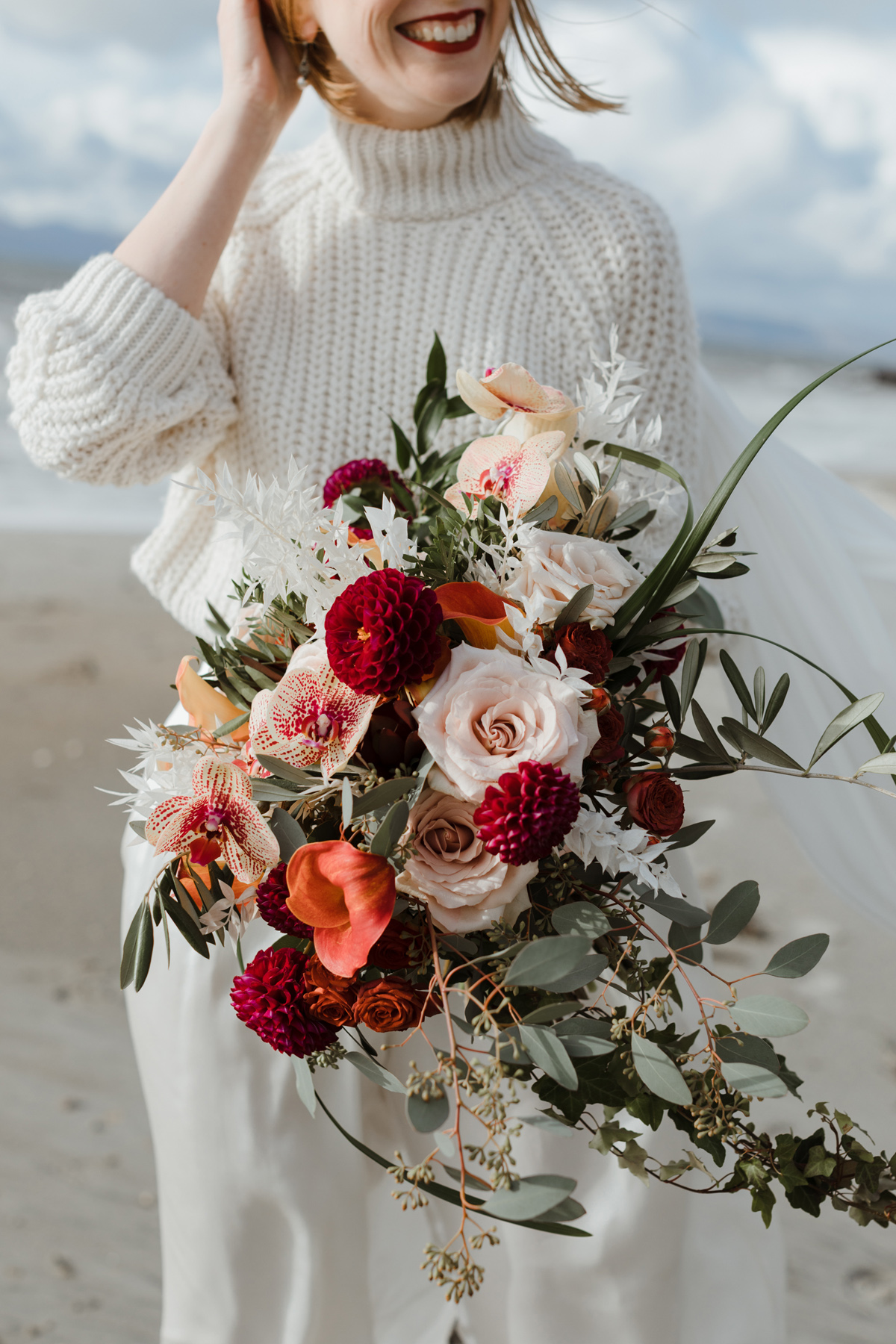 Photography by Caro Weiss
We found our amazing photographer, Caro Weiss, through Love My Dress.
As soon as we saw Caro Weiss' photographs, we fell in love with them – they were so beautiful, relaxed and natural.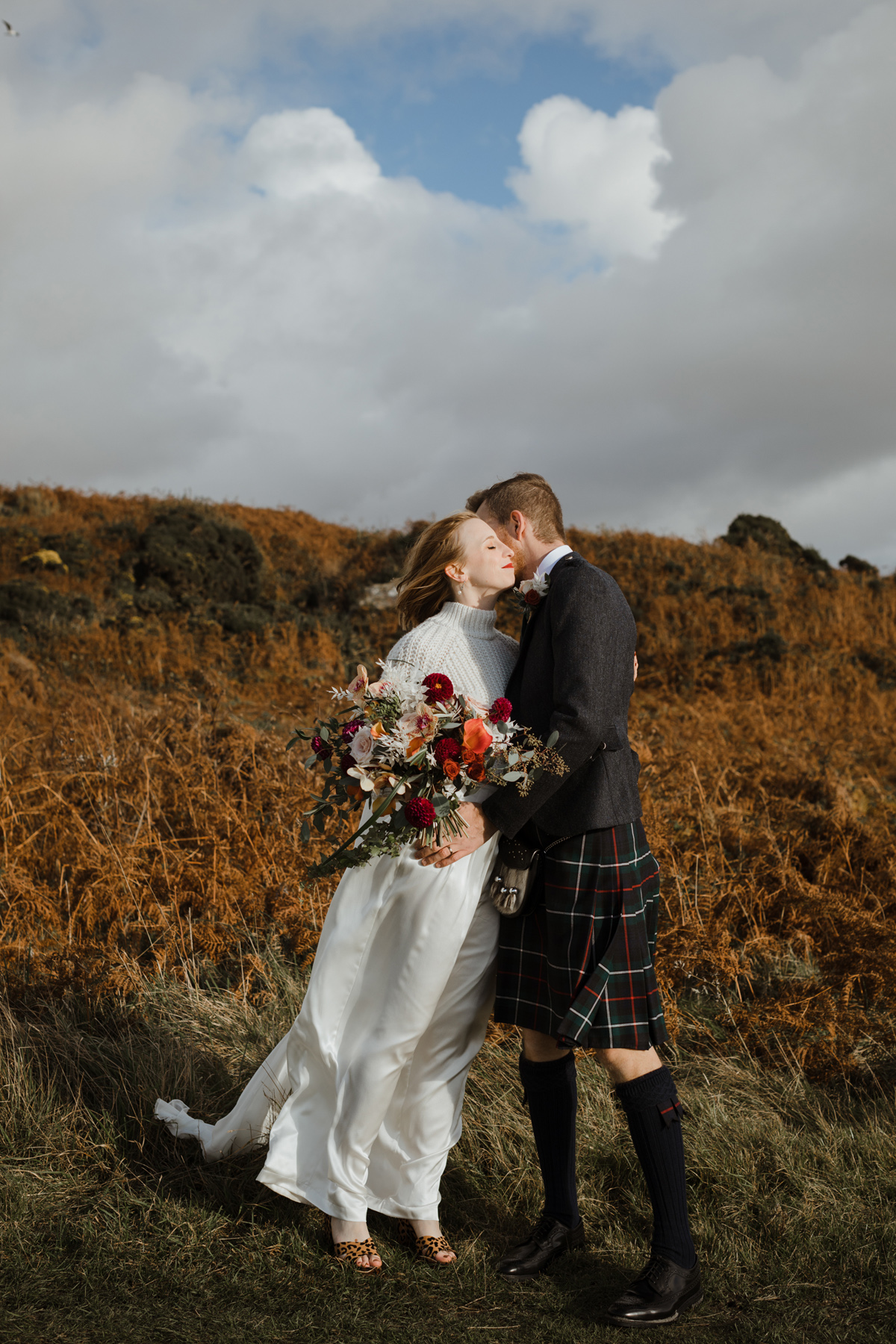 You can just feel the joy emanating from them and we knew she would capture the day perfectly!
She was so brilliant in both the lead up and during the day – she was such fun to be around, really calming, and put us all totally at ease.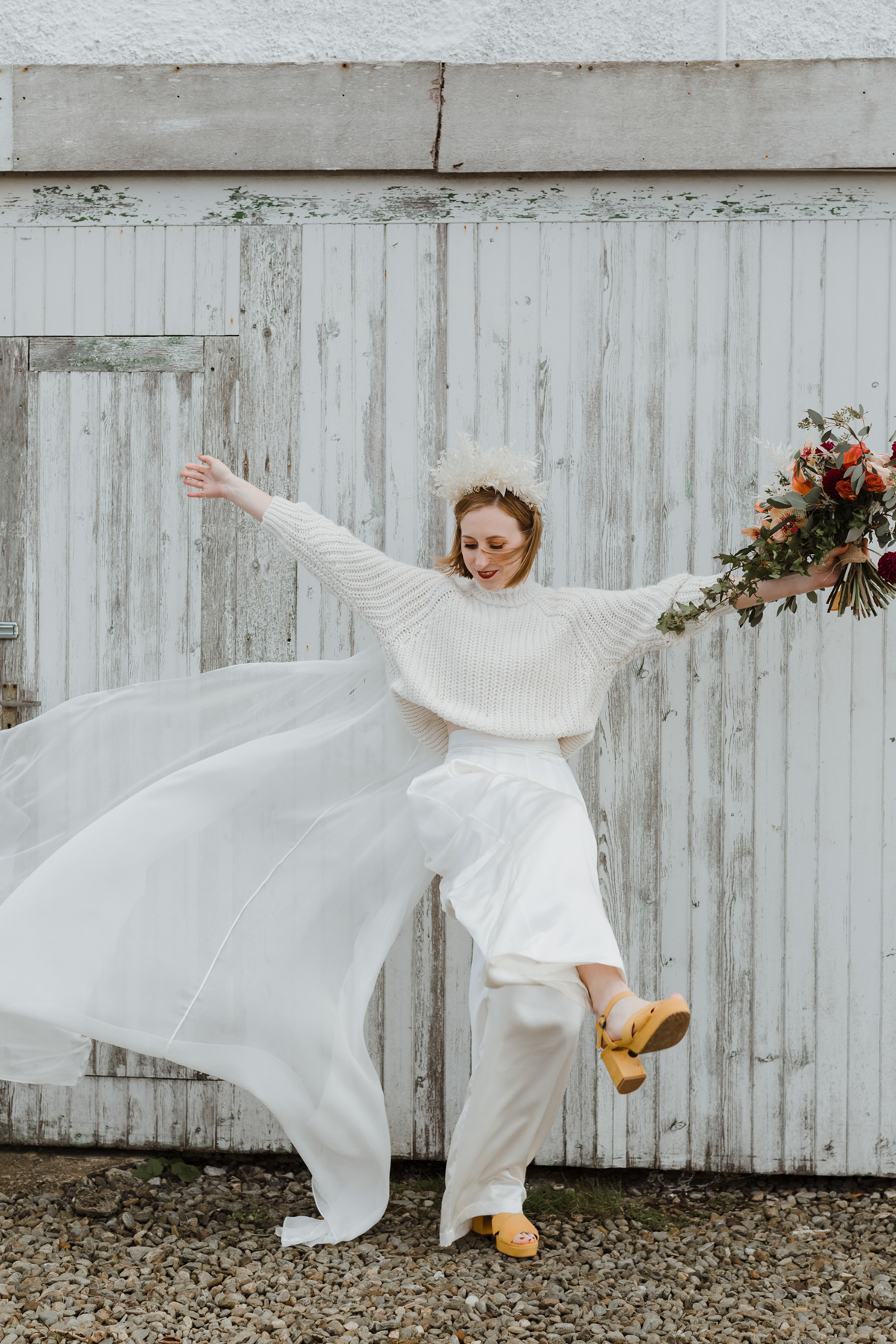 The photos are incredible, we couldn't be happier with them, and would absolutely recommend Caro to any other couples – she is amazing!
Planning in a Pandemic
We were originally meant to get married on the 20th March 2021 and when the pandemic first hit, we naively thought that things might be back to normal by the time that date came around (how wrong we were!). So for a while, we continued planning as normal (although that became more stressful as things remained so uncertain).
By October, it was clear that wasn't going to be the case and so we rearranged with our venue to make it a small wedding of 15 in the hope that we could still go ahead with getting married, which was the most important part for us.
In the end, we were back in Lockdown by March and so we postponed to October, and eventually increased the numbers back up (although not fully). Our venue and all our suppliers were incredibly helpful when we were making these decisions and going through all the different variations we went through – we felt so lucky to be supported by such an amazing group of people.
In the lead up, all our guests were really careful and took tests before they arrived to be on the safe side. On the day, we were lucky that the weather was amazing so we could have the ceremony outside meaning that our guests didn't have to wear masks. Otherwise, there were requirements to wear masks on the bus and at the bar.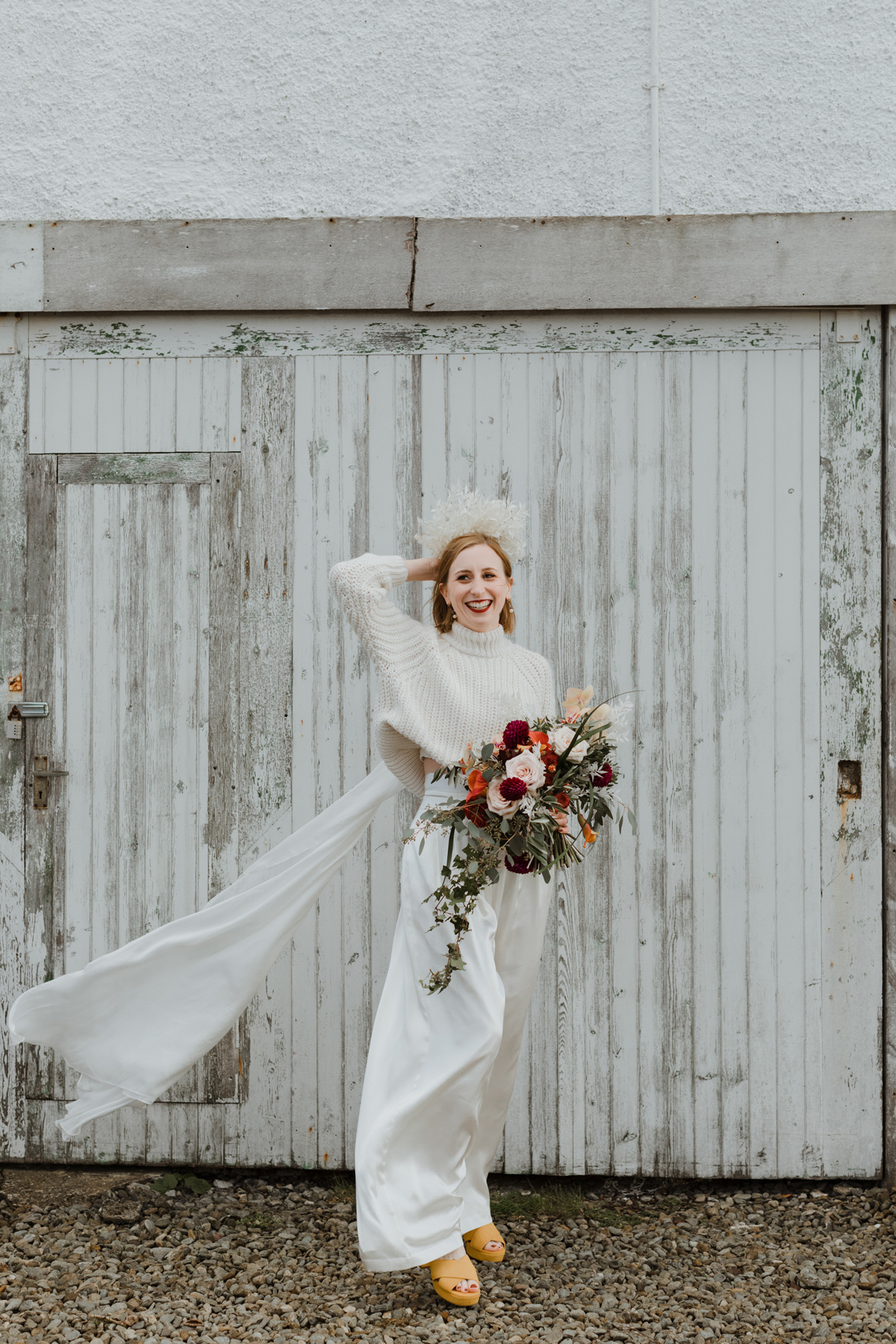 The best advice we can give for dealing with the impact of the pandemic on your wedding is to try and keep focused on what is most important to you and using that to guide your decisions – for us, getting married was the most important part and we wanted to have our immediate family there as a minimum. That kept us positive when things were changing and meant we were open-minded to different options. And be kind – everyone is doing their best.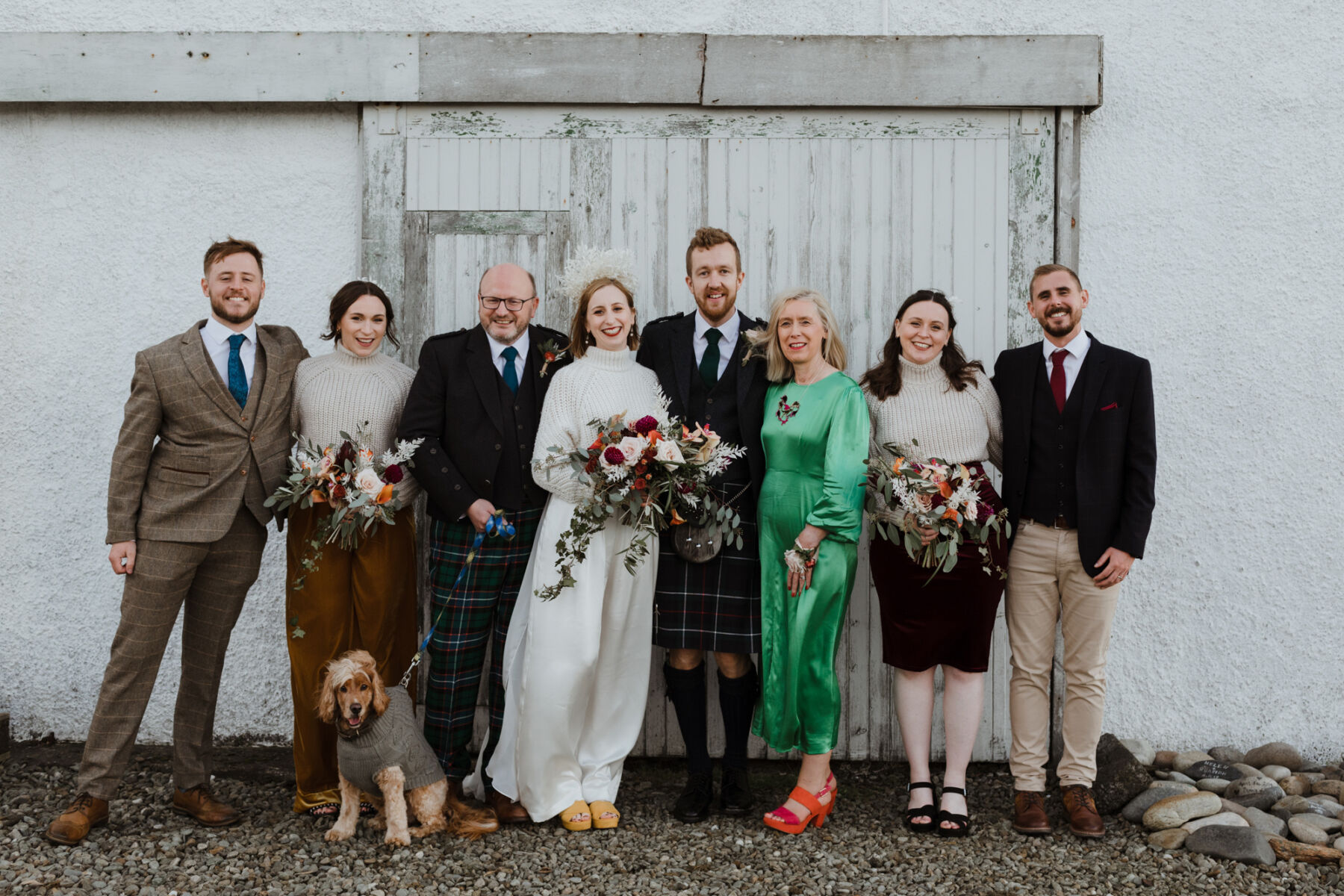 Reception
My incredibly talented sister of Big Day Bakes made our cake and it was SO good! It was 3 layers of Chocolate Salted Caramel and Lemon and Raspberry Curd, and all our guests couldn't stop talking about it. We wanted something colourful and abstract and she nailed it.
Crear Kitchens provided the food, which was delicious (we're still dreaming about it now and it is a frequent topic of conversation among our friends!) – we had beef wellington and an incredible sticky toffee pudding. They were brilliant at catering to all our dietary requirements and the gluten-free pudding has been awarded the best GF pudding ever tasted!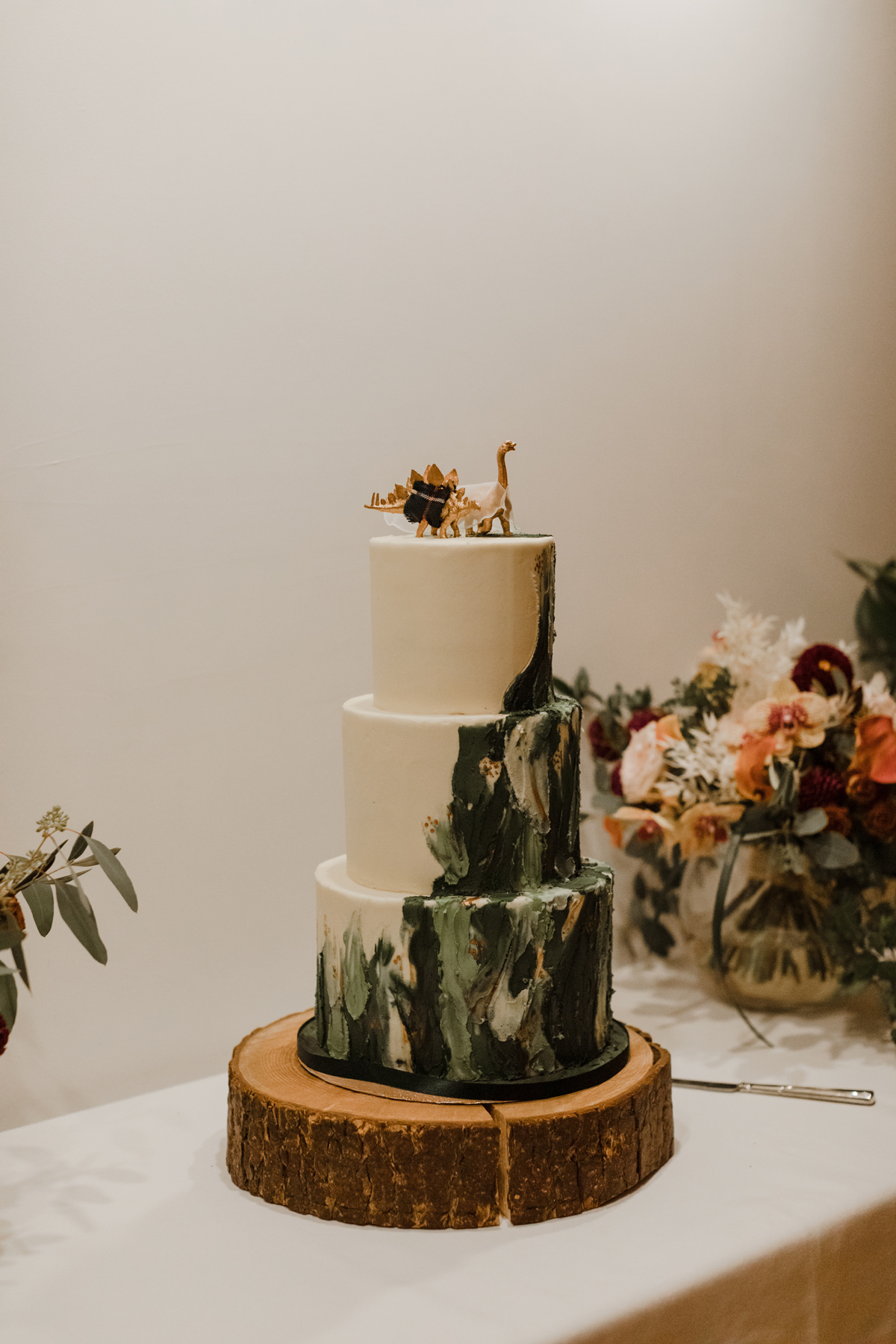 We used postcards as place cards for each guest as we wanted to write a message to each person thanking them for coming – each one included a fun fact for the dinner table, in honour of Michael's love of general knowledge! We also made our table plan – again we tried to keep the designs simple and just bring a bit of autumnal colour to the venue.
Our wedding favours were little parcels of Percy Pigs from M&S – our favourite sweets!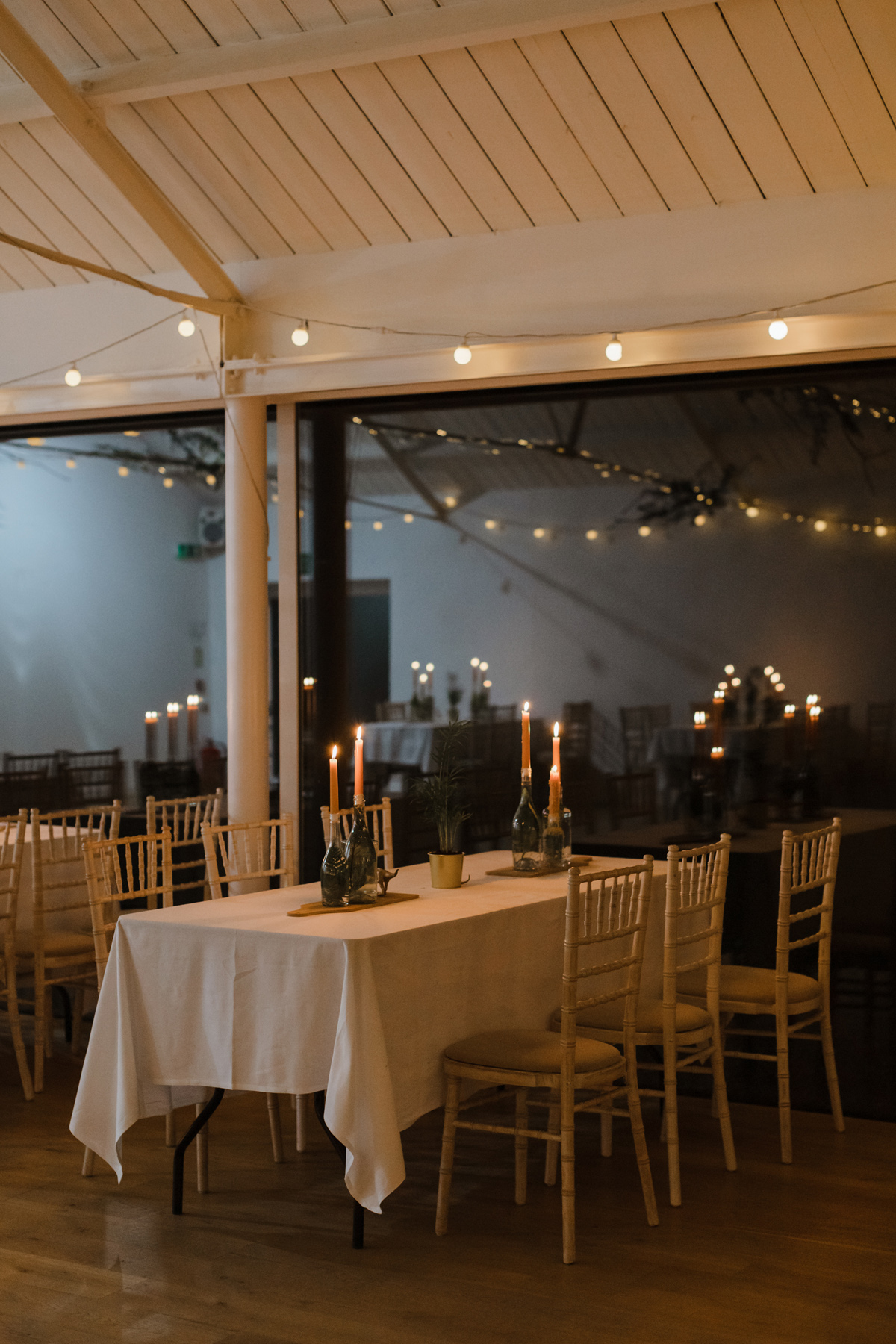 Evening & Dancing
Whisky Kiss Ceilidh Band gave us the most incredible ceilidh in the evening – their calling of the dances was excellent, even our most nervous friends were able to get stuck right in and had a great time! They then played our favourite songs for the rest of the evening and we had the best time – we definitely more than made up for all our lost pandemic dancing!
Our first dance was to 'You make loving fun' by Fleetwood Mac – we have very different music tastes (Michael being a fan of heavy metal…!), but Fleetwood Mac is our common obsession!
Words of Wedded Wisdom
Take a minute to just be together on the day – in the evening, we walked down the lane at Crear, watched the stars and then looked back at everyone enjoying the party. That moment and how we felt together was something we'll always treasure.
Equally, try not to stress during the planning process. We definitely found it a bit overwhelming at times but it will always come together in the end, and if something isn't quite perfect, we can guarantee no one will notice on the day – you'll all be busy having too much fun!
Love My Dress have a really lovely diverse variety of wedding types and it really helped us work out what it was that we wanted from the day.
Our budget was £20,000 and we just managed to keep to that in the end.