The older I get the more I realize how important really great quality friendships are. The kinds of friends that you can go for a month without talking to and pick back up. The kinds of friends where they are just there for you and you for them without explanation. In this stage of life where you can't always see your friends or talk to them as much as you want there are still ways to be a great friend!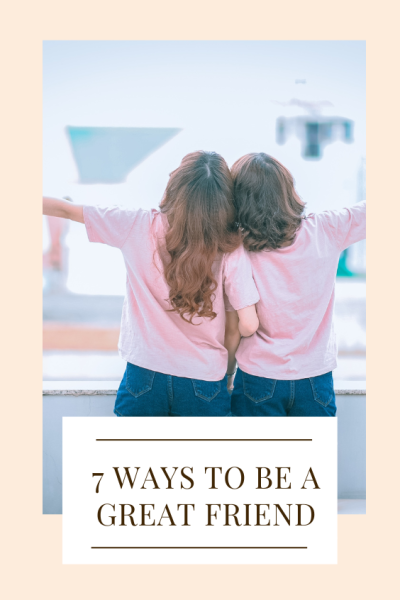 7 Ways To Be A Great Friend
Send just because cards/gifts: I love love love to send my friends cards or gifts just because. I also love to do birthdays and special occasions big. Cards and letters are really inexpensive ways to show friends you care about. No matter if they live a block away or 3,000 miles away. Take the time and write a note so they know you are thinking about them. Send some cookies for a birthday, or a fun surprise gift for no reason. I love card sets like this.
Check-in on them: Send them a text and say "hey just thinking about you how are YOU?" Did they lose a parent and it's that parent's birthday or the anniversary of their death? Check-in on them. These things are especially important. I have a few friends who have lost parents and told me that after a few months people just stop checking in on them. Or friends going through family illnesses, losing jobs, etc. They need you to check in on them. Maybe they are divorcing, going through a breakup, or just having a tough time. Be a good friend and check-in.
Don't make it all about you: It's really easy to make things about us. I am so guilty of this. Someone tells you a story or is going through a situation and you have a situation that's similar and you cut in and talk about what it was like for you. We all do this and it's just not a great friend practice. Something I am trying to actively be aware of and stop doing. Don't make things always about you.
Make virtual friend dates if they are far away: One of my best friends lives across the country!  We can't necessarily hang out all the time but there are ways to still make it work!  Have a standing Facetime date, or download something like Marco Polo and talk throughout the day!
Respond in a timely manner: If they send you a text, an email, call you, send a Marco Polo, etc just respond as soon as you can. I always say I either respond to texts immediately or 3 months later- there's no in-between. It's easy to read a text or email and then one of your kids asks for a snack and 3 months go by before you realize you never responded. We've all been there. But TRY to respond quickly. It shows you put the same effort into friendship as they do.
Tell them/show them how much they mean to you: Saying "I love you" isn't just for family. Tell your friends you love them! Tell them you're proud of them, you care about them, you're here for them. Show them as well!
Be the friend you want: If you want people to treat you a certain way and be a good friend to you, be that kind of friend to them. It's just that simple.
There are a lot of ways to be a great friend but to me, these are the ones that stick out and the ones I really try to live by.
What types of things do you do to ensure you're being a great friend?
This post was written in 2020 but has been updated for 2022.