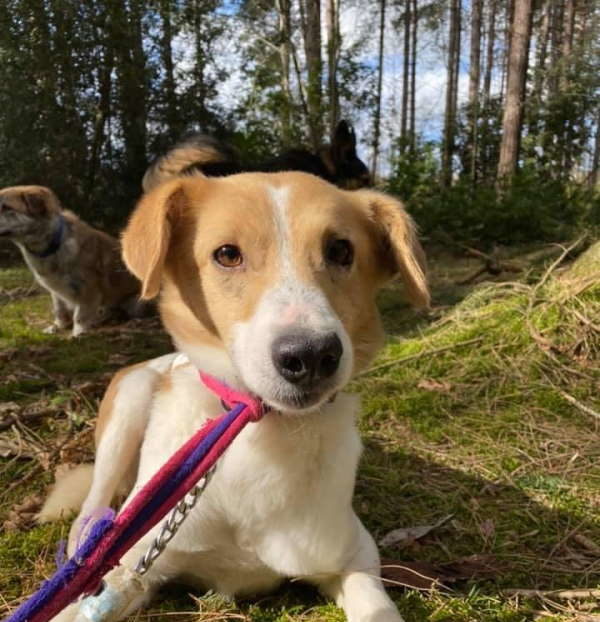 Jenny is a four-year-old female Collie Cross. She came to us from the Botosani public shelter in where she has been living in a terrified state for some time. She is been here in the uk for several weeks now and here is what her fosterer says about her: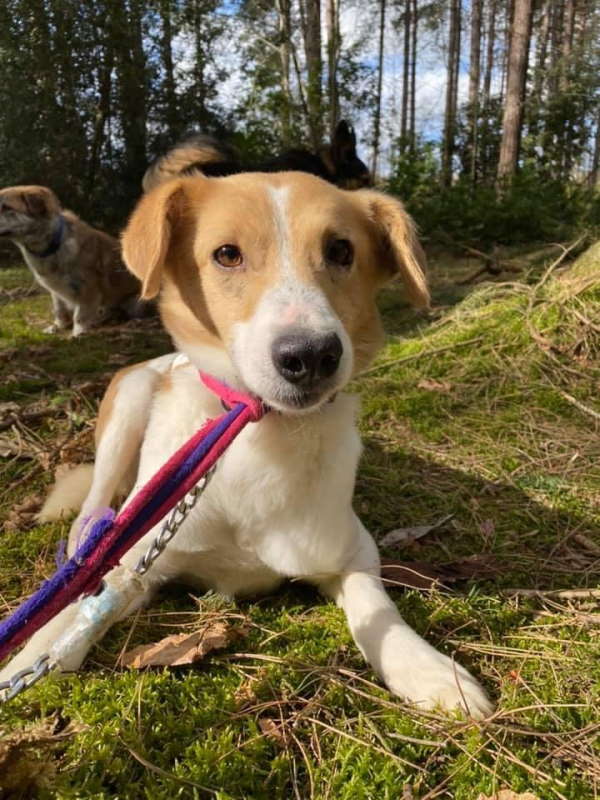 Jenny is an inquisitive and intelligent little dog that has loads of potential. She is very shy with people but enjoys being with people she trusts, settling in the same room as well as greeting them with a wagging tail and a happy dance. At the moment, she is still scared to ask for (and accept) human touch, but when she's settled in the crate or in her bed then accepts (and is beginning to enjoy) a gentle stroke and will lick your hand.
Jenny loves her walks and will now come to have her lead put on with the other dogs, even though she is still quite skittish about this. On walks, she walks nicely on the lead and is delighted to spend time sniffing at everything. She gets on well with other dogs and will play and snuggle up with them. She is currently living with other dogs, cats and teenagers, is house trained and can be left for short periods.
Jenny definitely needs another confident dog in the household, and needs an adopter who will be patient and gentle to help her learn to enjoy human touch.
Please note that it is Safe Rescue policy that all dogs adopted from us must wear a slip lead to be walked for the duration of their lives. Too many dogs are lost from slipping out of collars and harnesses and many of our dogs are timid due to past ill treatment and likely to panic whilst out and about. It is absolutely okay to use these things additionally to slip leads but not instead of.
We also request that extendable retractable leads are never used on our dogs. If you are opposed to slip leads, please do not enquire about our dogs as this is not negotiable. Thank you for understanding. All dogs have to be collected and a crate must be used.
Jenny fostered Dersingham Norfolk.
All dogs are vaccinated, microchipped and neutered (unless the dog is too young to be neutered). If you are interested please message or call between 9am to 5pm Mon – Fri 9am to 4pm Sat.