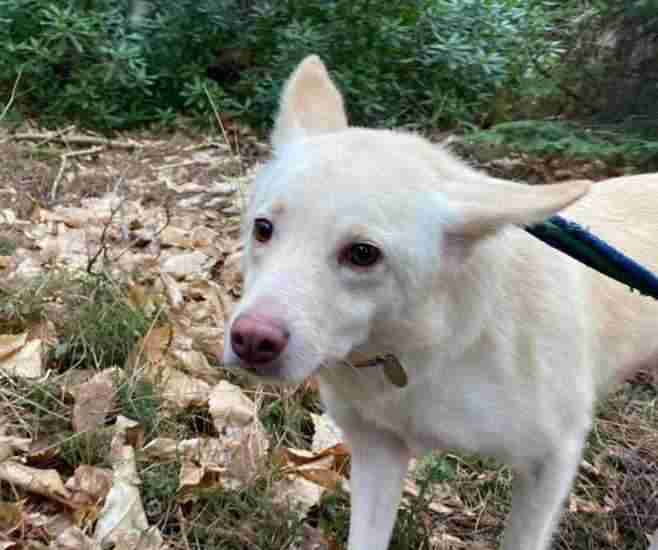 Sam is a medium sized 3 year old male Cross-Breed. He is a golden Labrador type cross. Sam was brought over to the UK by another rescue and placed in a home that didn't work out because Sam was quite nervous and they weren't prepared to work with this.
We were asked to take him so that he could be in a foster home rather than kennels to better prepare him for his forever home. He was rehomed from us but has again now been returned for being too nervous so this time we simply must get him the right home for life!
Sam is indeed nervous initially and does take two or three days to get used to new people but he is much more confident than many of the dogs we take in and really requires nothing more than being allowed to get used to people in his own time.
Sam needs a quiet environment in a rural area with no children as he is very wary of them. He can live with or without other dogs and has not been cat tested. He travels well in a car and seems fine to be left for reasonable periods of time alone at home.
Fences and gates must be 5ft min & secure. Sam is fostered in Norwich Norfolk.
Please note that it is Safe Rescue policy that all dogs adopted from us must wear a slip lead to be walked for the duration of their lives. Too many dogs are lost from slipping out of collars and harnesses and many of our dogs are timid due to past ill treatment and likely to panic whilst out and about. It is absolutely okay to use these things additionally to slip leads but not instead of.
We also request that extendable retractable leads are never used on our dogs. If you are opposed to slip leads, please do not enquire about our dogs as this is not negotiable. Thank you for understanding. All dogs have to be collected and a crate must be used.