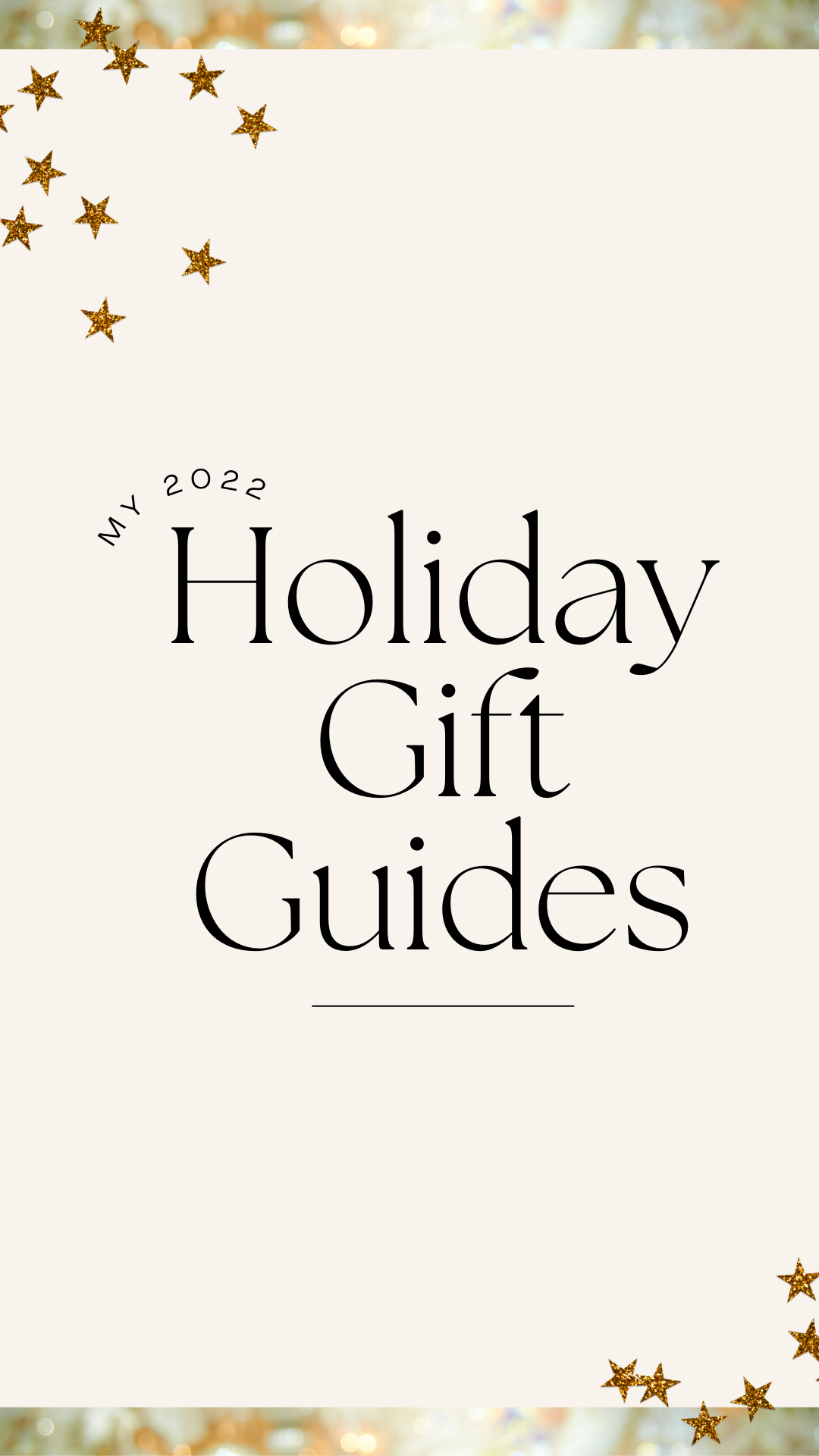 This year I am doing something a little different and posting all of my gift guides in one spot. It will make it much easier to shop and everything will be in one spot. So without further adieu my 2022 holiday gift guides!
2022 Holiday Gift Guides
Wellness and Beauty Gifts
Lululemon Belt bag: If you have been following me for a while you know my LOVE of this bag. The regular size and the large are both amazing.
Silk eye mask set: This is such a great gift for someone who loves to relax.
Bala Bangles: One of my must-haves for at-home workouts. I love using these during barre and pilates for extra oomph. Also great for walks!
PTR Eye mask set: I love an eye mask and these are such a great stocking stuffer.
Dry Brush: If you haven't been dry brushing you need to start.
Acupressure mat: One of the best things I've purchased in the last 5 years. I use it all the time.
Pillow mist: Great for a friend who loves to relax.
Yoga Mat: I love my Yoga mat and this is such a great one.
Bath salts: I got these for a friend who LOVES baths.
Gifts For The Tech Lover
Portable Charger: Andrew got this a few months ago and loves it because to charge it, it plugs right into the wall. It's also pretty small for travel.
Tile: Great gift for anyone who travels (or loses things a lot).
Hatch rest: I want one so bad! They are great for waking you up in the morning!
Birdie: Such a great gift to give any friends who walk/run outside a lot.
Wireless Charger: We both have these and I love being able to charge my phone, watch, and Airpods all at once.
Pura: A great alternative to candles and you can get most candle scents like Nest, Capri Blue, etc.
Echo Show: We have this in our bathroom and I love being able to see the news, weather, etc right there.
Gifts For The Book Lover
Book vase: Such a cute idea if you have a book-loving friend.
Candles: A lovely holiday candle to read with and a fun little homesick book club candle.
Bath tray: If you know someone who LOVES to read in the bath this is a no-brainer.
Mug: I love giving cute mugs as gifts.
Kindle Paperwhite: The best purchase I made this year!
Cute tote: I love a fun tote- these are great for the pool or beach!
Robe: Cozy robes to read in are the best.
Gifts For Kids 3-6
Puzzles: Such a great family activity!
Scooter: Liam got a scooter like this for Christmas when he was 3 and now Charlotte uses it. Time for a new scooter for Liam.
Travel coloring stuff: This is GREAT for kids who love to color and draw. Charlotte will do this for hours.
Amazon fire tablet: Honestly a must. We use ours mostly for travel but also Liam plays a lot of learning games on his.
Bluey House: My kids both love Bluey and we got Charlotte this for her birthday.
Squishmellows: Such a fun and easy gift if your kids love loveys!
Wiggle car: My go-to gift for kids at these ages.
Gifts For Her Under $100
Kiehls hand cream: THE BEST HAND CREAM ever! Truly.
Blanket: Love this blanket from Nordstrom. It's so cozy!
Champagne flutes: These are on my wish list this year. I love how fun they are. Perfect for a girls night.
Skims loungewear: I have heard such amazing things about skims.
Lake Pajama nightgown: This is one of my favorite nightgowns. It's so pretty and soft.
Nest candle: You can not ever go wrong with a Nest holiday candle!
Perfume: This set is a great way to try several replica scents!
I will absolutely add more to this list but to me, these are the best holiday gifts out there!
What's on your wish list this year?