Please meet our beautiful girl Rona. She is a very pretty 11 month old female Cross-Breed pup with Shepherd background. She is a medium to large size (large Collie size) with a beautiful brindle tiger strip coat. She has a wonderful gentle nature, very calm for her age, is very undemanding and beautiful inside and out. She is a very shy dog and this is her story:
Rona originally came to us with her mum and sister back in December 2020 from Romania when she was four months old. Mum was a German Shepherd, dad unknown to pups. Mum and sister were confident and well adjusted, but Rona was a very quiet, shy puppy. She was adopted into a very loving family home, but during lock down and not being socialised enough, she has remained that very shy girl, where the family now feel that it is out of their hands in order to bring her forward and do the right thing by her.
Rona is now back in foster care with Lea Valley Dog Rescue where she is being given time and patience to desensitize and try and get her back into life as it should be for her! Rona has a very gentle and calm nature and wouldn't hurt a fly. Rona does come out of her shell if there is another resident dog in the household and this is a key part in helping her.
Unfortunately, the other foster dogs come and go when they get adopted, and if there is a period of time before another new foster dog comes along, poor Rona withdraws from life and lacks her confidence that the other dogs give her. Although Rona was homed at the same time as her mum and sister, to a very loving family, she is taking more time to adjust. The home she was adopted into, didn't have another resident dog where Rona could learn from and build her confidence and this is actually playing a key part in her development in moving forward to rehabilitate her.
At present she has had several different foster dogs come and go who she will happily accept and even flirt with in order to get them to play with her. This is such a wonderful thing as it is showing us that she really can transform into a happy dog and forget her woes! It is however, sad that the other foster dogs come and go when they each get adopted, and Rona would like nothing more that to fin her very own forever home with her own special friend to have a life time of fun and play together!
Rona does actually like to go for a walk and walks really nicely in a lead. She likes quite areas which will not frighten her which could be children, people or noises, where she typically would try and hide under a bush. This is being worked on slowly, although at the present moment in time, we are just trying to make Rona a happy and more relaxed dog before we move forward with anything else!
Rona loves to play with the other dogs in the garden. They have got her running around and playing chase and she adores this. It takes her mind off her anxieties and gives her the puppyhood that she never had.
We are therefore looking for a calm and sensitive "Adult Only" home, who have one or even two resident well balanced dogs to help Rona move forward with her life. Her new owners will need to have lots of love and patience for Rona and the ability to understand her needs.
Rona will play with toys too. She likes her teddies best and will toss them about very gently. Her favorite spots in the house are by her foster mums chair on a blanket or under the dining room table on the cool floor when the weather is hot. She can be left for periods of time with no problems, she is not destructive, does not bark and sleeps well at night!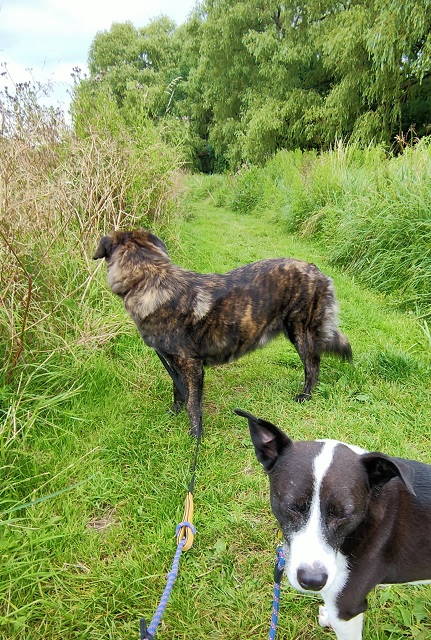 Rona also does like her walks in a very calm, open areas like fields. She walks very gently on a lead and does not pull. However Rona does get frightened easily by other dogs, people, children and situations and this will need to be worked on. You can easily predict a situation and read her body language in order to deal with situations which may arise. For this reason, Rona needs a home in a more semi rural/ countryside where there are less things to frighten her and to able to help her relax and enjoy life more.
Rona is a very sweet girl who deserves a second chance in life. At such a young age where her whole life is ahead of her, she really needs a home as soon as she can where she can settle for good and move forward and be loved and cherished!
Rona needs love, guidance by her new family owners and happy resident dogs who will give her stability and training in order for her to overcome her anxious state and live a life that she feels secure and loved. Can this be you?
Rona is going to be spayed prior to adoption and will be ready to be adopted from 23 August. We are looking for her potential adopters to come and see her prior to her to adoption but her foster mum is more than happy to talk to you with all Ronas needs.
Rona is vaccinated, wormed, flea treated and micro-chipped. Her neutering will take place prior to adoption.
Please phone Jackie, who fosters her for a chat and fill out the adoption form as fully as possible with all your details.