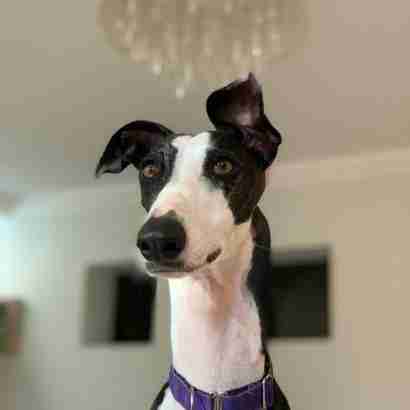 Annie is a 1-2 year old female Spanish Greyhound (Galgos). Say hello to Annie, a beautiful Galgo who has been returned to our care because she has a prey drive.
Her foster mom says: She is great with people, will sniff them curiously and accept strokes from strangers as long as they don't approach her too fast. House broken and generally very calm indoors other than occasional zoomie playtime. Loves attention. Separation anxiety is getting better but will need upkeep. She can be left alone for over an hour without any problems.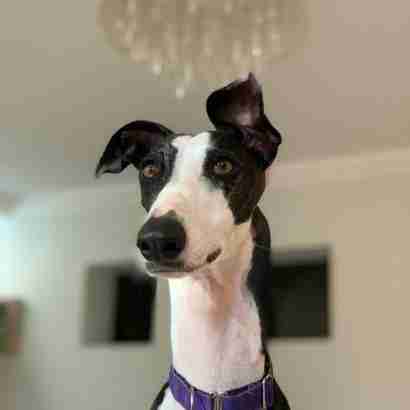 We are working on increasing this slowly and a few confident she will keep improving. She usually settles after about 10 mins of crying and will nap or play with her toys, no destructiveness or howling/barking.
She is fine in traffic. Loves her walks but gets overstimulated quite easily by bird song, other dogs, and animals. Strong prey drive. Walks well on lead and doesn't pull, but will freeze and/or react to squirrels and other dogs and cats. Goes gaga for squirrels in particular and will lunge and pull and bark.
With dogs, it's a mixed bag, depends on the dog. Anything yappy/reactive she will get very stressed and will kangaroo jump and pull as she wants to get away. With other dogs, sometimes she desperately wants to play with the them. I feel the play could be satisfied if she lives with another dog. A calm dog that doesn't pay her much attention at the same distance can be fine. Gets very stressed if off lead dog runs at her.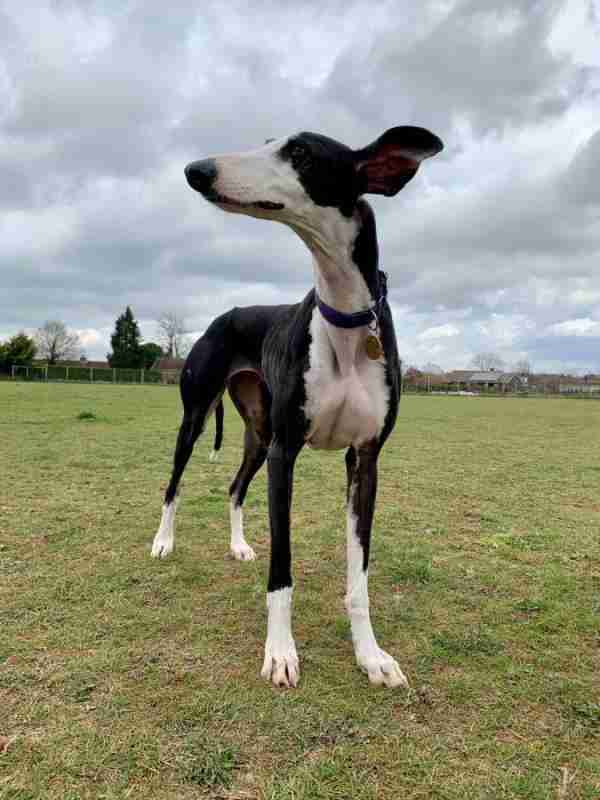 Ideally she would have a place with a large garden where she can tire herself out physically before going on a walk. She is playful and needs to run and play – on lead walks alone don't tire her out. Trips to a field would be great too. I wouldn't say she's super high energy in general but burning off some steam will help her get less overwhelmed on walks.
Home with another dog would be best, one who is confident and can deal with her quite boisterous play style, and can be a good influence on walks (ie not reactive).
Adopter with experience of sighthounds and prey drive, and can physically handle her when she lunges.
Annie is in foster in Guildford. Annie is NOT cat friendly.